How To Build Income And Cashflows W/ Buck Joffrey, Best-Selling Financial Author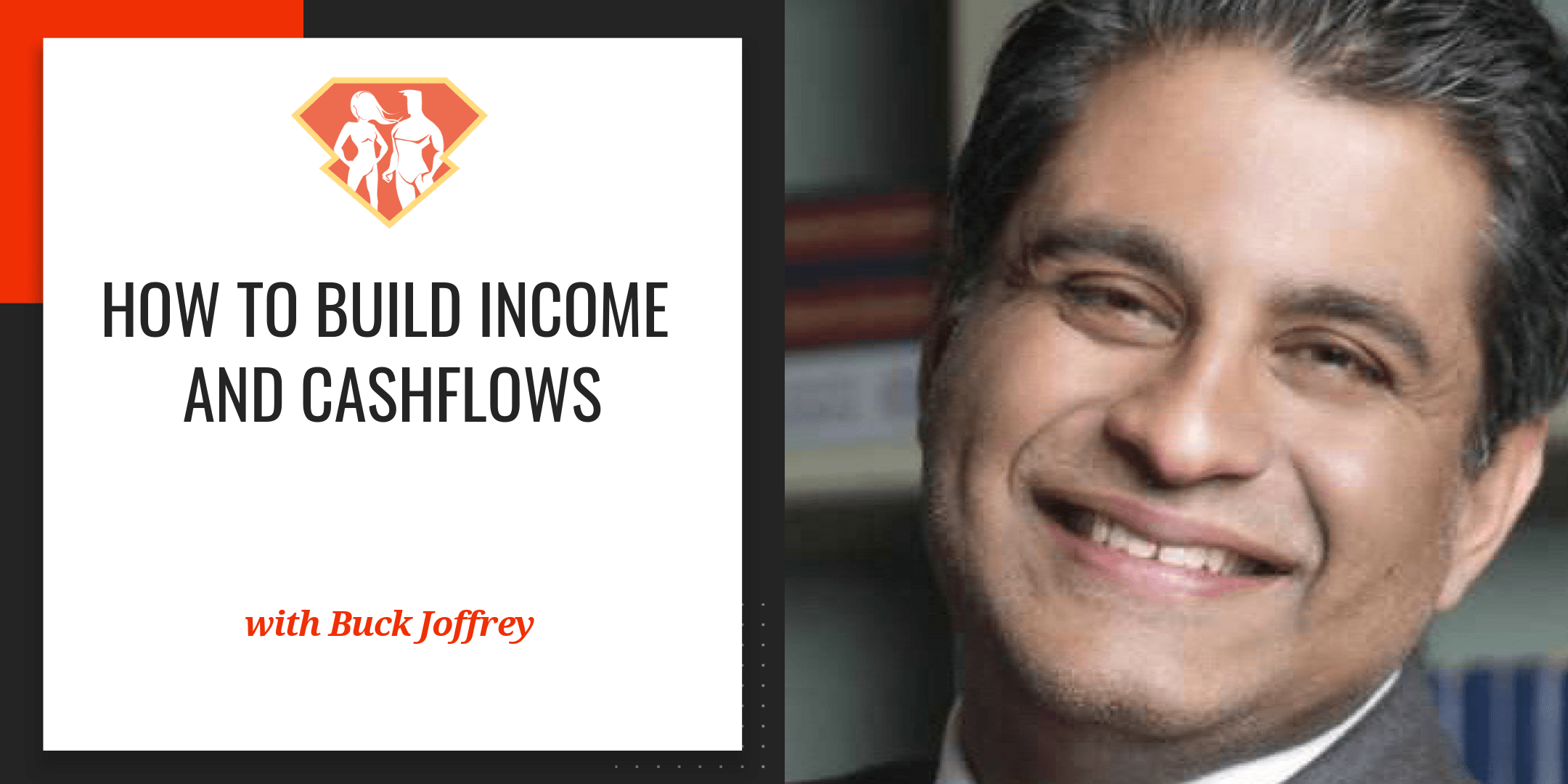 Tags:
Entrepreneurship
,
Financial Freedom
,
Lifestyle
,
Money
,
Passive Income
,
Personal Finance
,
Podcast
,
Success
"You are not buying stocks, bonds, mutual funds, you are not buying real estate, you are buying income."
— Buck Joffrey
Greetings, SuperFriends!
Today we are going to take a slightly different topic, a different side of SuperHuman Academy, and talk about probably what is the least discussed topic on this show, which is financially SuperHuman Academy.
To do that, we're joined by a friend of mine from Genius Network. His name is Buck Joffrey and he runs Wealth Formula, which is about helping overworked but well-paid individuals look for a better life. They define wealth as the freedom to do what you want with your life, which is exactly how I define it, and they help people reimagine what wealth accumulation can mean, and, most importantly, relearn some of those core fundamentals that we've all been taught, like "invest in the stock market" and "trust your wealth advisor".
I decided to have Buck on the show because I took his course and I was wowed by it. There were a lot of things I knew from business school and from interacting with millionaires and business luminaries, but there also were a lot of things I didn't know, which I really needed to hear. I think this episode is a welcome dose of "Hey, wake up, you have all these opportunities", and I think you folks are really going to enjoy it.
-Jonathan Levi
In this episode, we discuss:
How did Buck Joffrey go from brain surgeon to becoming an expert on wealth? [4:50]
What Buck Joffrey did when he made money and wanted to invest it? [7:10]
What's wrong with the conventional investing model? [8:50] 
It's not the same if you own a business [11:20]
You should think more like a business person, rather than just buying and selling [12:15]
What is really the alternative? [14:45]
First, you need to actually make money, and then you build the passive income stream [18:30]
What you should start with, according to Buck Joffrey [20:00]
It's not about the properties, it's about cashflows [22:30] 
Why does Buck Joffrey like residential real estate? [23:40]
Why does Buck Joffrey like multi-family real estate? [25:45]
How to get involved passively in real estate [26:45]
How to start going down this financial path [29:45]
Resources Mentioned in This Episode:
Favorite Quotes from Buck Joffrey:
"Taking advice [on money] from someone who doesn't have as much money as you is [often] not a good idea."
"Fundamentally the biggest problem with [the conventional] model is that it relies very much on chance."
"You don't really care how much your business is worth if you are not planning to sell it."
"Real estate is a great place to start because a lot of people understand the concept."
"It's not realistic to try and create this passive income stream for yourself without making money in the first place."
"Forget everything they tell you, and start over from scratch."