Can Everyone Learn Seemingly SuperHuman Acrobatic Feats? Yuri Marmerstein Tells Us How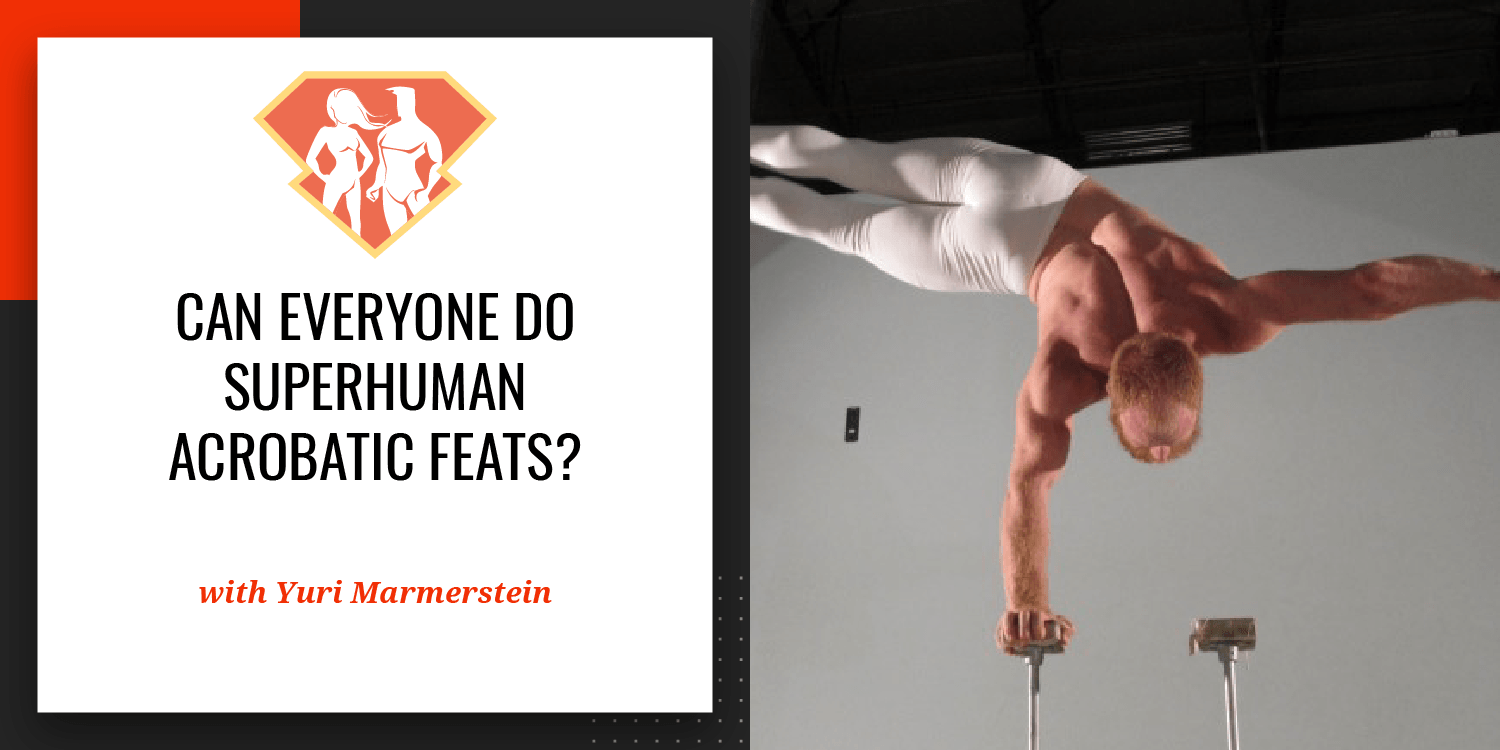 Tags:
Acrobatics
,
Fitness
,
Gymnastics
,
Health
,
Mobility
,
Podcast
In this episode of the SuperHuman Academy podcast, I host Mr. Yuri Marmerstein, an acrobat and gymnast who has made a name for himself as one of the authorities on hand balancing. Yuri's feats, which you can see in the video below, are absolutely superhuman, but what's more impressive is that despite spending some time training with greats like Kit Laughlin, Olympian Valentin Kirichenko, and Christopher Sommer, Yuri is largely self taught, and is teaching people all over the world to perform these seemingly superhuman feats by themselves.
What he offers, then, is a very unique perspective on learning incredible acrobatic and physical feats from someone who was not born into it, and who hasn't trained since the age of 4, like most of the elite gymnasts you may have seen. This interview is very technical and nerdy, and we go very deep into some of the skills and the path to learning them. But, if you've ever dreamed of standing on one hand, doing double backflips, or any other seemingly superhuman gymnastic skills, you'll find the interview to be really fascinating and encouraging. I hope you find it very interesting, and of course, I welcome your feedback in the comments section below if you'd like to see more of these types of interviews.
In this episode, we discuss:
Yuri's path to becoming an acrobat, gymnast, and performer
What brought Yuri to become one of the foremost authorities on hand balancing
The psychological requirements behind seemingly "superhuman" feats like tumbling or handstands
How Yuri went from an "not athletic" teenager to a performing gymnast and expert in such a short time
Insights into the world of circus and performing arts
What types of tools Yuri uses to train his students
The most important thing to learn before you start learning tumbling
How important raw strength is in acrobatics and tumbling
Some practical tips for starting to learn handstands
How Yuri prevents injury and the importance of good warmup habits
Some tips for strengthening your wrists and hands to prepare for tumbling
The role of ego and judgement in physical injury
Yuri's nutrition and supplementation regimen
The 3 biggest mistakes people make with regards to their physical health
The most impactful habits you can apply today to improve your health and mobility
Standing workstations
How to choose which exercise program(s) you should be engaging in
Deliberately creating muscle imbalances or deficits for one's sport of choice
What's Yuri working on right now
How much should one train, and knowing when to stop
What are the first steps for learning gymnastic skills?
Our Favorite Quotes:
"The more body awareness you have, the less strength you actually have to use."
"Most injuries are not necessarily from being underprepared – it's more just awareness."
"A big part of it is being able to shut down your ego and knowing when to quit."
"If you're willing to sacrifice a little ankle health for $50M a year… go for it!"
Resources Mentioned in This Episode:
As promised, a video of Yuri demonstrating his amazing abilities