Cedric Bertelli: How To Instantly & Permanently Heal Emotional Trauma Using "TIPI"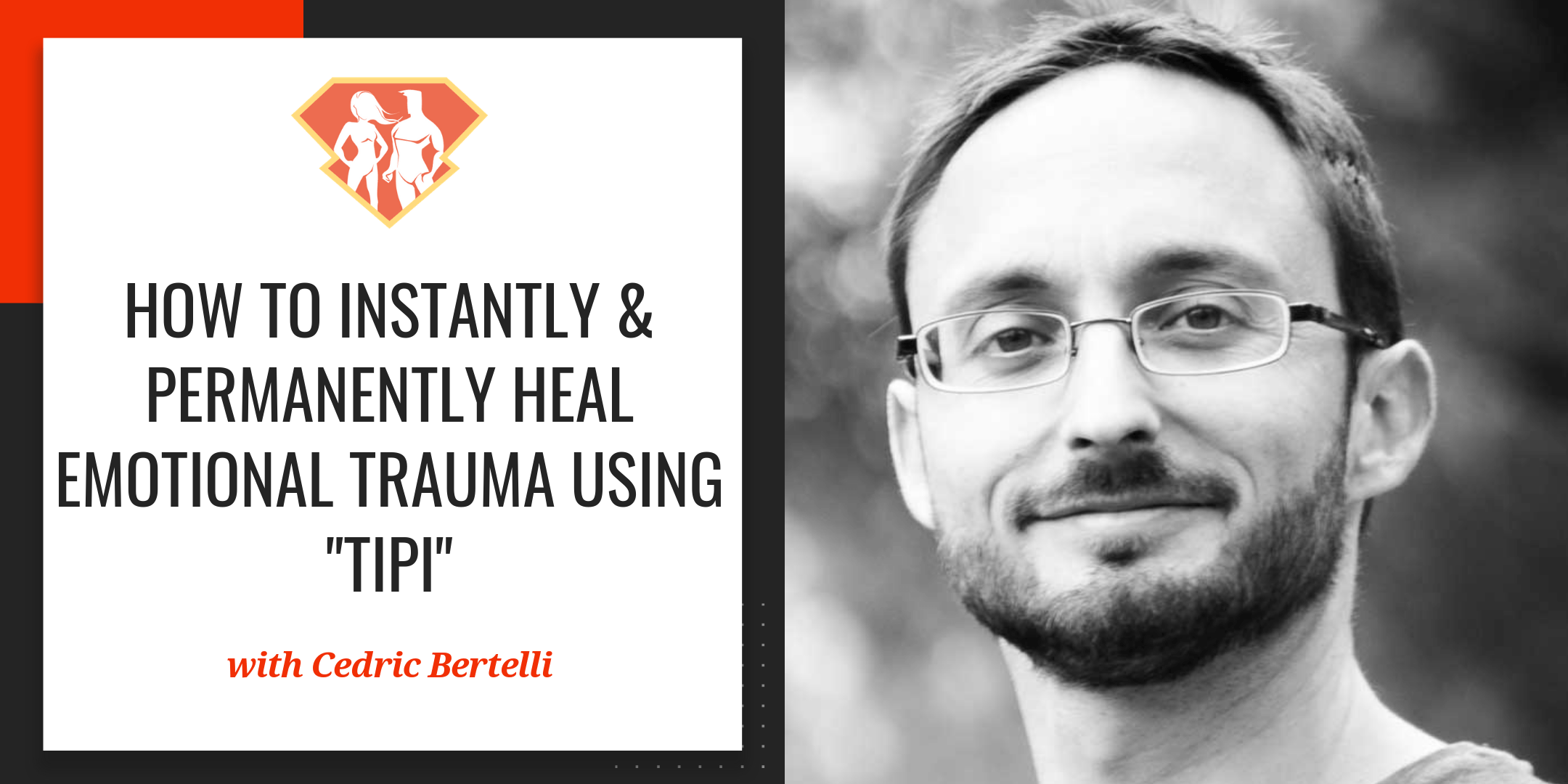 "In 30 minutes, anyone can resolve any kind of emotional difficulties… permanently… I was quite skeptical, too."
— Cedric Bertelli
Greetings, SuperFriends!
Today we are joined by Cedric Bertelli, an expert in a little-known but interesting practice called Tipi. Tipi is an emotional regulation technique that helps people overcome fear and emotional trauma. It deals with sensory memory, or unconscious body memory.
To be quite honest, I didn't know anything about Tipi at all before this interview, and for that reason, I was excited to invite Cedric onto the show to explain it to us.
In this episode, we talk about an interesting and shockingly simple method for overcoming emotional trauma. We learn about "Tipi" and how it works, why and how the method was developed. We discuss the body and the brain, and it's natural ability to heal itself from literally anything. Cedric doesn't hold anything back, and shares with you exactly how the method works, so that you can experiment with it at home. Though the method does go against so much of what we think we know about psychological trauma and healing, I encourage you guys to keep an open mind. As I point out in the interview, I felt a little bit like I did when talking to Wim Hof, who has shocked the scientific and medical community with his ability to control the autonomous nervous system with a simple breathing technique – so I encourage you guys to keep an open mind!
In this episode, we discuss:
Who's Cedric Bertelli and how did his life take a different direction towards learning it?
What 4 main emotions did Cedric Bertelli work on to remove them from his life?
What is TIPI, what is it used for, and how the heck does it work?
What does a "loss of consciousness" or a "short death" mean?
Is TIPI very intense? What does a typical session look like?
What is the difference between TIPI and meditation?
What kind of emotional trauma and issues can you overcome using TIPI?
Do you actually need to feel negative emotions in order to feel positive ones? 
Does Cedric Bertelli feel emotions differently now? Does he ever feel pain?
What does the scientific community and research say about TIPI?
What other routines, skills, habits, or tricks does Cedric Bertelli use in his life?
What books would he recommend?
What homework can you do at home this week?
What's the #1 takeaway of this episode?
Resources Mentioned in This Episode:
Favorite Quotes from Cedric Bertelli:
"Others used to call me Napoleon. First, because I'm short, and then, because I was throwing some tantrums."
"In order for any one of us to have a disruptive emotional pattern… we must have lived, at some point, with an unwilling, short loss of consciousness."
"Anyone has a natural, biological ability to regulate, permanently, emotional difficulties."
"It's extremely simple. It's so simple that I'll tell you right now: It's going to sound like a scam. But you're going to have to try it."
"All recurrent emotional patterns make us sick… It's like bleeding from the inside."
"Things don't have to be complicated, man… We make it complicated because we're way too intelligent."
"When it comes down to emotions, you have the key to your emotional freedom. You don't need anyone. You can heal yourself."