Chris Bailey On Distractions, Overstimulation, And The Power Of Focus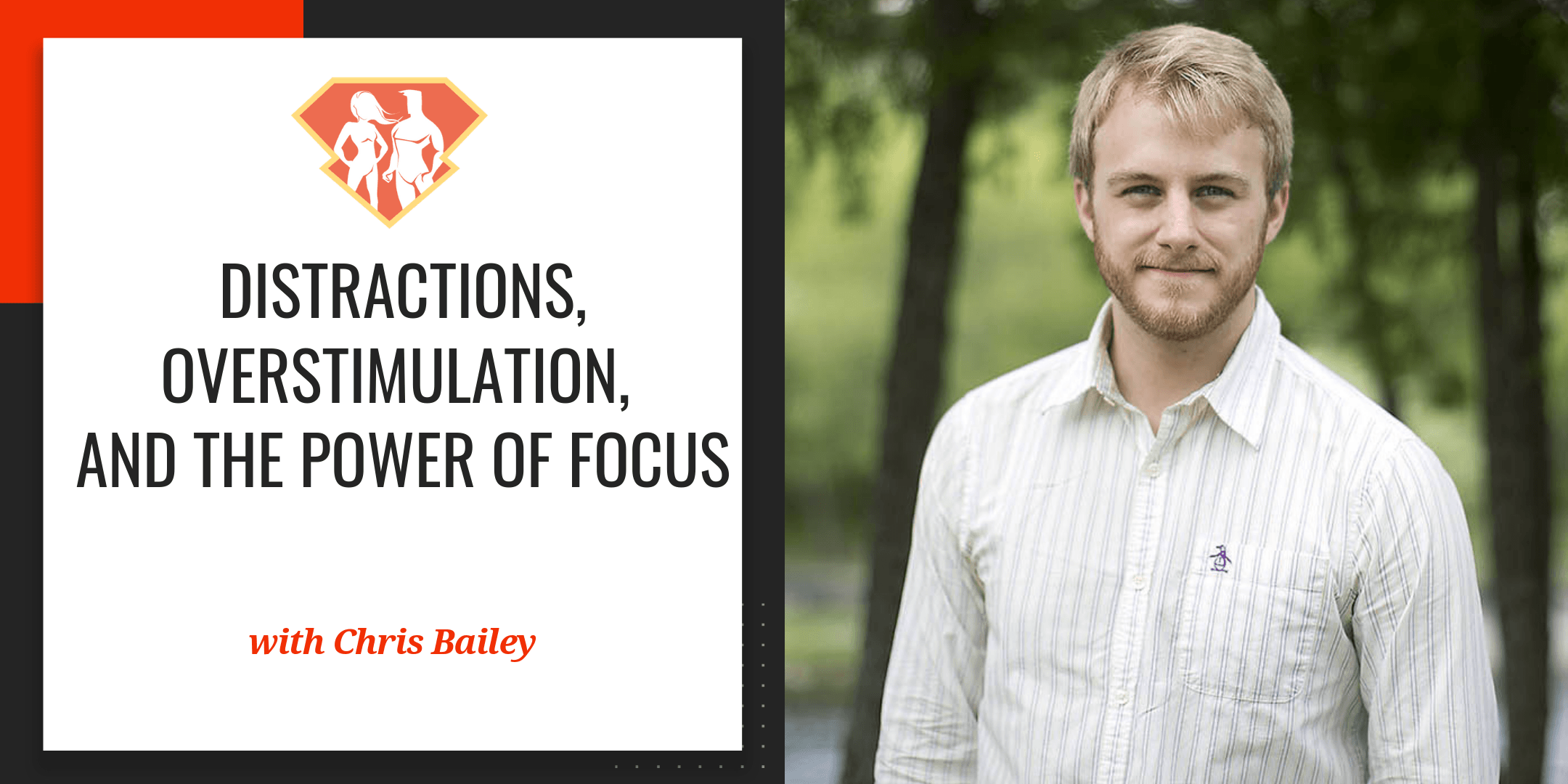 Tags:
Habits
,
Inspiration
,
Lifestyle
,
Lifestyle Design
,
Performance
,
Podcast
,
Productivity
,
Reading
"The state of our attention determines the state of our lives."
— Chris Bailey
Greetings, SuperFriends!
Today we are once again joined by probably one of my favorite guests of all time – I know I'm not supposed to pick favorites – and definitely one of the guests that we've had on this show the most. That is, Chris Bailey.
Chris is a productivity expert, international bestselling author, and blogger extraordinaire. He is the author of The Productivity Project, which has been published in eleven languages, while his second book that just came out, Hyperfocus: How to Be More Productive in a World of Distraction, was published in seven languages at launch.
Chris also writes about productivity at alifeofproductivity.com, and speaks to organizations around the globe on how they can become more productive, without hating the process. You've probably seen him in The New York Times, The Wall Street Journal, New York magazine, The Huffington Post, Harvard Business Review, TED, Fortune, Fast Company, and Lifehacker, among others.
In today's episode, for the first time, Chris and I talked about more than just productivity – we also talked about distraction, mindset, and how to get into the right state of mind so that you can be healthier, happier, and, of course, more productive.
We talked about why he wrote another book on avoiding distraction after Cal Newport wrote Deep Work, which Chris took like a champ. And, as we always do, we joked, we laughed, and we shared our geek out strategies.
This episode is honestly jam-packed full of different strategies that you can use to live a better and more productive life, and, if you take away just one or two of them, I have no doubt that you will be a little bit more SuperHuman.
-Jonathan Levi
In this episode, we discuss:
A funny story from Chris involving his book, a sauna, and our podcast [4:00]
What has Chris Bailey been up to since the last time we talked? [5:20]
The power of distractions and why it's important to find ways to tackle them [6:15]
What is the real problem behind distractions? [9:35]
What can we do to actually change our overstimulation? [12:00]
Some amazing tips and apps on how we can remove distractions from our life [12:30]
We underestimate the power the information we consume has on our minds [14:00]
The importance of taking control of our phones and awareness [16:30]
What does Chris Bailey's day look like? [18:55]
What is the first thing that Chris focuses on every morning? [21:30]
Should we shower in the morning or in the evening? [21:50]
Why adaptability is one of the key points of productivity [24:30]
How did Chris Bailey's new book, Hyperfocus, come to be [25:00]
The power of letting our mind wander [26:15]
Why we should be kind on ourselves [28:40]
What are some of the new productivity hacks Chris has discovered (especially around travel)? [30:00]
A few more hacks and apps that Chris is using [34:20]
The power of pen and paper [36:25]
The importance of taking some time away from the screen in order to think and plan [40:00]
Where can you find more about Chris and his new book? [42:20]
Some funny watercooler conversation between Chris and Jonathan [45:00]
Resources Mentioned in This Episode:
Favorite Quotes from Chris Bailey:
"We shouldn't be hard on ourselves when we get distracted."
"Distractions are just a symptom of the problem."
"There is a novelty bias embedded within our brain."
"We don't need our phone as much as we think we do."
"Our phones don't make us happy, they make us stimulated."
"Connecting information first thing in the morning propels me forward better than any other thing that I've tried."
"Focusing on stuff all day long is one of the worst things that we can do for our productivity and attention."
"We expend mental energy in proportion to how often we have to regulate our attention throughout the day."
"The more often we work with thoughtfulness, the more productive we become."
"The less overstimulated I am, the more productive I find I can be."