Craig Ballantyne: The 5 Pillars Of Personal Transformation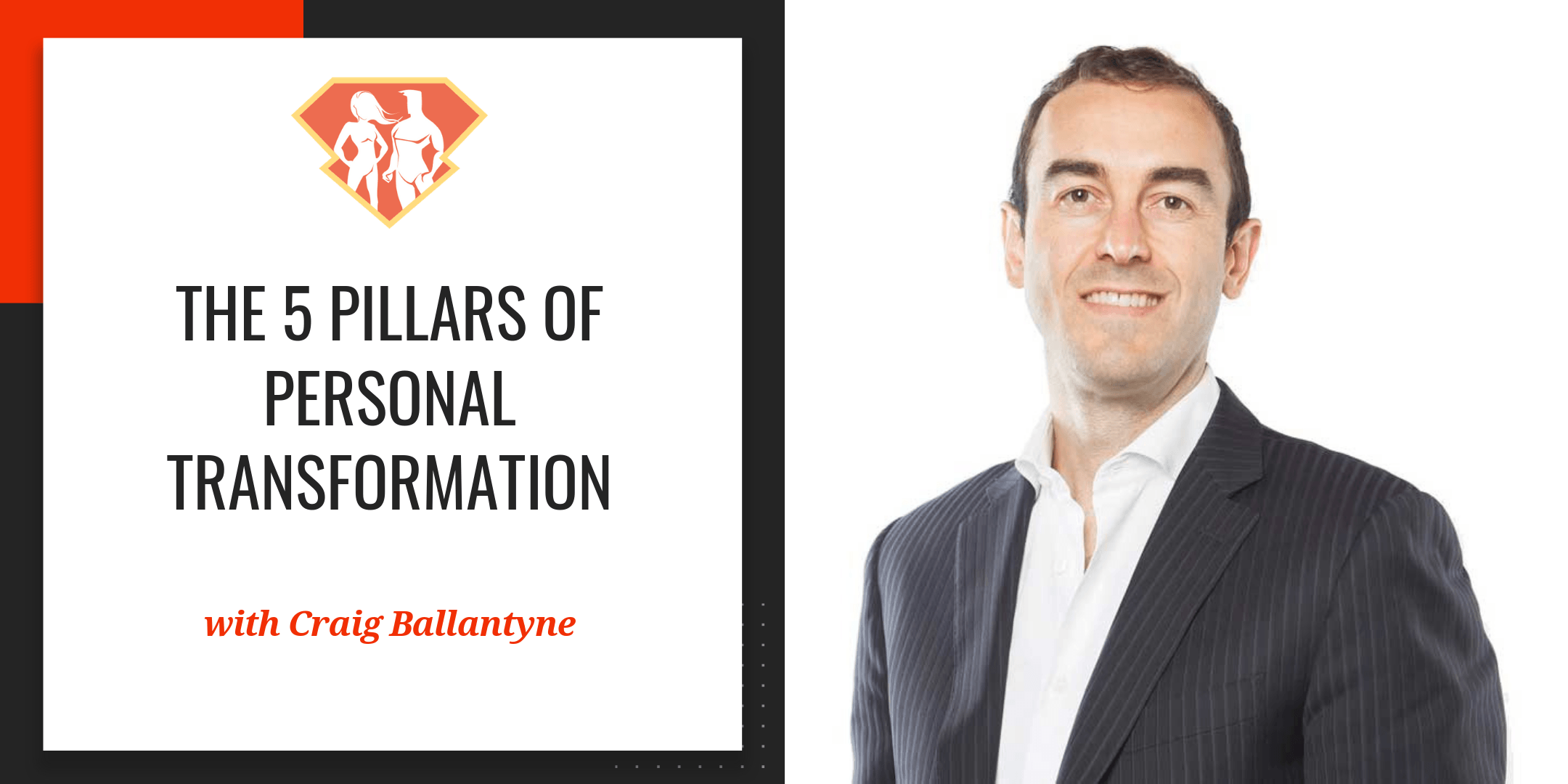 Tags:
Entrepreneurship
,
Lifestyle
,
Meditation
,
Personal Growth
,
Podcast
,
Success
"YOU control what's going through your mind. YOU control what's coming out of your mouth."
— Craig Ballantyne
Greetings, SuperFriends!
Today, we're joined by Craig Ballantyne, a Productivity & Success Transformation Coach, online marketing guru, entrepreneur, and the author of The Perfect Day Formula: How to Own the Day and Control Your Life.
In 2001, Craig created the popular home workout program, Turbulence Training, and he's also the founder of the Certified Turbulence Training Program, certifying trainers from all corners of the globe.
He built on that success, building and buying numerous wildly successful online businesses such as Early to Rise, ETR University, and Online Info Blueprint, and today is considered one of the biggest names in my industry, having impacted literally millions of people's lives.
Craig's online success has led him to create books and a coaching program to show other gurus how to take their ideas and help thousands of people. He holds seminars around the world, and he teaches at the annual SovereignAcademy.org camp every summer in Lithuania.
Craig has been a contributor to Men's Health magazine since 2000, and his articles have also appeared in Women's Health, Oxygen, GQ, Maxim, National Geographic, Men's Fitness and Muscle and Fitness Hers, amongst many others. His articles have also been featured on Inc.com, LifeHacker.com, and Telegraph.co.uk.
But, as we'll learn in this episode, Craig has had to overcome many obstacles on his journey to success, and his toughest battle was fighting crippling anxiety attacks. He finally discovered how to beat them with his 5 Pillars of Transformation, and today Craig shows men and women how to use the 5 Pillars to get whatever it is that they want in life.
In this episode, we talk about a very wide range of things, from practical frameworks you can apply today, to recommended reading, to the most impactful daily habits, and overcoming anxiety. Craig is a true renaissance man with diverse interests and passions, and I just know you're going to take away a TON of value from this episode.
In this episode, we discuss:
How Craig Ballantyne and Chris Ashenden (from Athletic Greens) first met
Who is Craig, what does he do, and how did he get there?
The incredible story of what motivated Craig to get into the personal growth industry
What big change has Craig Ballantyne advocated to "The Law of Attraction?"
An explanation of Craig Ballantyne's "5-Pillar Personal Transformation Formula"
What types of things can you use this formula for?
Why are "mental models" so useful and so powerful?
A discussion of chronic, severe anxiety, and how Craig used the framework to overcome it
The story of the absolute lowest point of Craig Ballantyne's life
A detailed walk-through of how the "5 pillars" system helped him bounce back
A discussion on the power of breathing, and how most people actually do it wrong!
What is the "3C" framework, and how was it derived from Stoic philosophy?
What book does Craig believe should be mandatory reading in high schools?
The idea that it's extremely important to learn things repeatedly – and from different sources
What are some of Craig's daily habits, routines, and hacks that help him reach peak performance?
A discussion of meditation, it's tremendous benefits, and how to get started
What is Craig's biggest goal right now?
What are his biggest superpowers?
How about his biggest challenge right now?
Why is it important to say "no" often?
2 great homework assignments from Craig Ballantyne
What is Craig's (highly unusual) morning routine?
Thoughts on why coaches should be hard on their coachees
Where can you learn more about Craig and get a free video?
Resources Mentioned in This Episode:
Favorite Quotes from Craig Ballantyne:
"I really believe that you can have not just 'kinda' what you want, but exactly what you want in life when you know exactly where you want to get to."
"It felt like I was having a heart attack…. 6 weeks straight, 24 hours a day, 7 days a week. Every single day."
"I didn't like Q'i Gong. I didn't like meditation. I didn't like Yoga… but I did it, for many, many weeks."
"Funny thing is, I didn't know how to breathe!"
"Control what you can, cope with what you can't, and concentrate on what counts."
"Don't be a shotgun. Be a very high-powered rifle."
"Life is about the people you spend your time with and the experiences that you have. It's not about money or stuff."