Defining What You Want & Implementing Change W/ Dov Gordon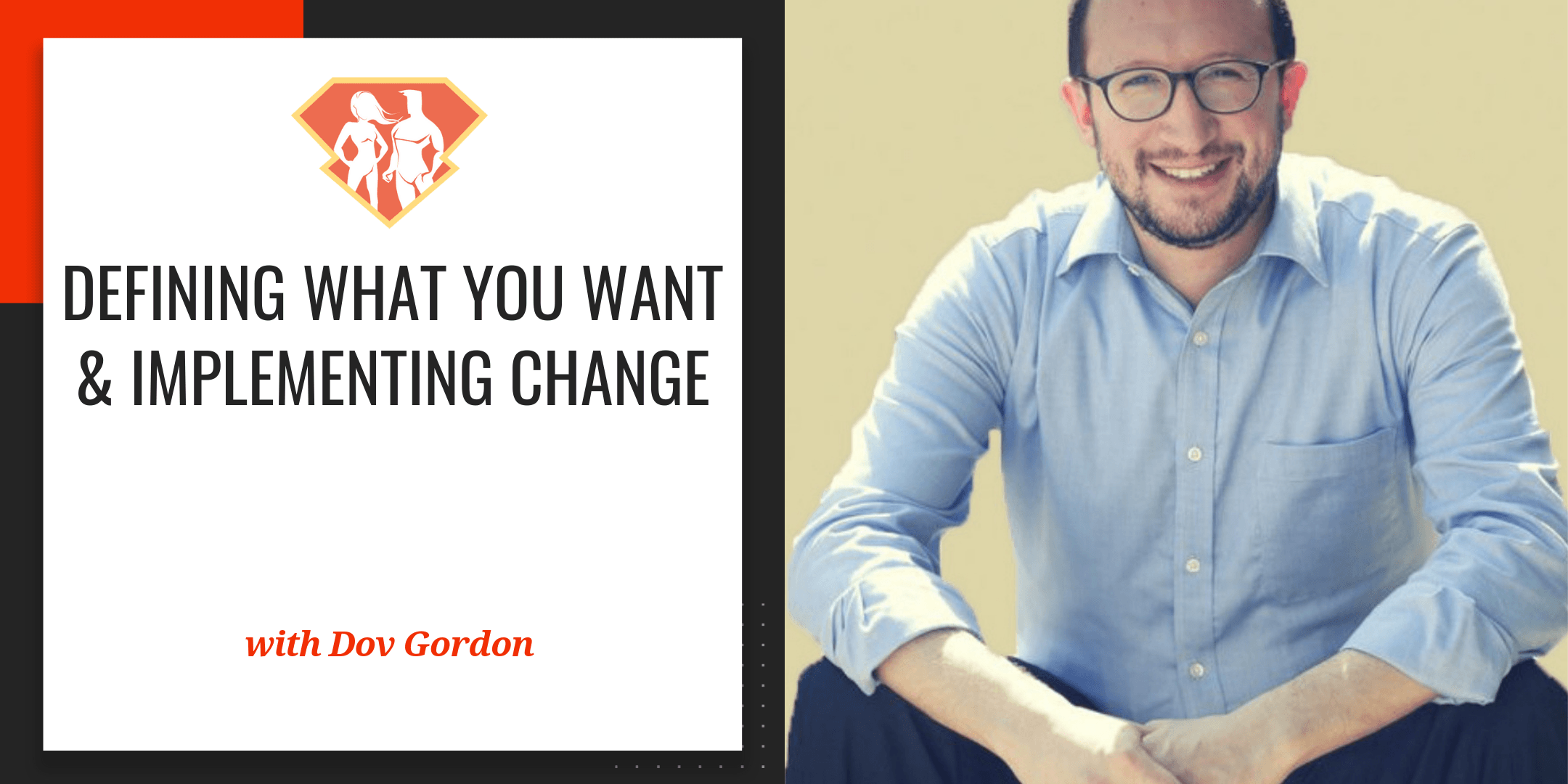 Tags:
Entrepreneurship
,
Goals
,
Inspiration
,
Networking
,
Podcast
,
Productivity
,
Success
"What we need is not more information. We need to learn how to think, how to feel, and how to act, how to work."
— Dov Gordon
Greetings, SuperFriends!
Today we are joined by my fellow immigrant here in Israel, Dov Gordon. Dov is what you'd call a coach of coaches, and he helps coaches, consultants, and experts get their ideal clients, consistently.
You may wonder, why talk to a business coach that coaches other business coaches? Well, that is because Dov coaches other coaches, and is the leader of a massive MasterMind that I've met a number of high-level people through.
Dov has a unique insight about how progress, change, and improvement are made in our lives, and I wanted to have him on the show to get a feel for how he implements change, not just with his clients, but in his own life. I wanted to understand some of the different ways that we go about, and I think Dov has a very unique perspective – for instance, you'll hear him talk about "striking at the roots and not at the leaves", among other things.
Honestly, a lot of interesting stuff came up throughout this episode, about the way that we make change in our lives, the things that we think we want but maybe are not fully what we want, the things that we convince ourselves that we want, which are not at all what we want, as well as other interesting and enjoyable insights.
So, I'm sure that you folks will enjoy my episode with my new SuperFriend, Mr. Dov Gordon.
-Jonathan Levi
In this episode, we discuss:
How did Dov Gordon and Jonathan meet? [4:45]
Some information about Dov's MasterMind [5:45]
Who is Dov Gordon and what does he do? [6:45] 
What are some of the biggest lessons that turned things around for Dov? [10:00]
The importance of focusing on the few critical things [13:00]
The value of having a coach vs having a mentor [15:25]
What is the 1st question to help you get out of your own head? [18:45]
Being the person that naturally produces results [20:15] 
What is the next small step? [21:35]
The importance of letting go [23:30]
How do we start to think at that higher level? [25:25]
Not everything changes as you move along your journey [27:20]
What are some SuperHuman hacks that Dov Gordon utilizes in his own life? [29:30]
How small things can add up to amazing results [30:20]
The concept and the importance of leverage [32:00]
What are some of Dov Gordon's favorite books? [35:00]
Where can you reach out and find out more about Dov Gordon? [38:00]
Resources Mentioned in This Episode:
Favorite Quotes from Dov Gordon:
"We are all overwhelmed with all the different things that we have to do to achieve whatever that is that we are trying to achieve."
"Really get clear about your priorities and focus on the few things."
"All of the tactics could work and all of them could fail."
"If you can understand why something works when it works, and why it fails when it fails, that gives you the power to avoid all the shiny objects and all the distractions."
"We all need to get out of our own heads."
"People are drawn to people at their level and a little bit higher, in general."
"Let go. None of us really knows what's gonna happen, or what's going to work."
"To me, the SuperHuman thing, for the most part, is doing the simple things that most people don't do because they think it's too small."