Yes, You Can Alter Your Genes w/ Dr. Sharad Paul, Genetics & Skin Cancer Expert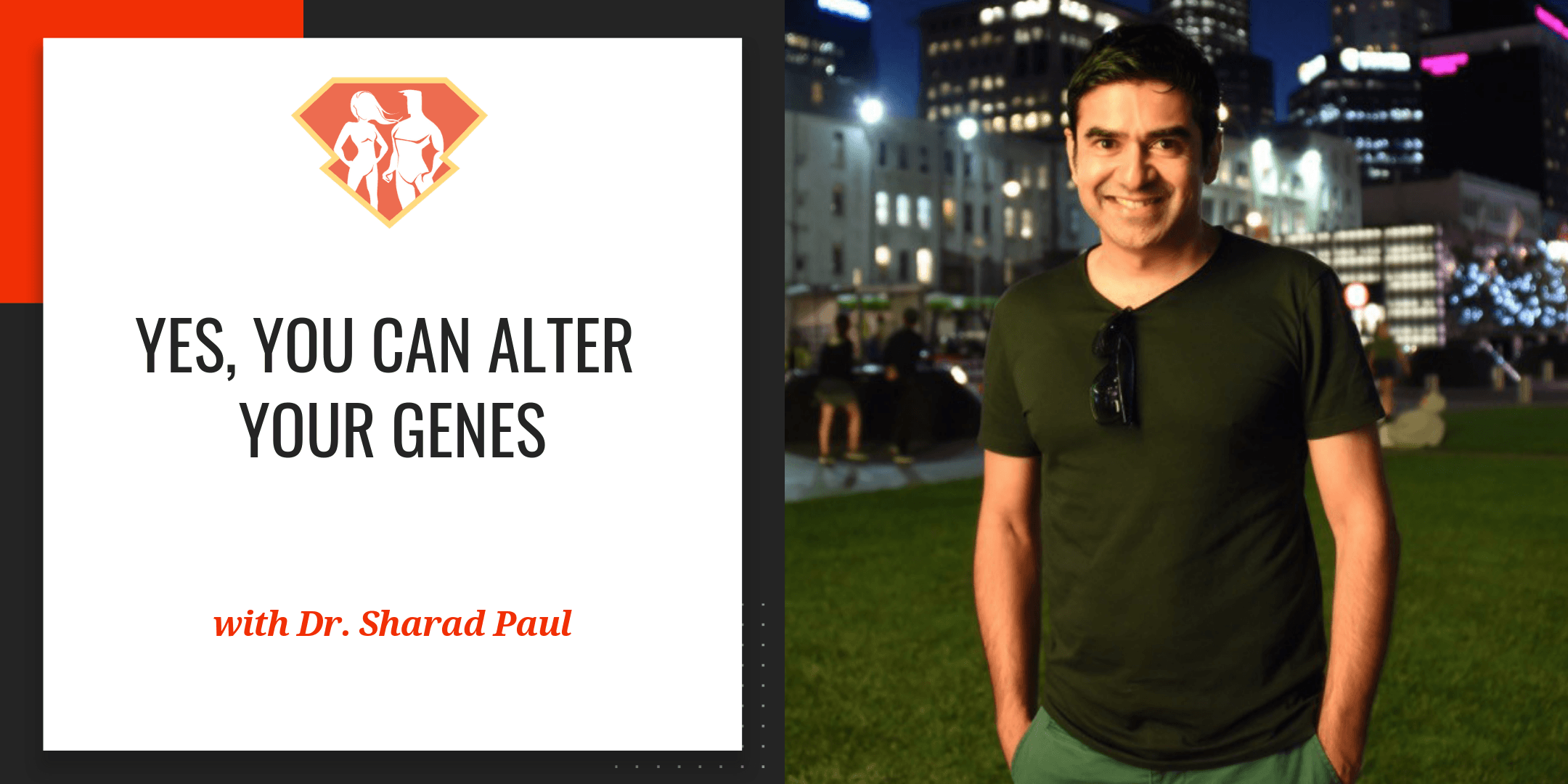 Tags:
Creativity
,
Diet
,
Genetics
,
Nutrition
,
Podcast
,
Skin Cancer
,
Skincare
"Our genetic profile is our blueprint, but it isn't our destiny."
— Dr. Sharad Paul
Greetings, SuperFriends!
Today, we are joined by Dr. Sharad Paul, who is many, many, many, many things. He's a skin cancer surgeon, a family physician, an academic skin care expert, an evolutionary biologist, a storyteller, and a social entrepreneur, as well as an adjunct professor at Auckland University of Technology. He was originally born in England, with a childhood in India. He's a global citizen who now lives in New Zealand. And in 2008, he was featured in international editions of TIME Magazine. He's also been awarded the prestigious Ko Awatea International Excellence Award for leading health improvement on the global scale. I also discovered that he was an advisor to UNESCO, that he has written books in the fiction and nonfiction, scientific and nonscientific spheres, and has a skin care line among many many other ventures.
In the episode, we talk about genetics and his interest in how we can alter our genetics and genetic expression. We talk about how we can optimize our health through understanding our own individualized genetics. And then, we go into a deep discussion of vitamin D, skin cancer, sunscreen, and all the different things that frankly I didn't know and I'm pretty sure you didn't know about how the whole piece fits together. It's a really incredible episode, and I know you guys are going to enjoy it.
In this episode, we discuss:
Who is Dr. Sharad Paul, and how did he get to where he is today?
What can genetic testing offer us, and how can it improve our lives? 
A discussion of evolutionary adaptation, and the current state of humanity
Is laziness genetically coded?
Can you actually beat genetics that say you are likely to be a certain way?
How much of an excuse is "bad genetics" at the end of the day?
Should you do genetics testing? What are the psychological and social risks?
A very in-depth explanation of skin cancer, Vitamin D, sunscreen, and what guidelines to follow(!)
Why are some populations better athletes than others?
How does eating Salmon promote your health and keep you from very common deficiencies?
What homework would Dr. Sharad Paul like you to do this week?
What are the 3 C's of creativity, and how does Dr. Paul use them to think more creatively in ever field?
Are there any products or services that Dr. Sharad Paul couldn't live without?
How can you get in touch and learn more?
What is the #1 biggest takeaway that you should remember from this show?
Resources Mentioned in This Episode:
Favorite Quotes from Dr. Sharad Paul:
"Fundamentally, I think of myself as a creative… and I think that's really what's got me to where I am."
"Skin is our only universal organ… it's our largest organ, and a sense organ."
"Genes fundamentally look out for themselves. They're not there for us."
"I don't think genes doom you."
"Eat simply, move well, and give more."