Drew Canole: How To Extract The Juice From Life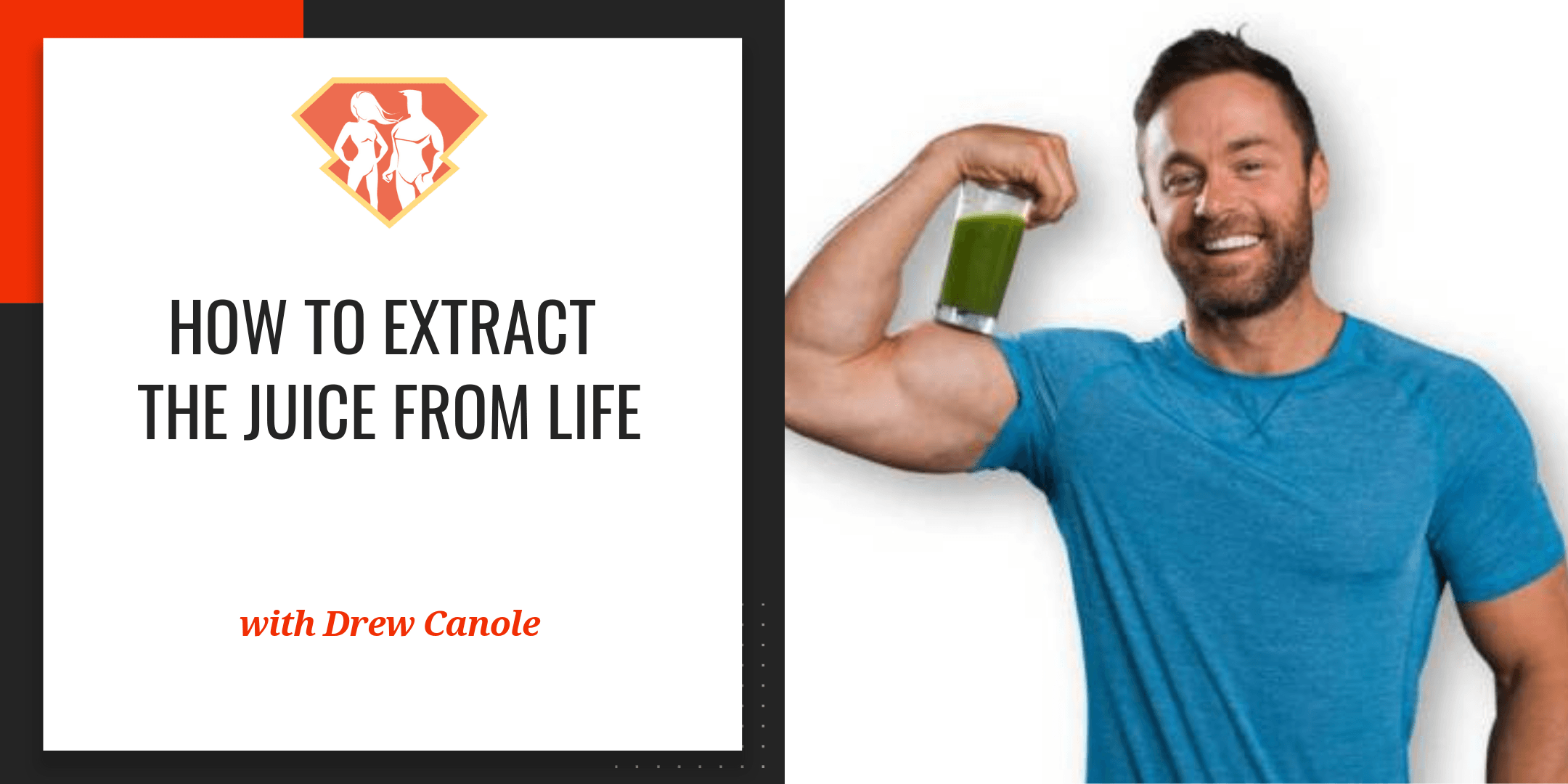 Tags:
Diet
,
Entrepreneurship
,
Health
,
Juicing
,
Learning
,
Nutrition
,
Podcast
"Once you start to change what you're putting in your body, everything changes. And juice is one of the best things you can put in your body."
— Drew Canole
Greetings, SuperFriends!
A few years ago, today's guest was a financier headed down a path of poor health. Today, he is one of America's top transformational coaches, with millions of followers on his social media channels, numerous companies, and an internet marketing empire that, quite frankly, blew my mind when I discovered it. Through his message of the powers of juicing and other dietary habits, he's transformed the lives of thousands, if not tens of thousands, of people… He's also published 11 books, ranging from juicing to dream hacking and mental transformation… So you know we just had to hear more.
In this episode, we talk about childhood trauma, path to self improvement, spirituality, belief systems, juicing, lucid dreaming, motivation, accelerated learning, outsourcing and delegation, identity and purpose, and so much more. I went into the interview expecting to talk about juicing and nutrition, and in the end, came away with a massive, massive dose of inspiration, motivation, and heck… even a few life lessons that just might shape the way I navigate the cosmos going forward.
I want to give a big big shout out to Shanna at Organifi for helping me get ready for the interview and encouraging me to dig deep with today's guest – I think you'll agree that it really made a difference in the quality of the interview.
In this episode, we discuss:
Who the heck is Drew Canole, and how did he go from overweight to awesome?
How did a simple green juice change Drew Canole's life – and his body?
Why was Drew so driven towards helping people – and himself?
A discussion of Drew's very challenging childhood, and how it influenced his adulthood
What is Drew Canole's belief system? How does he approach life, spiritually and otherwise?
How has he grown such an incredibly successful company?
Some incredibly powerful leadership tips from Drew on how he has created such a great business
What is "the why-dentity process?"
What tools does Drew Canole use to optimize his performance? Meditation?
The importance of forgiving yourself, and why Drew learned how to be very good at it
How does Drew treat other people, and why?
Why juicing? Why is it so important to Drew? 
What have clinical trials said about Organifi?
How can you get started with juicing – and why should you do it slowly?
What's in Organifi's green juice, and why is it so damn good for you?
Why is Stevia maybe not the best sweetener?
When Drew does it solid foods, what does he eat? Does he eat carbs?
Where does Drew get so much motivation and energy?
An important message: it's not about you (and why that's a good thing)
Lucid dreaming: how to use it, and how to achieve it
Drew's work with an aboriginal shaman (fascinating)
How does Drew Canole learn so fast?! How does it relate to SuperLearning?
Working with coaches, and how to find coaches
What are Drew's productivity tips? How does he get so much done? How does he delegate?
How does Drew keep from getting bored or going crazy?
Some incredible book recommendations
How Drew changed his beliefs and stopped thinking he was "stupid"
What is the #1 message Drew Canole would like for you to take away?
Resources Mentioned in This Episode:
Authors:
Books (Drew reads a lot):
Favorite Quotes from Drew Canole:
"At the time, I was eating all the macronutrients, but I wasn't getting the micronutrients. And that was what really started to supercharge my mind."
"I just became a voracious reader… I read 3 books a week."
"I was living this inauthentic lie of who I was. I was trying to be what the world wanted me to be… I still had this tremendous amount of discord in my body… I wasn't happy with anything in my life."
"I believe in love. Period."
"It's not about Drew. It's not about what I'm doing throughout the day or what I'm creating… It's about who are we changing! What are the lives that we're impacting? …I think that's the new doctrine."
"Do things throughout the day that lower your stress levels. 'Cuz life is stressful!"
"I'm really bad at a lot of things… But I'm the world's greatest person at forgiving myself."
"How can I look at somebody in the eyes, how can I see the universe, the galaxy through them, look into their soul, and make a deep connection within 2 seconds that fuels me for the rest of the week…[That] is what really lights me on fire and gives me an endless supply of this source energy."
"That's one of my mantras. I say it all day long, every day. Possibility is everywhere."
"We are one. And when I treat somebody as if they are me, then the world opens up. There's more possibilities. Possibilities are everywhere when you start to view the world like that."
"The world, right now… We have to meet them where they are. I could talk about esoteric shit all day long because it's what I love… but if I don't feel good, and I'm sick… I'm not going to listen to this message."
"Turmeric's more power than over 22 over-the-counter pain reliever medications."
"My dreams are more real than reality itself."
"I live in this world of seeing the unlimited in people before they're able to see it in themselves. So I speak to that aspect of who they are."
"We shouldn't focus so much on 'what am I doing' every single day, but 'how am I being?' We're human beings not humans doing."
"It's so crazy, you know? We get literally 20 years of somebody's experience written in one book that you can digest in 2-3 hours depending on how quick you read… and it's just amazing to me how view people are actually voracious readers…"
"Anything is possible. And when you believe that, the world will start to reveal that to you. Wherever you are right now."