Evolving Your Career Through Speaking W/ Joel Weldon, Award-Winning Speaker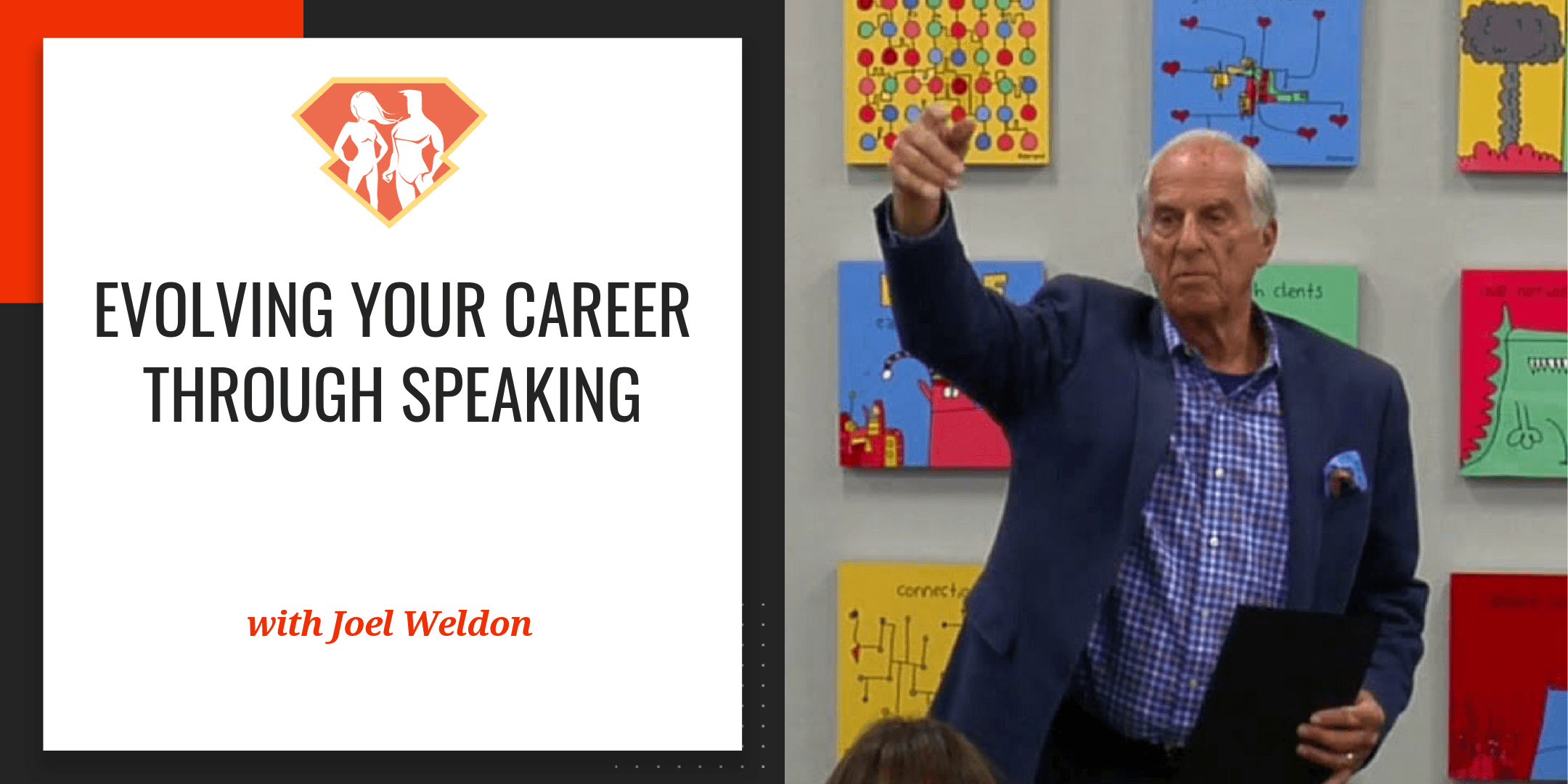 Tags:
Exponential Skill
,
Happiness
,
Inspiration
,
Performance
,
Podcast
,
Public Speaking
,
Success
"If you want to grow your income, your business, and your career, speaking effectively is the key."
— Joel Weldon
Greetings, SuperFriends!
Today we are joined by a personal friend of mine that I have met through Genius Network, the MasterMind that I recently joined and raved about. His name is Joel Weldon.
Joel Weldon is a former construction worker, who turned down a 4-year college scholarship because he thought he wasn't smart enough. Nevertheless, he went on to become living proof of the power of one idea. And that one idea will transform your life.
For over 40 years, Joel has been one of the most highly respected and sought-after keynote speakers and sales trainers in North America. He has been an idea consultant and executive speech coach for some of the world's leading business. Companies that hired him 4 decades ago are still hiring him today! Why? Because he gets results.
Joel, by the way, is the only speaker to have earned all 4 of the highest honors in the speaking profession. Those are The Golden Gavel, "for his profound impact on corporate America," the coveted Communication & Leadership Award, the induction into the Speakers Hall of Fame, and in 2006 he was named the Legend of the Speaking Profession.
As I said Joel is an incredible guy, and at 76 years old you are going to see just how much energy and vitality he has about speaking and about everything else. About living life to its fullest.
I really enjoyed the talk because we discussed what I believe is another exponential skill. We've talked about exponential skills as memory and writing before, but Joel firmly believes with every fiber of his being that public speaking is another extension of that exponential skill set. I totally agree, as my career is certainly proof of that.
So, we talk about that, and we also talk about how everyone and anyone can and should become a better speaker. We actually covered some things that even I, someone who has been a public speaker for over half a decade, didn't know. In the episode, Joel gives me some incredible feedback that I'm sure you folks are going to benefit from as well.
It's a great episode, and I think you folks are really going to enjoy it!
-Jonathan Levi
In this episode, we discuss:
Why is speaking such a SuperHuman skill? [5:25]
What are the basic premises of speaking? [8:20]
A little about fear of speaking (the no.1 fear) [10:10]
Speaking effectively makes you a thought leader [11:00]
The immense impact small tweaks can make [12:50]
It's important that you know how to organize thoughts and ideas [14:50]
Where to start with speaking? The power of a great 10-minute talk [15:50]
How did Joel Weldon get into speaking? [18:50]
Getting into Toastmasters [21:20]
What happened when Joel Weldon finished in the top 3 positions in a worldwide speaking contest [22:05]
The power of mentorship and being in the right room [24:50]
Speaking is a skill that can be attained [26:45]
Being yourself is the most important thing you can do [28:00]
The importance of keeping your audience aligned with your message [30:20]
Joel Weldon's 5 truths about speaking – The first one: 'who is your audience?' [31:15]
How to immediately connect with an audience? [32:35]
The golden thread, aka what is your message? [33:20] 
How to keep an audience fully engaged? [34:55] 
Have that 10-minute talk [37:05]
Joel Weldon's feedback on Jonathan's TEDx talk [38:30] 
Resources Mentioned in This Episode:
Favorite Quotes from Joel Weldon:
"Sometimes the biggest opportunity might be occurring and you don't even know it's happening."
"When you can speak effectively, it can skyrocket your career."
"If your passion is greater than your fear, you act."
"Little hinges swing big doors."
"Big money talks."
"Sure we have talents, but you can learn skills outside of your talent area."
"'Be yourself. Everyone else is already taken.' -Oscar Wilde"