Getting Your Digital Life Under Control W/ Maya Yizhaky, Digital Zen Expert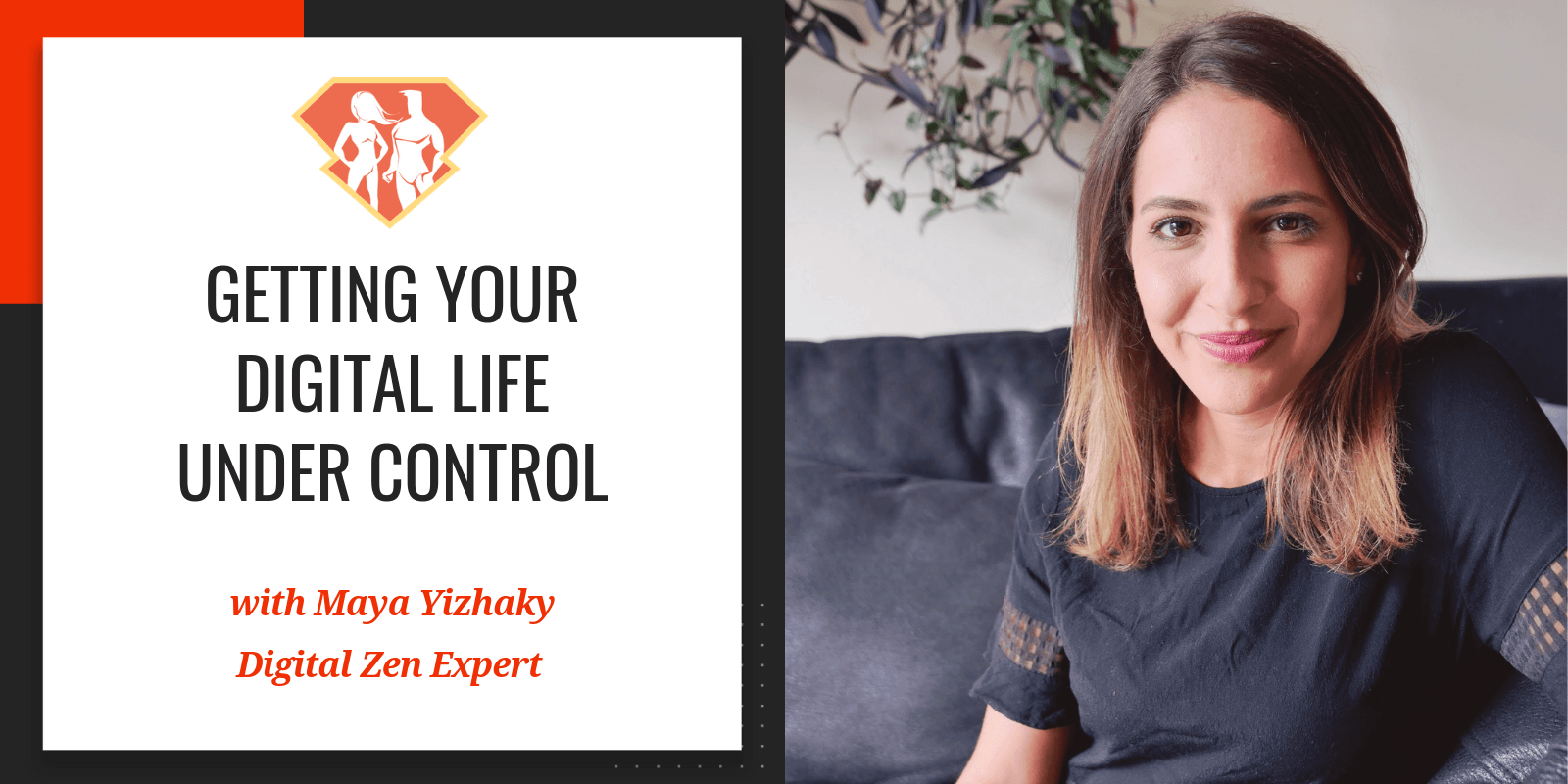 Tags:
Digital Life
,
Happiness
,
Inspiration
,
Lifestyle Design
,
Performance
,
Podcast
,
Productivity
"There are many things in the world that we do not control, but our digital life is one area that is very much in our hands."
— Maya Yizhaky
Greetings, SuperFriends!
This week you are going to meet one of my oldest and dearest friends, Maya Yizhaky! Maya is a digital mindfulness and digital zen expert, who helps people understand better ways to get in control of their technology, better ways to create peace and order in their lives, and better ways to get through all the digital chaos.
Maya spent several years in management consulting, doing strategy and leadership advisory for multinational corporations, international development institutions such as the UN, and technology start-ups. She then shifted to working with private clients, helping them declutter their lives and their souls.
In this episode, we go really deeply into all different kinds of strategies that can help you get rid of all the clutter in your digital lives. We talk about why digital clutter exists, why it matters, what the negative effects are in your life, and then we start to talk about practical ways that you can utilize to free yourself from this clutter – ways that will actually last.
It's a really wide-ranging conversation, which I really enjoyed, and so we went a little longer than usual – but I'm sure you will really enjoy this episode as much as I did!
– Jonathan Levi
In this episode, we discuss:
Who is Maya Yizhaky, and what does she do? [3:00]
What was the next step in Maya's career? [4:45]
The problem with digital overwhelm is universal [5:30]
What was Maya's journey after the United Nations? [6:50]
Maya's experiences and insights from helping people with digital clutter [7:50]
A glimpse on how Maya has simplified her life [9:30]
To what extent does technology impact our lives? [10:30]
The effect technology has on our happiness [17:00]
What are some best practices we can utilize in our digital life? [18:25]
How to handle something as scattered as notes [20:00]
You need to figure out what works for your organizational type [26:00]
The four organizational types [31:10]
One of the biggest digital struggles: email [37:30]
How you can get back control of your email inbox [41:30]
Social media & notifications [47:00]
What is a "problem app"? [53:20]
An activity Maya did to feel SuperHuman recently [55:50]
Some homework for you from Maya Yizhaky [56:45]
The course that Maya and Jonathan have created [57:30]
Maya Yizhaky's final takeaway message [1:01:40]
Where can you find more about Maya? [1:02:00]
Resources Mentioned in This Episode:
Favorite Quotes from Maya Yizhaky:
"Sometimes, our work in the world is part of something bigger than our individual desires."
"When we change our environments, we are able to then create a lot of change inside of ourselves."
"Technology affects every part of our live – digital distraction is everywhere."
"Most people are spending 2-4 hours on their handheld devices."
"You need to have everything be cloud-based."
"Email is supposed to be a communication tool."