GrandMaster of Memory Mattias Ribbing: How To Learn Anything Faster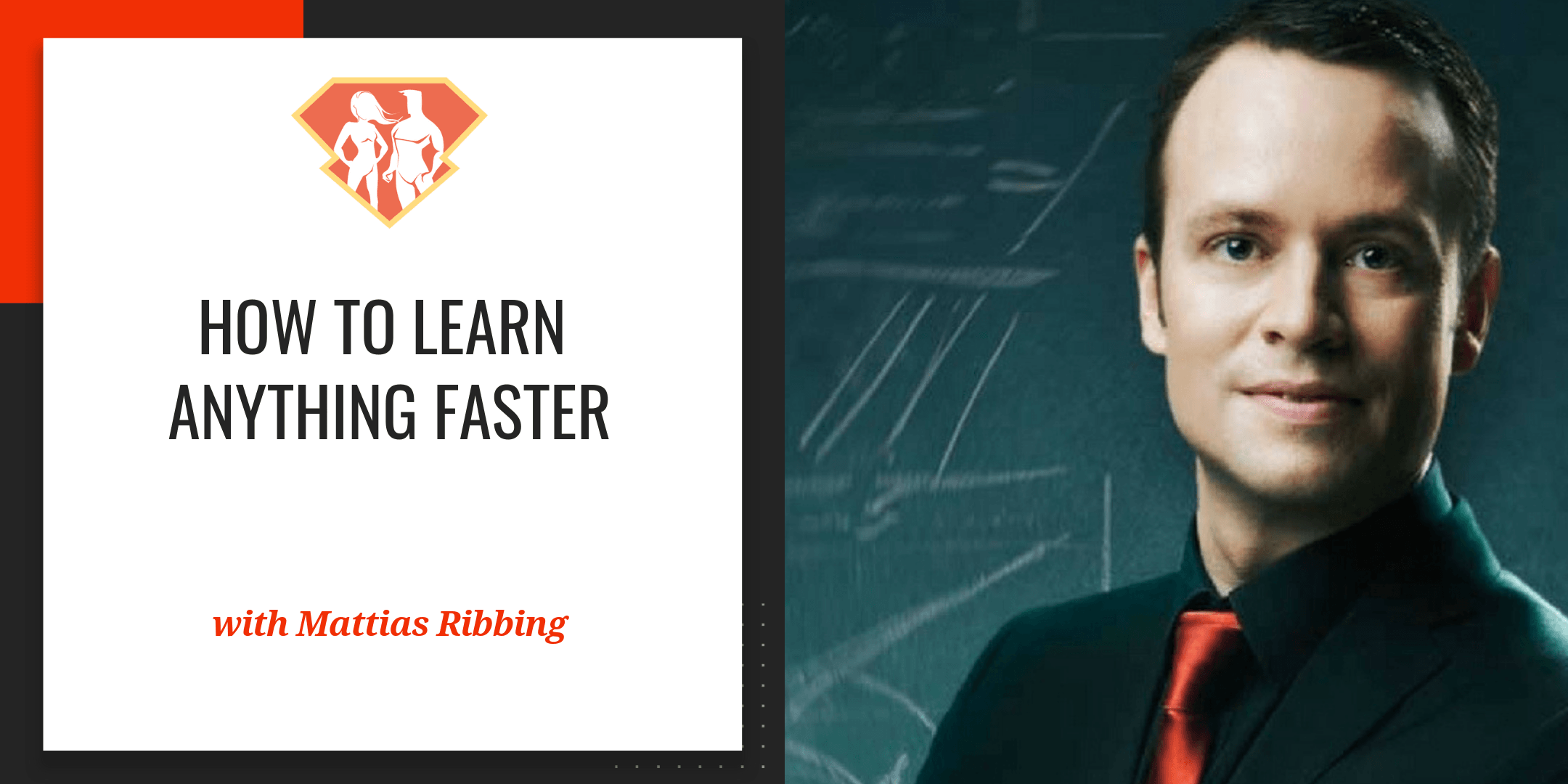 Tags:
Diet
,
Learning
,
Memory
,
Mnemonics
,
Nootropics
,
Nutrition
"Anyone can do it… I only started when I was 29… I train people who are 75 years old!"
— Mattias Ribbing
Greetings, SuperFriends!
Today we are joined by Mattias Ribbing, a 3-time Swedish memory champion, and one of less than 200 people in the entire world who can lay claim to the title "GrandMaster of Memory." He's written three books on both memory and productivity, and is an accomplished public speaker and coach.
But, while today Mattias is one of the top experts in memory and accelerated learning in Europe -as you'll learn today, he wasn't always a memory whiz. And like myself, Mattias' journey started out of a passion for learning and improving himself.
In this episode, Mattias and I mind-melded on everything from learning and memory, to a brain-optimizing diet, to fasting, flow, and nootropics. Mattias shares a LOT of incredible wisdom and certainly doesn't hold back his best tips… I even learned a few new things about mnemonic techniques that I've never heard, and came away with a long list of improvements I want to make to my own training materials! Mattias is simply brilliant, and his intellect and enthusiasm simple bubbles over – so I also encourage you to check out his books and lectures.
On that note, I want to mention that there is an uncut video version of this interview available to students of the SuperLearner MasterClass, so if you've been considering upgrading to that, you can get a discount coupon and check out the uncut video interviews that I upload often as much as a month before the audio versions are released. Simply visit https://jle.vi/learn to enroll today.
In this episode, we discuss:
What is Mattias Ribbing's "origin story" – and how did he get started in memory training at 29?!
How is memory sport different from actually improving learning?
How did Mattias Ribbing become a GrandMaster of Memory and national champion in just 3 years?
What is the difference between Mattias' systems and those used by other memory champions?
What does it really take to become a GrandMaster of Memory?
Why (and how) does Mattias Ribbing memorize the newspaper – multiple times a week?
Does Mattias have an exceptional memory, or can anyone do this?
What about memory palaces? Do you HAVE to use them?
An interesting step-by-step explanation of a new technique Mattias Ribbing has developed
What kind of images are more effective for mnemonics, according to research?
A discussion on marker density, and clarification on where students get stuck
How vivid are the visualizations, and why does this sometimes confuse people?
What is Mattias Ribbing's methodology for accelerating learning?
What is "Brain Teflon Syndrome" and how do you avoid it?
What is "the memory Golem effect" or "the memory Pygmalion effect," and why does it matter?
What are all the things that Mattias Ribbing has used his skills to learn?
How did Mattias go from being "lousy" at math, to writing a book on it?
What about nootropics? What does Mattias use, and what does he shy away from?
Which diet completely changed Mattias' performance in memory sports?
A discussion of intermittent fasting, and how it can improve memory and cognition
What happened when Mattias experimented with a 48-hour fast?
Does anyone do drug testing in memory competitions? What is the culture?
The pro's and cons of serious stimulants like Modafinil
Tips on getting into flow and staying there
How to get in touch with Mattias Ribbing
Why you should consider investing in books and memory courses, even from my "competitors"
If you take away just one message… it should be __________.
Resources Mentioned in This Episode:
Favorite Quotes from Mattias Ribbing:
"I love learning… I just wanted to make things more efficient."
"For all of us, we have to change our visualization skills. That's the same for everyone – it's the only way…"
"Actually, I memorize the newspaper several times a week."
"The important thing is not what images to choose, it's the simultaneous visualization."
"The way we train is that we fail a lot."
"Learning is always when you manage to create a connection between something new and something you already know."
"You've never been stupid, it's just the teacher hasn't been able to explain this to you."
"The most important nootropics… is food."
"For example, getting off sugar… EVERYBODY should do it."
"The memory world needs you, [Jonathan]."
"We need dynamics in life… we try to even things out, nothing is dangerous… but then we don't get challenged in all aspects."
"The brain is built for stress… but we've eliminated all that kind of stress, and started a kind of long-time worry stress…this kind of stress really deconstructs us."
"My hat's off to you, I'm so impressed with your way… not competing, but together, we can raise the awareness of memory and learning."