Greg Wells Ph.D. On Focus And Overcoming Digital Addiction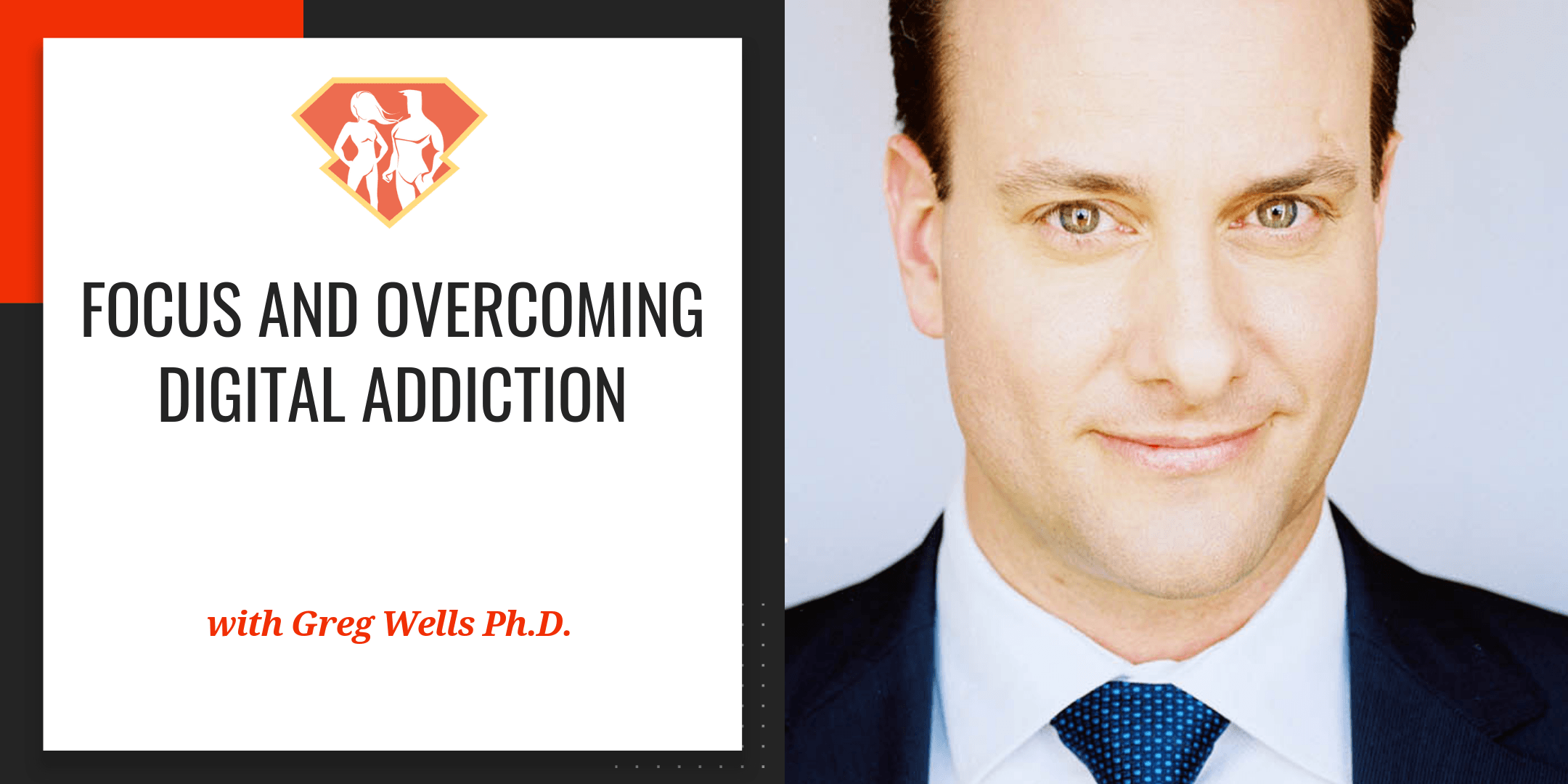 Tags:
Addiction
,
Creativity
,
Focus
,
Happiness
,
Inspiration
,
Podcast
,
Productivity
,
Success
"If you are 100% attentive to the moment, with no other thoughts other than what exists at the moment, that is a pure state for humanity."
— Greg Wells
Greetings, SuperFriends!
Today we are re-joined by Dr. Greg Wells, a scientist, broadcaster, author, coach, and athlete. You might know him as an Associate Professor at the University of Toronto where he studies elite performance or where he serves as a Senior Scientist in translational medicine at The Hospital for Sick Children where he actually leads the Exercise Medicine Research Program.
You might also remember that we had Dr. Wells on the show where we talked about elite athletic performance and his book, The Ripple Effect. But, today we are not going to talk about all of that, or any of that really.
We're actually going to talk about something I've become obsessed with, and that is digital distraction. Some of you folks might know that I've put out posts in the past such as "The #1 Productivity Hack That I Accidentally Discovered" and I've talked with folks like Steven Kotler and many more about the effects of digital distractions, and how they are literally wrecking our brains.
Well, in this conversation, we go into that. We start understanding why it is that you need to pay so much attention, why it is a much bigger deal that you think it is and what you can do about it to prevent damaging your brain and screwing up your entire productive life. And no, I'm not exaggerating.
This is a great episode, and I think you folks are really going to enjoy it!
-Jonathan Levi
In this episode, we discuss:
The story of how Greg Wells started working on the topic of digital distractions [5:35]
Technology has some really good aspects [8:10]
But the problem is in the addiction to distraction [9:00]
Jonathan's thoughts on his own addiction to distraction [10:10]
What you need to be creative vs what you need to be productive [11:50] 
The permanent effect of being addicted to distractions [13:50]
The power of intentional disengagement [14:50] 
The first steps to overcoming digital addiction [18:50]
You should run an experiment to see how you do without distractions [21:30]
Building retreats to enhance creativity [24:00]
It's ok to take time to do what is important to you [26:50]
Shifting from time management into priority management [29:30] 
The power of physical paper [30:45]
How to overcome the weight issue of physical notebooks [34:15]
Two ideas for homework to get free from distraction [36:10] 
Resources Mentioned in This Episode:
Favorite Quotes from Greg Wells:
"I think the fact that we have the entire history of all the world's knowledge in our pocket at all time is incredible!"
"The problem is when we get addicted to it, when we are on it all the time, when it takes us out of the real world."
"Saying 'no' is critically important."
"I'm trying to shift out of time management, living out of my calendar, into priorities."