How To Always Identify The Highest Value Thing You Can Do W/ Pete Mockaitis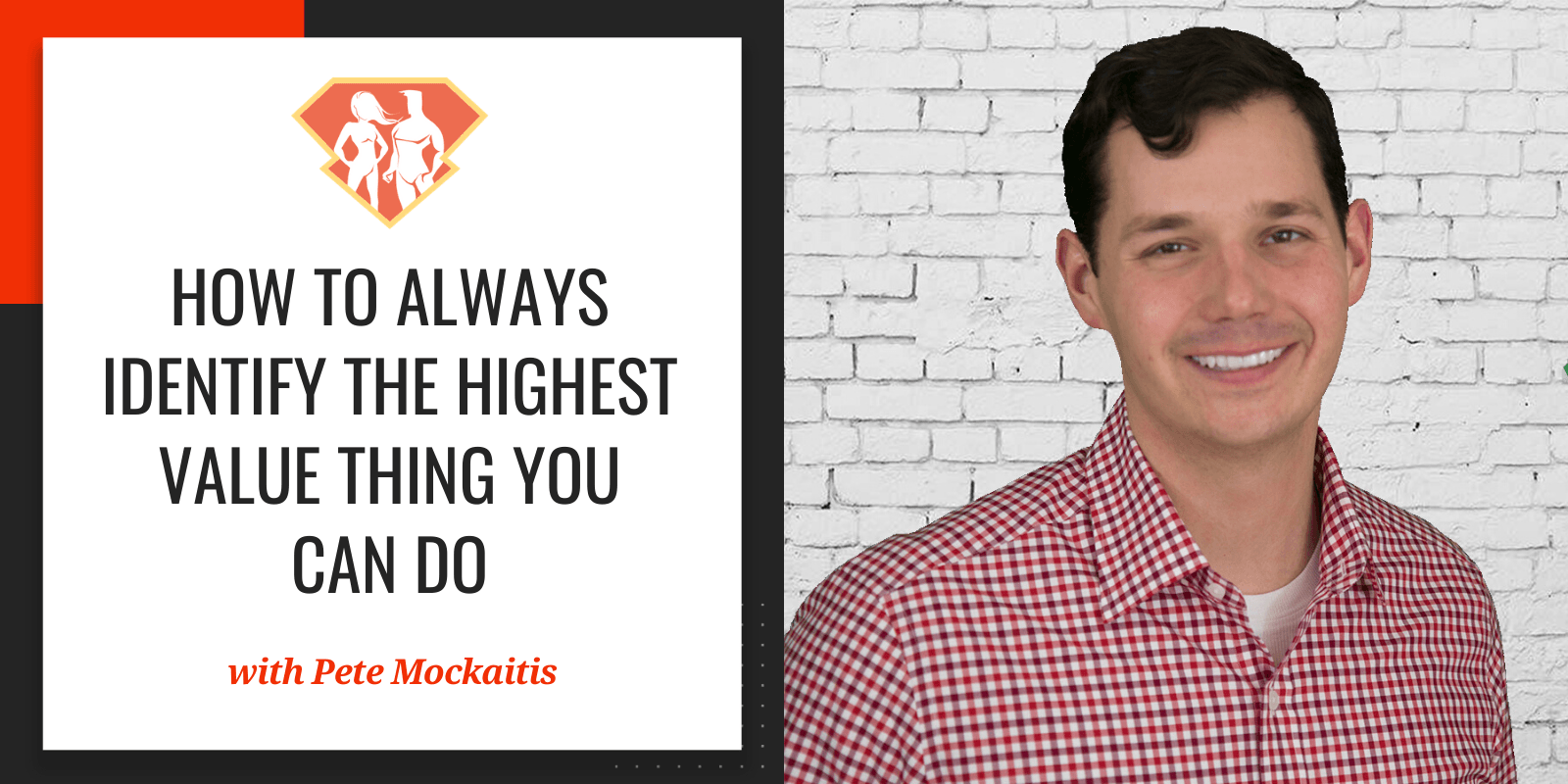 Tags:
Entrepreneurship
,
Goals
,
Inspiration
,
Learning
,
Motivation
,
Performance
,
Podcast
,
Procrastination
,
Productivity
,
Success
"Certain activities are massively more valuable than other activities."
— Pete Mockaitis
Greetings, SuperFriends!
Today we are joined by Pete Mockaitis. Pete is an award-winning speaker and coach, host of the "How to be Awesome at Your Job" podcast, who teaches professionals how to perform optimally at work. His work has been featured in The New York Times, Forbes, and Inc.
Pete has also delivered 1-on-1 coaching to over 700 leaders hailing from world-class organizations (such as Google, FedEx, Amazon, Apple, Anheuser-Busch, and the United Nations), 50 countries, and every Ivy League university.
Absolutely incredible!
In this episode, we talk about Pete's own journey from being a salaried employee and a consultant all the way to his decision to go out and become an entrepreneur. We talk about why he did it, how he did it, and his advice for being your absolute best – being SuperHuman – in the workplace. Some of the things we cover are how to actually make the difference in your work and life, as well as how to stand out.
And, of course, I asked him about all his favorite ways to perform at his absolute best. I really enjoyed this conversation, and I am sure you will as well!
-Jonathan Levi
In this episode, we discuss:
Who is Pete Mockaitis and how did he get here? [3:30]
What path did Pete take after high school? [7:00]
What is Pete's zone of genius? [11:10]
How to evaluate your options to identify the best one [13:40]
What can make you stand out at your work? [20:45]
Some SuperHuman hacks and habits Pete himself utilizes [26:05]
A piece of homework for you to act on from Pete Mockaitis [30:40]
Some books that have impacted Pete Mockaitis' life [31:50]
Pete's favorite products and services [33:30]
Some rapid-fire questions for Pete Mockaitis [37:10]
Where can you find out more about Pete Mockaitis? [38:40]
Pete Mockaitis' final takeaway message [39:30]
Resources Mentioned in This Episode:
Favorite Quotes from Pete Mockaitis:
"It is indeed possible to become SuperHuman when you do some great learning."
"Do less than obsess."