How To Be A True SuperHuman & The Power Of Visualization W/ Matt Belair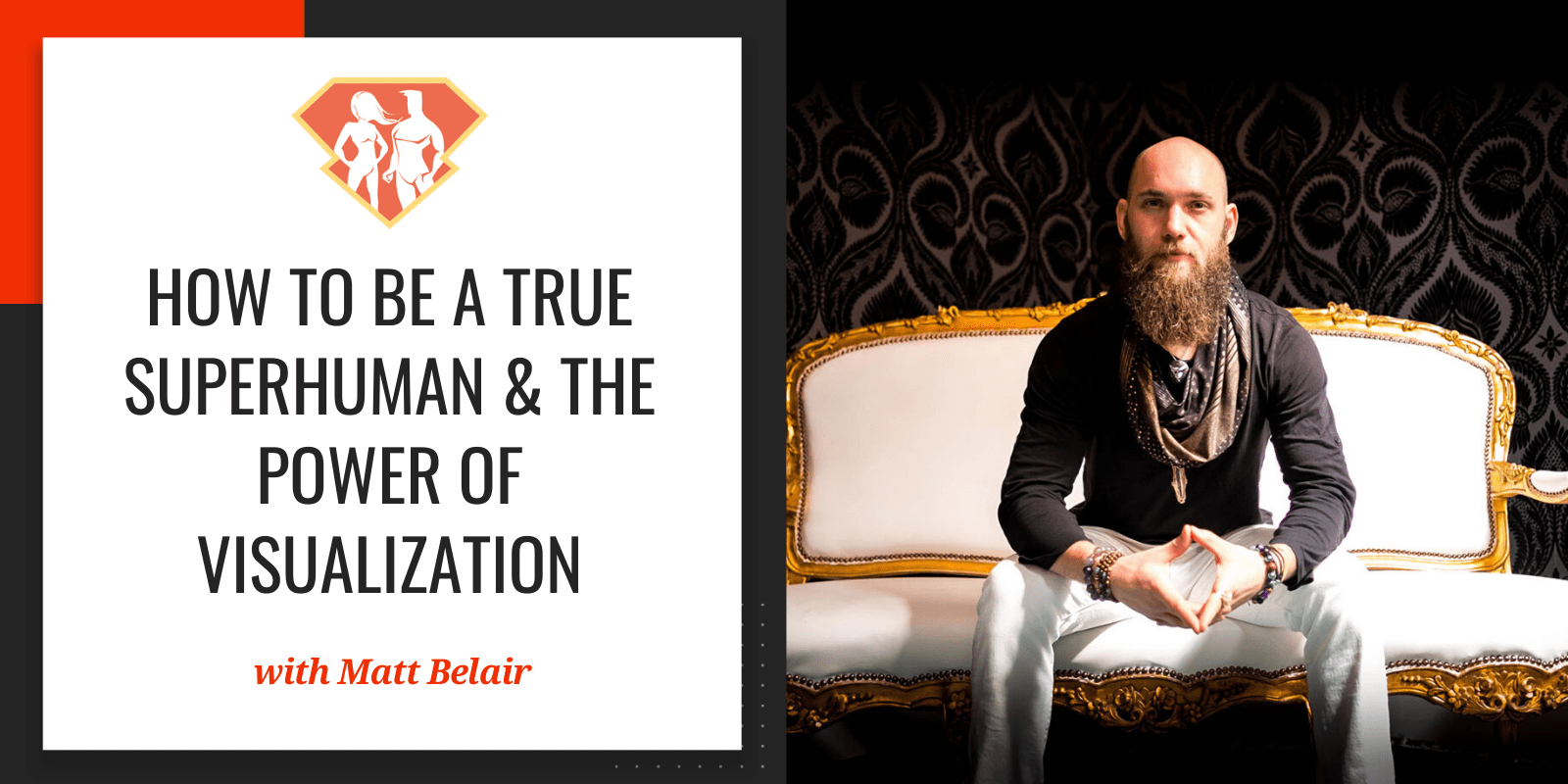 Tags:
Inspiration
,
Meditation
,
Mindset
,
Performance
,
Podcast
,
Spirituality
,
Success
,
visualization
"Realize wholeheartedly that you are enough as you are."
— Matt Belair
Greetings, SuperFriends!
Today we are joined by Matthew Belair. I actually appeared on Matt's podcast, and I got so interested in the little bits of his story that I managed to get out of him, that I invited him on my show to learn more about him.
Matt is a top-rated podcast host, best-selling author of Zen Athlete: A Guide To Self-Mastery, and he is an expert in human performance. He hosts The Master Mind, Body and Spirit show, which has reached #1 on iTunes and he does all kinds of insane coaching and blogging around sports, performance, spirituality, mindset, and many more things.
I think Matt is one of the only people in the world that have sought out as many SuperHumans as I have. Matt is a life long martial artist, traveler, and truth-seeker who has indeed trained with many masters. He has studied meditation in Nepal with Tibetan monks, survived a near-death experience trekking mount Everest, he's worked with Wim Hof, and he has trained with professional MMA fighters in Thailand as well as with 34th generation Shaolin Monks in China.
It would take me the whole episode to list all the crazy things Matt has done to try and learn more about optimal performance. That is why we had a wide-ranging conversation where we talked about everything from mindset and visualization to athletics, spirituality, and meditation. You will truly discover all different kinds of ways to improve your experience on this planet in this wide-ranging episode with Matt Belair!
Enjoy!
-Jonathan Levi
In this episode, we discuss:
Who is Matt Belair, what does he do, and how did he get here? [3:25]
Some of the craziest things Matt has seen in his journeys [7:15]
What is Matt's superpower? [13:10]
What is Zen athleticism? [15:15]
The principles behind Matt' framework [19:00]
What is Matt's SuperHuman routine? [22:05]
The power our thoughts have over our actions and lives [27:20]
What meditation does Matt practice and why? [33:00]
How have Matt's views and teachings changed over time? [35:30]
What is Matt learning about right now? [37:10]
Some books that have impacted Matt's life [39:00]
Some homework for you by Matt Belair [40:10]
Matt Belair's final takeaway message [42:10]
Where can you learn more about Matt [43:00]
Resources Mentioned in This Episode:
Favorite Quotes from Matt Belair:
"Superhuman powers are completely possible, but they require superhuman dedication."
"The best thing I've done is go and learn in-person from the best."
"You have to pick a goal that has meaning to you."
"Your thoughts are going to influence your beliefs."