How to Change Your Life & Be A Total Badass w/ Jen Sincero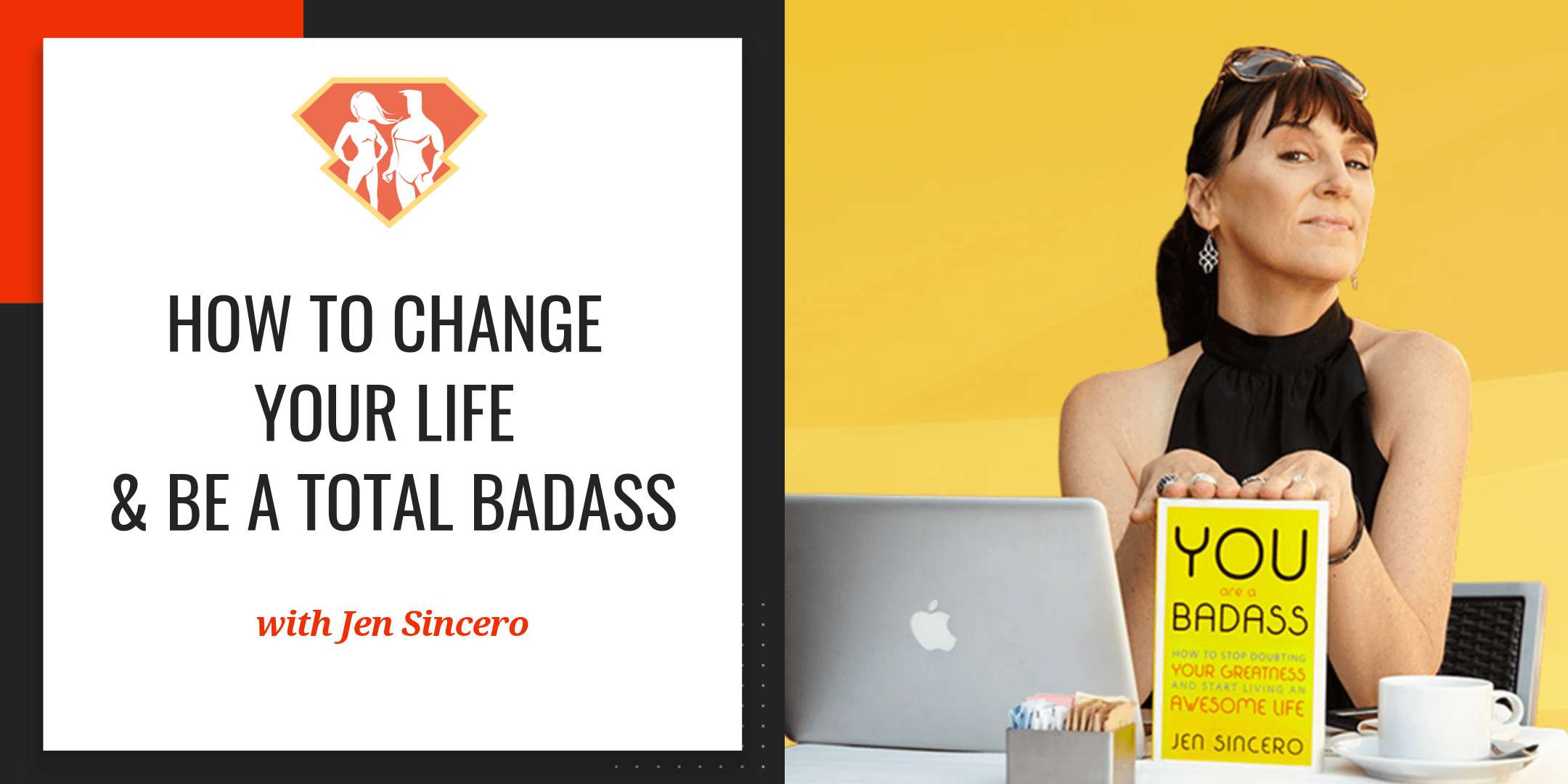 Tags:
Coaching
,
Happiness
,
Success
"The decision to change your life is going to involve things that you're not comfortable doing… or else you would have already done them."
— Jen Sincero
Greetings, SuperFriends!
Today's guest, Jen Sincero, is a total badass.
Actually, she wrote the book on being a badass. No… seriously, though.
She's the NYT bestselling author of "You are a badass: How to stop doubting your greatness and start living an awesome life," and a bunch of other books, including one interesting titled "a straight girls guide to sleeping with chicks." With titles like that, coaching clients who themselves have gone on to become new york times bestsellers, an upcoming and much anticipated podcast, and features in the new york times, HBO, Bloomberg, and O magazine, I just had to get her on the show while I still could to share some of the badassness with us.
In this episode, we discuss a really broad range of topics, from discovering your life's passion, to the value of coaches and how to find a good one, to the perks of travel for personal development, and even tips on how to maximize your income. My guest is an absolute wealth of positive energy and inspiration, and I just know this episode is going to knock your socks off.
In this episode, we discuss:
Jen Sincero's fascinating and inspiring life story
Should everyone who wants to succeed have a coach?
Thoughts on therapy
How Jen Sincero learned how to make money – and then actually did it!
How coaching changed Jen Sincero's life
How can you find a good coach?
Jen's experience living as a digital nomad, and how it inspired her
Why budgeting is bullshit and what to do instead
What are the top lessons you'll learn in Jen's new book?
What is the role of fear in changing your life? Is fear necessary?
What does it mean to be a "badass" in Jen Sincero's world?
What is the #1 thing you can do RIGHT NOW to be more of a badass?
An incredible story of how coaching changed Jen's life
The mistake of charging your clients only what you would pay
Why charging more money is actually GOOD for your customers! (Loved this!)
What's Jen Sincero working on next?
What is the #1 top takeaway Jen wants you to learn from this episode?
Resources Mentioned in This Episode:
Favorite Quotes from Jen Sincero:
"I think that facing your issues and making a commitment to overcoming whatever's holding you back is one of the bravest things that you can do."
"I don't know about you, but I feel like my autobiography would definitely be called 'No Experience Necessary.'"
"Focus on the excitement. Fear is always going to be there."
"I realized that there really wasn't any mystery. The reason that us self-helpers talk about this stuff all the time is because that's it. And also… it works!"
"If something feels scary, that's an excellent compass to know that you're going in the right direction."
"I think that terror and excitement are 2 different sides of the same coin."
"Don't be pushed around by your reality or the "truths" that other people are telling you."
"You know, by the way… You're going to die. THAT should be enough of an incentive."
"Money is currency and currency is energy."