How To Design Experiences That Help People Learn W/ Julie Dirksen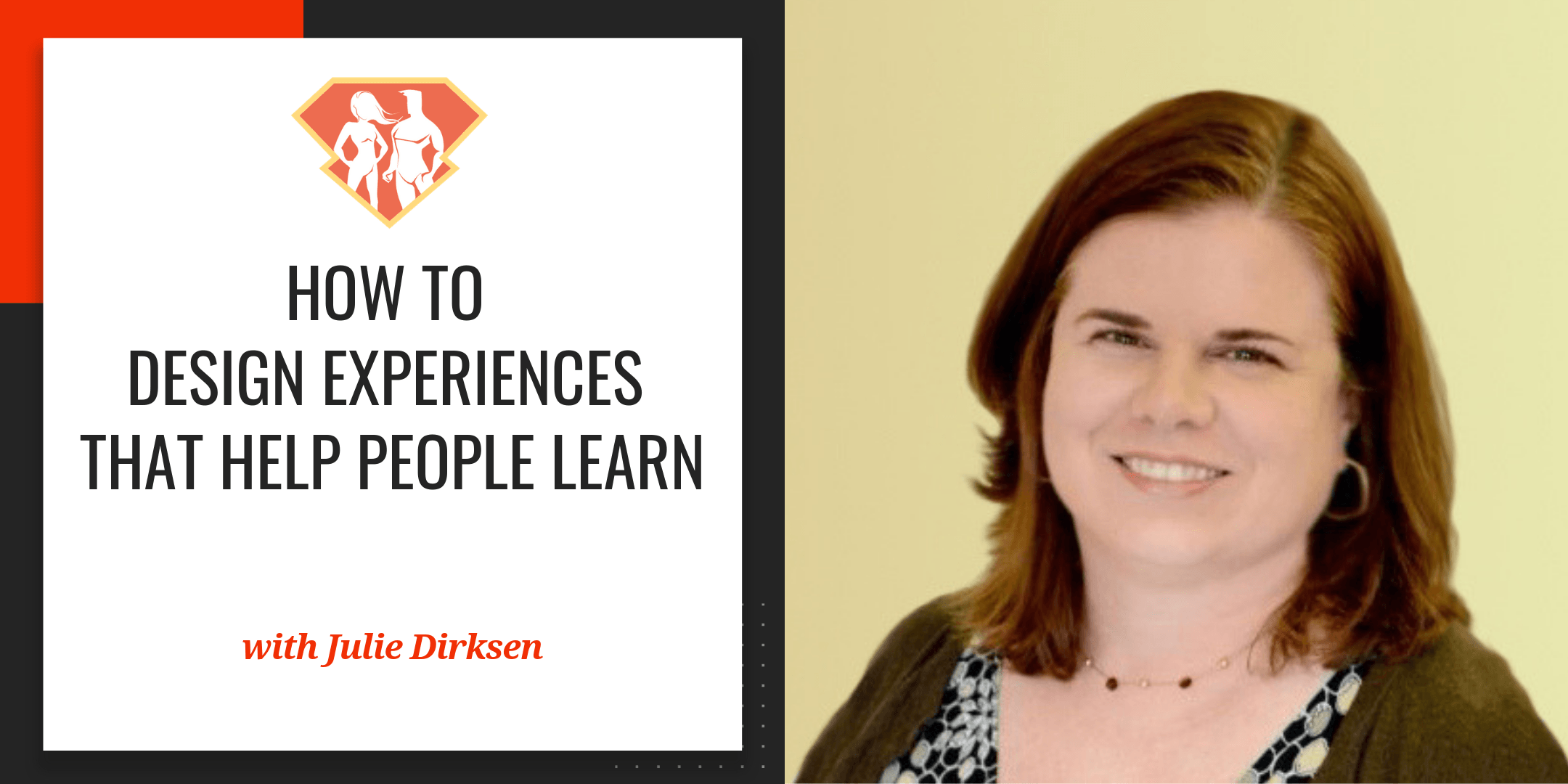 Tags:
Instructional Design
,
Learning
,
Podcast
,
Superlearning
,
Teaching
"The fundamental unit of learning [should be] a learner's action plus feedback."
— Julie Dirksen
Greetings, SuperFriends!
Today we are joined by Julie Dirksen. Julie is a learning strategist and an instructional designer, who focuses on the science of sustainable behavior change.
The truth is, though, Ι was so fascinated by the learning how to learn aspect and the instructional design that we actually got to the end of the episode and realized we didn't even get into behavior change. So, we'll have to do a follow-up episode just on that.
Nevertheless, I think you folks are really going to enjoy this episode, as we go into what the things that help adults learn more effectively are, and which are the ways that we, as teachers and as learners, can structure our learning environments to be more successful.
I honestly believe you're going to enjoy the episode, as I really did. If you do, please let us know in the comments, and maybe leave us a review.
-Jonathan Levi
P.S. Do you dream of starting your own business on the internet to achieve financial freedom, empower tens of thousands of people, and one day…one day… find yourself in the company of other great entrepreneurs and thought leaders like Ray Kurzweil, Peter Diamandis, Joe Polish, Dean Graziosi, Russell Brunson, and more?
Well… What if that day was today?
In this episode, we discuss:
Who is Julie Dirksen, and what does she do? [6:30]
How structuring a learning experience can make a huge difference in the experience [7:30]
What makes a learning experience fruitful? [9:00] 
The importance of autonomy and involvement in adult learning [11:05]
Who is the "smartest" person in an online learning environment? [12:30]
What can you do from the student side? [14:00]
Current limitations for mass interaction with students [17:00]
How can we scale the teaching process, while maintaining the value proposition? [18:00]
How does having a human teach you impact your learning? [19:15]
Scalability through peer to peer feedback and teaching delegation [21:15]
Active learning (and teaching) experiences [23:30]
Challenges that Julie Dirksen faces in teaching others instructional design [24:40]
The techniques to identify the learning and teaching challenge you are dealing with [25:30] 
Expertise (and examples) enables a lot of pattern recognition [28:00]
What can you do when there isn't a right answer? [30:40]
What can you do when the disaster hits? [32:10]
Simple problems shouldn't be made complex [33:00]
Complex environments need feedback mechanisms[34:30]
Rockstar results – the correct way to teach math [34:55] 
Why do social interactions matter? [37:45]
Who is Julie Dirksen's book for? [39:50]
Where can you find out more about Julie Dirksen? [42:55]
Resources Mentioned in This Episode:
Favorite Quotes from Julie Dirksen:
"A lot of people wind up teaching things because they know a lot about their subject, but they don't necessarily know how to communicate it."
"One of the challenges when you become an expert at something, is it's really difficult to remember how to go back."
"In an online learning environment, the smartest person in the system at that point is still the learner."