How To Use The "Slipstream Technique" To Shortcut Your Career Success & Learn Directly From Industry Transformers W/ Brandon Fong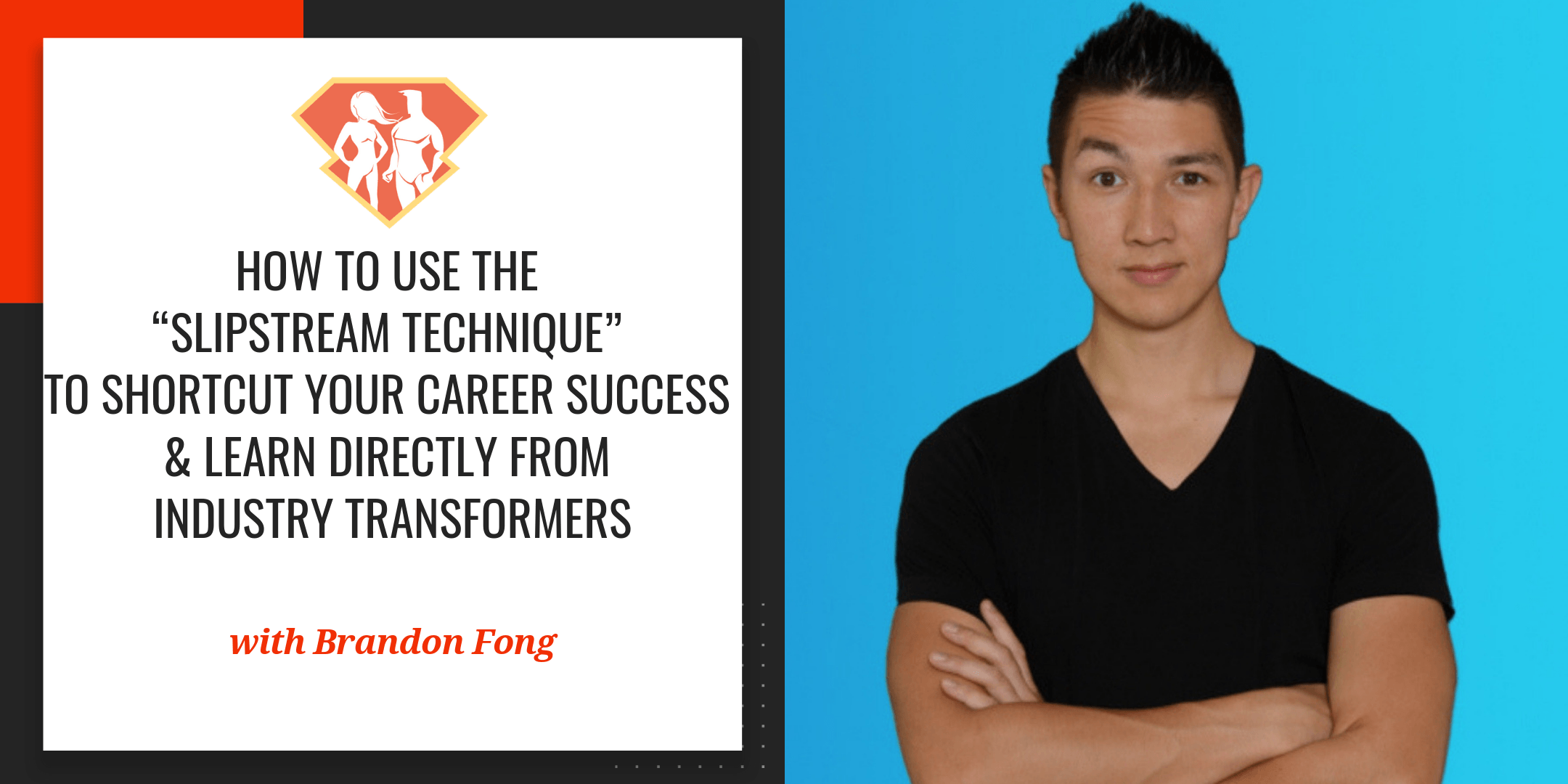 Tags:
Entrepreneurship
,
Goals
,
Inspiration
,
Lifestyle
,
Podcast
,
Relationships
,
Success
"When it comes to building your brand, you don't need to have it all figured out. You just need to have a general direction."
— Brandon Fong
Greetings, SuperFriends!
Welcome to a very special episode of the show! You see, this week we are joined by my right-hand man, Brandon Fong. He runs up a lot of our company's efforts and is really the swiss army knife at SuperHuman Enterprises.
As a college student, Brandon published a four-category Amazon best-selling book, launched and failed at his first startup venture, acquired tens of thousands of dollars of scholarships, and traveled to 13 different countries while pursuing a double major in entrepreneurship and marketing with a digital marketing emphasis, and a minor in Spanish.
His work has also been featured in Fast Company, the Milwaukee Journal Sentinel, the Huffington Post, and the School for Startups radio.
But, that's not why Brandon is on the show today. Brandon is on the show because, 9 months before graduation, he leveraged his brand and experiences to secure a 100% remote marketing position at his dream company – and yes, that is my company. After joining the company, Brandon became one of the most valuable team members we have, and he's helped me grow the business.
Now, what does this have to do with being SuperHuman? Well, it turns out that none of this happened by accident. Brandon had actually spent years developing his own methodology for working his way into the inner circles of some of the most influential and successful people in the world, and then getting them to lovingly mentor him and invest in him and his future efforts.
In this episode, Brandon is going to teach you how to stand out from every other job candidate, whether you're young, old, experienced, or a novice, and he's going to show you a different and better way to make yourself stand out so you can be more competitive and more successful in the job market.
And I know that appeals to every single one of us.
So, I think you're really going to enjoy this episode – I definitely did.
-Jonathan Levi
In this episode, we discuss:
A few words about our guest today, Brandon [4:25]
Who is Brandon Fong, and how did he get here? [5:10]
Some things cannot be taken away from you [7:15]
The connection between behavior and personality [9:10]
What does building a brand really mean? [10:15]
What are some common fears stopping people from building their brand? [12:30]
Is building everything from scratch really necessary for building your own brand? [14:00]
How did Brandon approach Jonathan? [15:20]
What is some low hanging fruit that can help you in approaching influencers? [17:20]
What is the slipstreaming technique? [20:50]
What is possible with the slipstreaming technique? [24:15]
How does this relationship feel from the other side of the table? [30:35]
How much does getting a reply back to your email mean? [34:00]
The importance of standing out and being indispensable [36:30]
What is the keystone technique, and how to use it to make yourself stand out? [37:45]
A discussion on the upcoming course by Brandon and Jonathan, Unlimited Advantage [39:30]
The slipstream technique is for everyone [42:40]
When will the course be available, and for how long? [43:20]
Rapid-fire questions [44:30]
What is Brandon's final takeaway message? [46:50]
Resources Mentioned in This Episode:
Favorite Quotes from Brandon Fong:
"I realized that I should really start investing in myself and in my brand. In things that can't be taken away from me, that are specifically mine."
"What you have in your pocket anyone can take, but what you have in your head, no one can."
"It's behavior that shapes your personality, not the other way around."
"If you get the courage to reach out, that is just the beginning."