Iceman Wim Hof: How You, Too, Can Become SuperHuman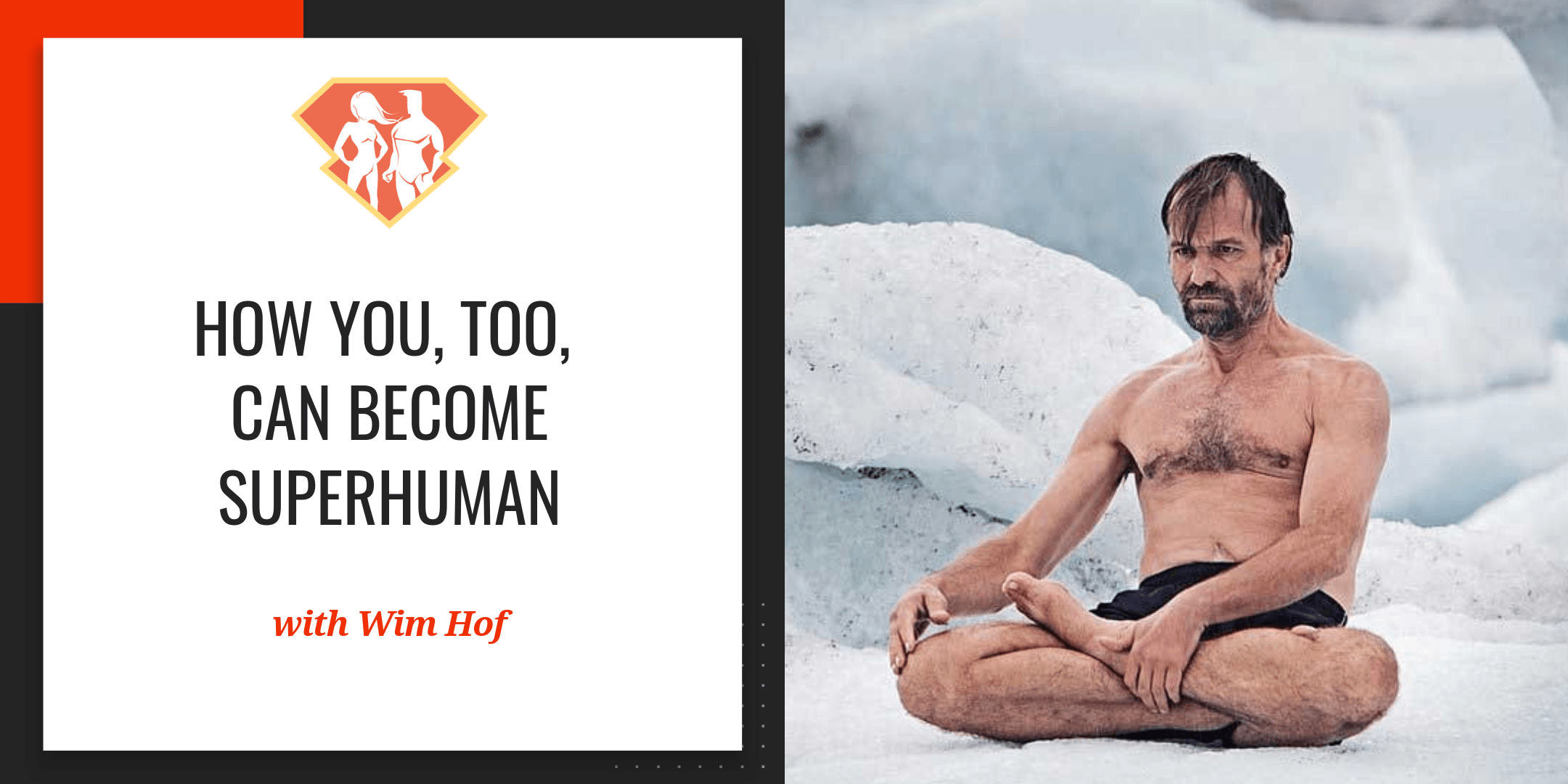 Tags:
Iceman
,
Learning
,
Meditation
,
Superhuman
,
Wim Hof
,
Yoga
"You want to become happy, strong, and healthy? Learn to tap into the deeper part of your brain and physiology."
— Wim Hof, The Iceman
Greetings, SuperFriends!
Today, we have a very special guest, and someone many of you have requested.
It's not everyday that we have someone on the show that exhibits actual "superhuman" skills in the traditional sense of the word, but that's exactly what our guest today has been able to prove.
Better known as "The Iceman," my guest today is none other than Wim Hof.
He holds no less than 20 world records, ranging from the world's longest ice bath, to climbing Mount Kilimanjaro and 6.7 kilometers of Mount Everest wearing nothing but shorts and shoes, to resisting an injection of rattlesnake venom, running a marathon in the desert without water, and much much more.
What's most interesting is that he has been able to successfully teach others to do these amazing feats, using simply the power of yoga and breathing techniques.
You'll tell straight away that his passion, energy, and enthusiasm far outweigh my ability to lead the conversation, and so you won't hear too much of me speaking this episode – but I don't think you'll mind one bit.
Throughout the episode, I tried to better understand how his special abilities came to be, how he has managed to defy logic (and science) time and time again, and how you, too, can learn to achieve such superhuman feats.
As always, please share your thoughts with me on Twitter @gosuperhuman, and if you haven't already, please remember to leave us a review on iTunes or Stitcher.
In this episode with Iceman Wim Hof, we discuss:
How did Wim Hof become "The Iceman," one of the most extraordinary humans on the planet?
What was the Iceman seeking when he decided to start experimenting with cold therapy
What is so special about the cold? What effects does it have on our body?
Where and how did Wim Hof learn and develop what he has since taught thousands of people?
Which Eastern methodologies have influenced and helped shape the Wim Hof Method?
Why did humans lose the ability to control their bodies the way that Wim's students can?
What does modern science say about the Wim Hof Method, and how has it been proven?
Which diseases or maladies might the Wim Hof Method cure or alleviate?
In what way is the Wim Hof Method similar to the Shaolin monks or Pranayama?
How exactly does the Wim Hof Method work in the brain, endocrine system, and immune system?
Is anyone and everyone able to use the Wim Hof Method?
What hormonal changes occur in the body when you practice WHM?
What are all of the benefits that you can expect to gain from the Wim Hof Method?
The 3 layers of the immune system, and how you can learn to control them
How does Wim Hof teach students to control adrenaline, mitochondrial function, and oxygenation?
What is Wim Hof's driving mission and purpose behind everything he does?
Does the practice get easier with time? And if so, why and how?
A special homework assignment from Wim for listeners of the SuperHuman Academy Podcast!
Resources Mentioned in This Episode:
Favorite Quotes from Iceman Wim Hof:
"I always have been a seeker. And a seeker becomes a finder."
"Nothing is as good as the noble cold."
"It's in your consciousness; this deep sense of your physiology… the way nature meant it to be."
"It's a self-revealing process. Because the real book? That's you."
"The cold is merciless but righteous. It brings you into the depth."
"Before, I felt it intuitively. But now, it is science."
"It doesn't take years and years of training to tap into the deepest part of ourselves."
"We are able to redirect new neurological pathways very fast. That's what we do. And then, from there, it directly connects with the rest of the body."
"We have shown that everybody is able to suppress inflammatory markers – drastically – without using pills and medicines."
"There is no cost involved… Just Do It!"
"I don't like philosophizing too much. I don't like speculation. I know a feeling is understanding. That's real. And that's what I want to pass on to everybody. Bringing peace to everybody."
"It's about love, man."
"I will go on until it's scientifically, completely analyzed, and made accessible to every person in the world as a non-dogmatic choice."
"I just want to prove it scientifically… and we are right on track."
"Winter?! We make it summer. We are able to go back into nature once again, and say… 'We are the masters!'"
"By the way, I respect your work! The way nature meant it to be is the right way for everybody… for every mind."