What I've Learned From Interviewing 100 SuperHumans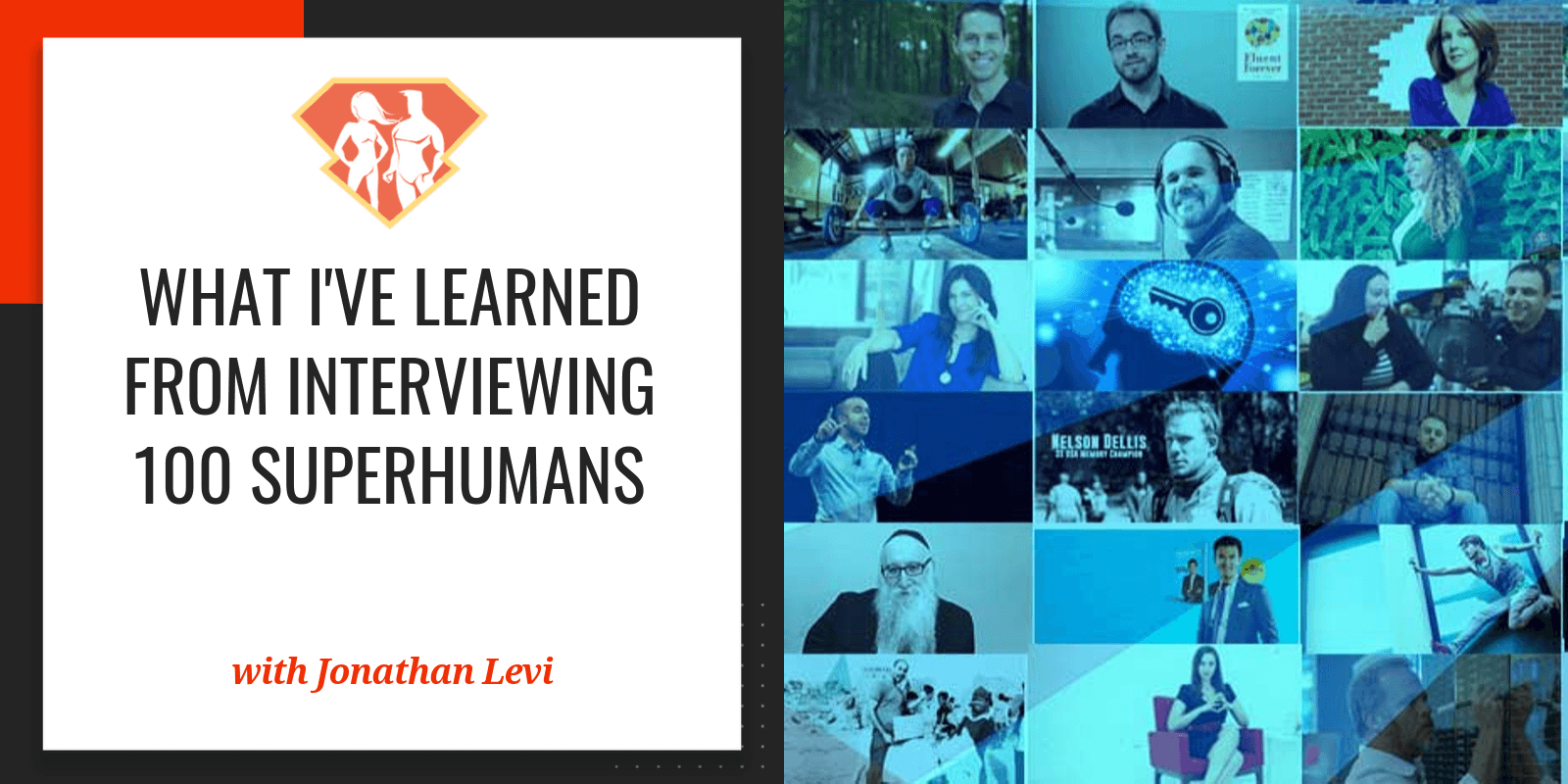 Tags:
Podcast
Part 1:
Part 2:
Greetings, SuperFriends, and welcome to a very special episode of The SuperHuman Academy Podcast… Our 100th episode!
Can you guys believe that it's been a HUNDRED episodes?
When I first started out, I wasn't sure if I was going to make it to 10. And when I listen back to my first few episodes, the absolutely cringeworthy performance I gave makes it all the more impressive that you guys have stuck with me this far.
For our 100th episode, I wanted to do something a little bit special. You see, at the beginning of every episode, we promise to give you the skills and strategies to overcome the impossible. For the most part, I feel that we deliver on that promise every single week. Though, with 100 episodes, it can be hard to keep track of all of the takeaways we've offered on the show. Even I, who records the episodes and then listens to them after they've been edited, lose sight of all the nuggets and hidden gems that come out over the course of time.
That's why, for this special episode, I want to revisit each episode, and offer you the top 1-2 takeaways that I personally remember from each one. I'll tell you why I think that each one is important, and how it has affected my life. At the end, I'll also let you know my top 10 favorite episodes, and the top 10 books that guests have recommended.
Let me say, guys, that this was quite easily the most difficult, grueling episode to produce. I spent countless hours over the last few MONTHs digging through all of the incredible ideas, quotes, books, talking points, and takeaways that we've shared over the last 2 years. Even with speed reading and memory techniques, it was a hell of a lot of information to go through, and ultimately, a lot of major stuff had to be left out. For this reason, I want to encourage you guys to check out and listen to – or re-listen to – any episode that piques your interest. You just may want to listen to this one with a pen and paper in hand. Either way, I hope you enjoy this very condensed summary, catch a few things you didn't know, and recall a few things you'd maybe forgotten over the last year or two. I know I did.
Before we dig into it, though, I want to tell you about a very special raffle we're holding. We're going to be giving away one Valkee HumanCharger biohacking device to one lucky listener. You might remember the HumanCharger from  episode #57, where we talk about transcranial light therapy and it's benefits. This giveaway is valued at $199, and all you have to do to be eligible is leave us a review on iTunes, and email us a screenshot of your published review along with your mailing address to info@superhumanacademy.com. We'll announce the winner of the raffle on our social media channels in the next two weeks, so don't delay.
And now, without further adieu, I'm proud to present to you…
My Top Takeaways From Episode Number…
So, there you go. A summary of the biggest and most important things I've learned throughout the 99 episodes leading up to this one. You might be wondering – which ones stood out? Well, here are…
My Top 10 Episodes (In No Specific Order):
You might also be wondering about all the books mentioned in all of the episodes. Which ones have I read? Which ones do I recommend? Well.. Here are
My Top 10 Books Discussed on the Show:
So, how would I sum it all up?
How would I crystallize all of the incredible wisdom of nearly 100 of the world's most impressive humans into some actionable and practical advice that you can act on today.
Well, here are some themes that jump out.
The World's Healthiest, Happiest, and Successful Humans…
Read books. A lot of books.
Nearly all of our guests have had a reading habit. Even the elite athletes. In fact, many of them admitted to reading more than 1 book a week, or spending intensive periods of their lives reading dozens of books on rapid fire.
Meditate. One way or another.
The vast majority of our guests had some form of meditation or mindfulness practice. Some did it for spiritual reasons. Some did it for productivity. But nearly all of them took time most days to pause and focus on the present moment.
Eat real food. And avoid garbage.
So many of our guests have agreed with the same dietary advice, you probably don't even need me to repeat it. Eat lots of fruits and veggies. Avoid processed crap. In summary: pay attention to what goes in your mouth, and you'll be pleased with what comes out of your mind.
Think deliberately about their actions. And their goals.
Most of our guests talked about having plans, goals, and structure around their activities. Very few of them ended up where they were by accident. This goes to show that the most successful people take time to visualize how they're going to get where they want to go.
Pay close attention to their words – especially those spoken to themselves.
Have you ever noticed that there is almost no negativity on the show? Very, very few of the guests have ever had negative comments to say about others or themselves. This goes to show that the most successful people understand the power of words and the power of positive thinking. In fact, a lot of guests pointed out the importance of having healthy and positive conversations with yourself, and even more of them pointed to gratitude exercises or journaling as an invaluable tool.
---
So, that's all for now. I can't say it was easy. I can't say I always enjoyed every second of work to get up to this point. But I can say it's been a heck of a lot of fun.
I want to thank all of our guests thus far for sharing their time and their wisdom, and of course, to thank all of you for tuning in every week.
If you could, please take a moment to share with us your absolute favorite moment, takeaway, or episode either on Twitter or on Facebook. While you're at it, let us know what you'd like to see for the next hundred episodes, and just maybe, we'll make it happen!
This is Jonathan Levi… signing off!