Jeff Sanders On The Importance Of Carving Free Time For Yourself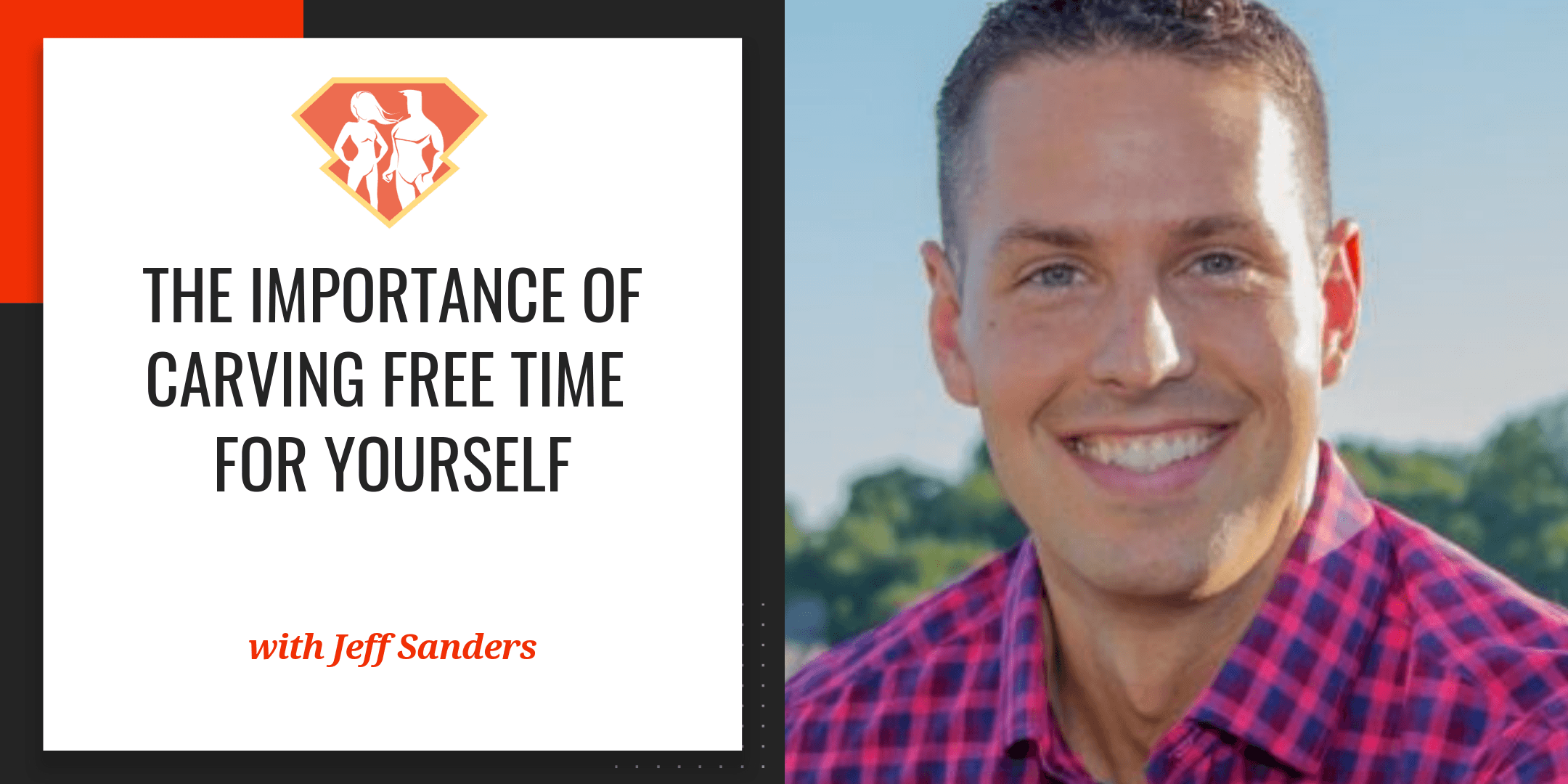 Tags:
Anxiety
,
Entrepreneurship
,
Habits
,
Happiness
,
Inspiration
,
Lifestyle
,
Lifestyle Design
,
Podcast
,
Productivity
"The healthier I am, the more energy I then have to apply to my work."
— Jeff Sanders
Greetings, SuperFriends!
Today we are joined once again by Jeff Sanders. Jeff is a keynote speaker, and the author of The Free-Time Formula and The 5 AM Miracle, which we talked about in our previous episode together. He is also the host of The 5 AM Miracle Podcast, which has ranked #1 in iTunes in the Self-Help and Business categories, been nominated for 6 Podcast Awards, and exceeded 6 million downloads. That is a very impressive number, let me tell you from one podcaster to another.
As you guys know, Jeff and I see eye-to-eye on many things, productivity and beyond. Therefore, this episode is a wide-ranging and casual conversation. We talk about Jeff's latest book, we talk about the anxiety and stress breakdown that led to writing that book, and we get into some philosophical questions about "what the point is" and "why you should free up your time, plus why you shouldn't".
I really enjoyed the conversation, which is a pretty good indicator that you will do the same. So, without any further ado, go ahead and listen to the episode with my SuperFriend, Mr. Jeff Sanders.
-Jonathan Levi
In this episode, we discuss:
What has Jeff Sanders been up to since our previous episode? [3:50]
How did Jeff start crafting free time after his breakdown incident? [6:35]
How to focus on the right things [8:30]
Doing less can help you achieve more [10:00]
What did Jeff change in his life?[11:10]
The emphasis Jeff put into focused blocks of time [12:45]
Is there a middle ground between too much work and too much time freedom? [14:35]
Some more tips to save time by Jeff Sanders [16:30]
Your value is not just your work [17:40]
Sometimes work you've already done or are doing so is an investment for the future [19:35]
Should you try pushing your limits? [23:00]
How does Jeff Sanders spend his free time nowadays? [24:00]
How much time did Jeff Sanders free up? [26:40] 
Homework to help you eliminate something from your life [29:00] 
Where can you find more about Jeff Sanders? [32:00]
Resources Mentioned in This Episode:
Favorite Quotes from Jeff Sanders:
"I realized that a large chunk of what I had scheduled were things that I now consider to be nonsense."
"It's really just about the priority and the order of which the things get done, to make sure that I can just say yes to what matters now."
"It's important to push to know where our limits are, but without breaking ourselves."
"If I can put in 4 to 6 solid, focused hours, I can get a lot of work done."
TRANSCRIPT:
Introduction: Welcome to the Becoming SuperHuman Podcast, where we interview extraordinary people to bring you the skills and strategies to overcome the impossible. And now here's your host, Jonathan Levi.
Jonathan Levi: Before we get started, I want to ask you, what would it mean for you to be able to double or even triple your memory and ability to learn? So many people tell us that this skill would be absolutely life-changing for them, but they just don't have the time. They just don't have the time. So that's why we have developed, my team and I, a five-day memory mastery crash course, where we go into all the fundamental neuroscience and the actual techniques that are used by the world's best memory athletes and world record holders. It's a course that we value at $97, but here's the thing, we are actually giving this course away completely for free. All you have to do to enroll in the course is visit JLE.VI/5 that's JLE.VI/5.
Greetings Superfriends and welcome to this week's episode of the Becoming SuperHuman Podcast.
Hey, I want to remind you if you haven't taken a moment to leave us a review on iTunes or Stitcher, please go ahead and do so because it makes us oh oh, so happy on to today's episode you guys today, I am joined once again by Jeff Sanders. He's a keynote speaker and the author of the 5:00 AM miracle, which we spoke about last time, and the free time formula.
He's also the host of the 5:00 AM miracle podcast, which has ranked number one in iTunes in self-help and business and has been nominated for six podcast awards as well as exceeding 6 million downloads. That is a very impressive number. Let me tell you from one podcaster to another, as you guys know Jeff and I see eye to eye on very, very many things, productivity and beyond. So this is a wide-ranging and casual conversation. We talk about Jeff's latest book, we talk about the anxiety and stress breakdown that led to writing that book, and we get into some philosophical questions about what the point is and why you should free up your time, and why you should not free up your time.
I really enjoyed the conversation, which is a pretty good indication that you will really enjoy the conversation. So without any further ado, let me present you, my super friend, Mr. Jeff Sanders. Mr. Jeff Sanders. Welcome back my friend, how are ya?
Jeff Sanders: I am doing very well, thank you.
Jonathan Levi: Awesome, awesome. Congratulations on the newborn. That's very, very exciting.
Jeff Sanders: Yeah, thank you. Yeah, she's a lot of fun.
Jonathan Levi: Yeah, I imagine and you're already used to waking up at 5:00 AM, so this is like, yeah, no problem, right?
Jeff Sanders: Yeah, it's interesting because 5:00 AM is you know, has been my wake-up time, but then when you have a baby that's awake at you know midnight and 2:30 in the morning, at 4:30 in the morning is like, well, 5:00 AM has gotten painful now, so
Jonathan Levi: Right. It's funny I was reading Benjamin Spall's book cause he's a past guest on the show as well and he quoted Dave Asprey as saying it's important to note that the morning routines of parents and non-parents are inherently very different. That was really, really funny. So since we last spoke, you have put out another book.
Jeff Sanders: Yes.
Jonathan Levi: Tell us everything you've been up to.
Jeff Sanders: Yeah, my latest book is called the free time formula and it came out in February of this year, and that book was spawned from kind of crazy events in my life where I got myself super busy and stressed out and had what basically amounts to a ridiculous panic attack, wound up in the hospital, and then realized I had to change the way that I was living because I was a little too ambitious, uh, scheduling myself a little too much, and so I backed up a lot of the way that I schedule my life and figured out how to have more balance. And so my latest book really addresses free time from the perspective of having the margin you need, not just to watch more Netflix or to lay on the couch, but to spend more time with rejuvenation and becoming your best self in a way that's healthy longterm.
Jonathan Levi: I really love that. And I love that you share that because I went through a very similar thing about three months ago, and I have only recently started talking about it because I've only recently started coming out of it, but I had a pretty massive kind of anxiety breakdown and started having all kinds of manic thoughts and fortunately for me, Benjamin Hardy pointed out to me and help me understand like, uh, That my stress inventory was like 454 points. And if you're at or above a 300, you have an 80% chance of having a mental or physical breakdown. So it's like you're not broken, you're just over-scheduled and over-committed and you're planning 5 million different things.
So, you know, it's kind of one of these laws of attraction things that ever since I had this experience, I feel like every entrepreneur I talk to either has gone through it the way that I did in the way that you obviously did or is on the brink of going through it and needs to be told, Woah there, do you really need to do all that right now?
Jeff Sanders: Then that's a hard thing to hear, but going through it, because I know that when I was, you know, over-scheduling myself, you know, I was opting into all of these different projects and goals and things I wanted to achieve, and even though I could look at my calendar and see that I was probably too busy, like the other side of my brain just said, we'll just drink more coffee to push through, you know, just be the entrepreneur you think you are and like, be this bad-ass and go do it, but at the same time, it's like, that's not a healthy response like I need a way to acknowledge what's going on in real-time to assess, you know if this is a healthy balance or not.
And if you haven't had a breakdown yet, it's hard to know when it's going to show up because you don't know what the signs are yet. The guy can see it now and myself so much more because I get what led up to that event, so I can kind of preempt that and changed before it happens again. But if, if you haven't had that breakdown yet, you may not know what your own personal signs are.
Jonathan Levi: Totally, totally. So tell me how you went about crafting free time because I know for a lot of people busy is a badge that they wear on their shoulders. Like, we all love to brag about how little we sleep, we love to brag about how busy we are because let's face it. It makes us feel really important. It makes us feel like our lives have meaning and purpose to be busy.
So how did you go about first off fighting that social norm, but also where were the places where you earned back your time?
Jeff Sanders: That's a great question because I think that when I was going through kind of my reinvention of how you use it time, what I noticed was that, you know, that was true about me, that I did wear that badge of honor of busy-ness acquaintance of productivity, so I thought that the more that was all on my calendar, you know, the more effective I was or the more I could brag about how much I was getting done. But then when I really assess like what were those things on my calendar that I was so impressed by with my own work, and I realized that a large chunk of what I had scheduled were things that I now consider to be nonsense.
And I define nonsense the book as things that never have to get done, and I realized that I had scheduled a ton of stuff that though there might be good things that they happen that's wonderful, but they don't actually have to get done for me to achieve the goals I've set for myself or my business.
And so once I realized that I had this kind of an epiphany that, you know once I have 20 tasks on my calendar, but only four of them actually mean anything to me and the other 16 are literally things I could just never do, that's when I reassess my calendar and said, well, let's cut that stuff. Let's not do any of that and see how that plays out for me.
And so now my schedule looks really underbooked like I looked at my calendar today like, Jeff, do you have a job at all? Like, what do you do all day? But that's intentional because I know that life throws at me all kinds of opportunities or distractions or other things and I know that if I walk into my week with too many things on the calendar, it's not going to end up the way that I want it to, and I'm going to end up doing all kinds of things that literally never have to happen.
Jonathan Levi: Absolutely, absolutely. And you know, there's two things that I really, really love about that. The first one is I've been really obsessed with this idea of the Eisenhower decision matrix or the Eisenhower quadrants, and this idea that things that are quote-unquote important or not urgent and things that are quote-unquote, urgent are seldom important.
And it took me a long time until someone pointed it out to me that you know, I thought that because I was doing things that had to get done today, that meant that they were important. But the reality of the matter is like a lot of this stuff that we think is urgent just isn't really that important.
Like you can ignore emails and you can ignore group messages and you can ignore a lot of things to focus on the things that are very important but are never going to jump out at you. You know, your long-term strategic plan is never going to jump out at you. Spending time with your loved ones is never going to jump out at you until it does.
And, uh, I've just been really obsessed with that idea and the other thing is, you know, I believe it's Dan Sullivan while we says an entrepreneur who is too tightly scheduled, can't transform anything.
Jeff Sanders: Yeah, that's good. I think that's true. It's true. It's like the more that we try to do, the more that we kind of put that pressure on ourselves, the less effective we are. You know, I just, I know that for me, when I have the biggest breakthroughs, when I achieve the most, and then the bigger picture sense, I'm doing fewer things and I'm investing more of my time and energy into a small number of projects and giving my whole self to those things. And that's when I get the return that I want and honestly, that's what gives me more energy, more creativity, like that's when I feel like I'm really living as when I'm doing less and it looks like less on paper, it is actually less than time, but the results are so much better. And that's the way that I'm striving to kind of craft my time now as much as I can to make sure that that's kind of my long-term game plan
Jonathan Levi: right. I love that it reminds me of a RA myself who's a past guest and fellow Genius Network member whose whole brand is exactly around that idea of like less doing and dissociating this idea between like how much stuff did I do versus how actually productive and effective I was. I think it was, um, David Homer Hansen, who said on our show, you know, that like productivity is not what you do, but what you accomplish. And I think that's absolutely true. So what are some of the things that you got rid of?
Jeff Sanders: A number of things that I had going on in my business like I was blogging a lot. I completely just stopped doing that to make my podcast more effective, I was saying yes to a lot of coffee dates with people that I thought were important that ultimately most of those would go nowhere, I had just random little projects, so things I wanted to do to improve my website or to take my Academy to another higher level, like little things that if they got done, they are probably fine, but that weren't actually helping me to do like a couple of things I really wanted to get done. And so it was really just a question of saying like, let's say I have 12 different goals I want to achieve this year, probably only two of them are the ones that if they got done, that would be my core things, so I just said, well, let's do those two things and then when they get done, if they get done this year, then I can think about the rest of it. So a big part of my issue was that I was literally pursuing too many goals at the same time, and a number of those goals were either unimportant or they were they weren't important enough yet to really warrant my time usage now, and so it was really just about priority or, you know, the order of which things get done to make sure that I can just say yes to what matters now, and really be able to like consciously ignore the rest of it for a while and then get to that stuff when it matters. And so a big part of my kind of, you know, patience game now and self-discipline now is telling myself no to all the things I'd like to work on knowing full well that I can always get to those things later on.
And so I have my Evernote checklist built out where I've got all kinds of ideas for later and I'll just kind of get to those when they matter, but not yet.
Jonathan Levi: I love that I've often said that no is the most productive word in the English language.
Jeff Sanders: Yes.
Jonathan Levi: And then I recently heard Ariana Huffington I'm in a very quotable mood in case you can't tell, I heard an even better quote, Joe Polish told me when he interviewed Arianna Huffington, she was like the fastest way to get things off of your to-do list is to delete them.
Jeff Sanders: Yes.
Jonathan Levi: It's so true, it's so true though because I have, you know, 30 different ideas for lectures that would be really wonderful to do in our master class, but nobody's asking for them, you know, so it's like, do I let them sit on me and keep me from other things that people are asking for really, really cool.
What are some of the like top, top things? So coffee dates, you said, are you still doing email?
Jeff Sanders: Yeah, email is still an important part of my kind of workflow and how I communicate, but I've been a little bit more intentional about, you know the times of the day that I'll say yes to email, which mostly means that what I'm doing is I'm scheduling specific focus blocks of time throughout the day where I'll do my important work and like between projects, I'll check email, and I'll make sure that I'm on top of communication in general, but I definitely want to make sure that, you know, when I have a focus block for a project when I have time set aside to do the my kind of core activity for the day, but during that time, I'm not also kind of in the back of my head checking email and multitasking, looking at Facebook and, you know, finding all these other excuses to not do the work.
The real key for me in the last probably a year and a half or so have been taking my focus blocks of time, very seriously to the degree that there literally are no distractions when I'm doing what matters most right in front of me. And then what I find in that is how much more work I can get done and the quality improves, and I am more excited to do more of that kind of work, and then the idea of checking email just seems less appealing. Like I'm less interested in doing that if I can push my next project forward in a focused manner.
Jonathan Levi: A hundred percent, a hundred percent, and years ago, I switched to the maker manager schedule. So I only do calls, chats, emails, stuff like that on Mondays and Thursdays, and I write on Sundays and Wednesdays. The problem that I'm having right now is I'm in-between kinds of creative projects having just finished one and I'm about to embark on another one next week. And the problem is if you, so rigidly scheduled that outwards days are set up and of course my computer I'm an extremist.
So my computer is set up that if I do anything, but write on a Sunday or Wednesday, it blocks me out. So I can't go into our Facebook mastermind community and respond to people and I just can't do it. So that level of rigidity has kind of come to bite me in the ass so I love the idea of like blocking out half days because I won't concede like email can wait, you know, and social media can wait and stuff like that, but there are situations in which look, you just can't move forward on a creative project. You want to be able to at least do something. So lately I've been doing a lot of reading.
Jeff Sanders: Yeah, no, that makes total sense.
I have been kind of, one of that goes back and forth between a rigid schedule where I have certain boundaries I don't cross and then I do the exact opposite and have no boundaries at all, and neither one of them work well for me so I have to find some sort of middle ground where I have rules, but the rules that I intentionally break sometimes.
I feel like that gives me the flexibility I need to do what matters, but also having kind of that pre proactive plan in place to say, I'm definitely going to make time for those few things that matter most will also feel then I can be flexible if need be, because I just, I don't tend to function too well if I'm one extreme or the other so somehow there's a balance in there somewhere.
Jonathan Levi: I love that, I love that. Any other things that you're doing to stay ultra-productive and kind of keep free time available before we switch in, I want to know how you're spending your free time, but any other kind of last tips or things that have really saved you time?
Jeff Sanders: One of the things that I noticed when I was wasting a lot of time was that I was basically doing what a lot of people do where you work super long hours and you put it in like a 14-hour Workday, you know, over time you're less and less effective because you're tired, you're distracted, and you feel like you put in a long Workday, but in reality, the amount of work you did probably could have gotten done in six hours instead of 14. And so a lot of what I've done now is I have not just blocks of time where I work, but I want to make sure that I build in time for exercise every single day to give me the energy that I then applied to a shorter work block in the day. And so if I have those two things kind of juxtapose every day with a workout plan and then a highly effective five to six-hour work block, that's all I need to make sure that I have the energy and creativity to get the work done. And I don't want to ever find myself back in that timeframe of 12 to 14-hour workdays because they just are not effective, and ultimately they just burn me out and make me tired and bitter. And I'm not trying to achieve that I want to feel energized on top of my game, and I know that the healthier I am, the more energy I then have to apply to my work.
Jonathan Levi: I love that, I love that because I think there's a misconception or maybe it's just a misintention of particularly young men, but young people in general who think that the idea behind being more productive and more effective is to get more work done.
So it's like if I can get 20 hours of work done in a 12-hour works you know what I mean? And it's like, well, at what point does that actually translate into a better life for you? I think the, you know, at the end of the road of everything that we talk about on this podcast, it's like where the rubber actually meets the road is where does this actually make your life better? Okay, cool. Your diet is healthier. How does it actually impact you in a way that improves your quality of life? And with productivity I think it's easy to go down that slippery slope when in fact it sounds like you and I have both come to the same conclusion, it's actually about having more time for the things that actually bring you joy. And it's cool, if work brings you joy, it should bring you joy. But ultimately there are things in life that are gonna bring you a lot more joy than work.
Jeff Sanders: Yes, exactly. I think for a long time, uh, my value in life was derived from my work.
And I just thought that the more hours I put in, you know, the better Jeff Sanders I'll become. But in reality, I was just making myself tired and I wasn't actually creating the space or the things that make me now, what I view as kind of my best self, and so yeah, work is still valuable I love what I do, but I also know that it could only last for so long each day and I need to have a cutoff time and it needs to be effective when I do it and then I just stop. I think that's the important part is clear, you know, ending boundary every day to say, now it's over, I'm done and let's go kind of live my life and there's other aspects that matter a lot to me.
Jonathan Levi: Yeah. I mean, I think there's also two components to that. I've been thinking about this a lot lately because I have a person on my team.
Who's 22 years old, Brandon, people hear me talk about him a lot. And he's just so full of energy and drive and ambition and I see a lot of my 22-year-old self in him and there's such a difference in the level of energy and motivation and enthusiasm that he can put into work, it's a stark comparison.
And so I think part of it is as we age, especially again, us young men who are full of testosterone and what improve ourselves, I think we become much more compassionate with ourselves and I think we understand the long game a lot better, and understand that we can't, as you said, work has to end at some point every day and that a long, slow, steady approach but Brandon also pointed out and I, I'm curious to hear your take on this. You know, once I told him this, I said, Oh well, 10 years from now when you're an old fart like me, you'll have a lot more compassion for yourself and you'll feel this and that and the other and he goes, well yeah, but also remember you've already proven to yourself and to others what you're capable of.
So there is also an element of having the luxury of sitting back and not working on Tuesdays or working till 3:00 PM every day.
Jeff Sanders: Oh, that's true. I mean, and a long way, like, you know, I've been a full-time entrepreneur now for four years and prior to that, I mean, I wasn't, I had a day job, I had to pay the bills somehow, you know, and I was working super long hours in part to create the foundation that I'm now kind of resting on to a certain degree, and so, yes, I'm still hustling and working and earning money, but I have systems in place now and I have, there's a lot of work I put in, in my twenties that set me up to be able to take some time off now and so there is an element of kind of, you know, investing a lot upfront and then kind of reaping those benefits later, but even when you're putting in like an upfront investment, you don't have to kill yourself in the process and that's not helpful or healthy. And so even now, like I see myself, like, where will I be 10 years from now and how do I invest time now to be better off then? And the same mentality applies that same approach has to be there, which is, I still want to create more success for me 10 years from now, but I also can't burn myself out while doing so.
And so that's the game I'm always playing.
Jonathan Levi: I love that. And it reminds me of another friend and podcast guest, Jason Campbell, I was hanging out with him and we were talking about he's in the world of Chinese medicine, and we were talking about this exact thing, and I love the way that you phrased kind of like putting in the work to now harvest because it turns out Chinese medicine has known this for years and years and years and looks at life in cycles or seasons. So in your seventies, eighties is the winter season, and in your, I believe it's like thirties to sixties or something like that is the spring season because it's like all the seeds have been planted when you're young, you've done the whole look at me, you've done the fertilizing and the 10 being and the watering and all the things, the educating yourself and growing and all that.
And now it's time to sit back and allow the seeds to sow and when to harvest them, which happens during the spring. And I thought that was such a wonderful kind of concept, and I've certainly, and it sounds like you have as well, I've certainly felt that or it's like, okay, I worked my ass off in my twenties and even before, in my case, and now it's, I'm not willing to work as hard as Gary Vaynerchuk.
Jeff Sanders: Well, even someone like Gary Vaynerchuk, I mean, he's hustling like crazy and he doesn't actually have to like he's definitely successful enough. He could take a pause for a decade or more it'd be okay, but he's just like, he has a dry of that I don't know if anybody else on earth besides Elon Musk, maybe, but it's just, there is a point where too much is too much for all of us, we all have our own kind of limits I mean, I think it's important to push to know where those limits are without breaking ourselves but understanding kind of what your potential is, how much you can give.
I think a lot of people, you know, we tend to fall one side or the other we either push too much and burn ourselves out, or we never push enough and have no idea how much more we can give and how much more we can produce. And so, I mean, I'm definitely on the side of pushing you too hard, but I also like the idea that I've pushed hard enough to know what my limits are so I can give as much as it's beneficial and then be able to back off when need be. And so that kind of self-awareness piece is a big part of it and I think that's what my twenties were really all about, was figuring out where my limits were and being able to take advantage of those.
Jonathan Levi: I love that. I love that. So tell me, besides changing diapers, how you are spending your hard one free time?
Jeff Sanders: Well the last probably yeah let's call it six months or so, I started taking out woodworking as a hobby and for a couple of reasons, one is that my dad and brother have always done a lot of that kind of stuff and so my family likes to build things, I never really have, and so what I wanted to do was to have things that I could do when I wasn't working that was the opposite of work. So for me, working means being on the computer, it means being digitally connected all the time, and I wanted an activity that was just totally offline, and so I go to my garage now and I build stuff. And I don't even care what it is really, I just want to make things and use my hands and get dirty and bang hammers. And like, that's what I do now in my free time, and it is incredibly beneficial and so rewarding, but partly because as a productivity guy, I mean, I like to have a checklist and I like to see kind of an end result of the work that I put in, and the cool part about this hobby is that I get an end result. A thing I get to use or play with or whatever it is I've built. And I really enjoy that creative process, and it's just so different from what I spend my days doing with my work, but it feels like this reward to be able to go into my garage and build something.
And so now to me, like going to Home Depot to buy, you know, the next set of nails or whatever, that's awesome. Like, I, I like the total, like, you know, suburban dork in that sense, but like, that's what brings me joy when I'm not working.
Jonathan Levi: I love that. I feel the same way and that's like, one of my biggest complaints about living in the middle of a city is like, I don't have a workshop.
I just cannot swing having a workshop in the middle of my apartment.
Jeff Sanders: Yeah. That was one benefit I got when my wife and I bought a house about four years ago was one thing that I didn't think I would actually care about I remember my realtor asked me this. She was like, Jeff, are you a handyman? I was like, no, no, no, no, no.
I don't fix things, I don't build things, I just call people and they do it for me. Like that was my entire attitude, but that's changed dramatically the last four years now I met Mr. Fix it in a lot of ways and it's become a bigger part of who I am and a part that I'm really excited to kind of explore more of because it's just a new aspect of my abilities and talents and that it's really fun to go explore that. And for me, it's kind of the next frontier in terms of, you know, doing something different that I haven't done before, and I just, I find that really rewarding.
Jonathan Levi: I love that. And I mean, I think, again, someone who has a misunderstanding of productivity might be like, really, like, you're going to waste your time doing that, but it's, it's totally different and again, I feel the same way. I built my whole recording studio with my hands. I enjoyed building the recording studio more than I enjoy being in it. And I enjoy being in it quite a bit so I love that, I love that. What else are you doing to fill your time now that, I mean, I guess I should ask how much time did you free up?
You said you were working 14 hour days before, what's your work schedule looking like these days?
Jeff Sanders: What my goal generally is, is kind of, it's similar to what I've heard before is Tim, you know, four-hour workweek, others I book out that I have not read yet that I probably should call the five-hour workday, which is essentially what I've kind of moved to.
So I realized this writing my last book actually was that I would go and have these big long writing sessions, and I could usually get a lot of creative energy out and between four to six hours. And by the time that timeframe was up, like I was too mentally burned out to write well there anymore. And so I would shoot for let's do four solid hours, write as much as I can and then just stop the day. And that has carried over into my Workday now, where I've realized that if I can put in between four and six really solid focused hours, I can get a lot of work done and feel really good with my time being spent and in that sense, without me having to kind of drag that time out for the entire day, uh, part of the reality now though, is because I have a new daughter, uh, we have, you know, daycare in the morning daycare in the evening, there's a lot of new routines, there's a lot of bath times and all kinds of stuff going on that that never was there before, so my time is automatically a little bit shrunk because of that, but it also fits really well with just the reality that I don't want to work more than the six hours I want to put in quality time and be done, and so for me, that's what I'm shooting for is figure out what matters most today, do it in a short period of time and then stop.
Jonathan Levi: Brilliant. Again, I see completely eye to eye with you and I try typically to start work at nine and be out of there by like three, four o'clock for exactly that reason.
Jeff Sanders: Yeah.
And that's worked out well for me, I think, just to figure out, you know, what are the core things that need to happen and how fast can I get them done, and when I know what matters and I do it quickly and do it well like that's enough in a day, it can be over at that point. I don't have to then fill the rest of the time with just more activity, I can feel confident that if I knew what mattered and I got it done and the day is over at noon, fine. It's don't renew and I move on. Like, I don't want to just be busy for the sake of being busy, which was my old attitude, and one that didn't serve me well. So from here on out, that's, that's not the case.
Jonathan Levi: I love that. What's some homework that we can give Jeff to our audience to help them either eliminate something or get some more time back? I'd love to give people a, an actionable takeaway.
Jeff Sanders: I think what really helped me a lot and something that I frequently do is a time audit. And so I will just do a full breakdown of, you know, what did yesterday look like?
What did I actually do? And then based on that, like, what was stupid about my time? You said it's like, what was not necessary? What can I indefinitely not do in the future? And the more things I can recognize that don't matter, they can let go of, the more time that is then freed up. And then one of my core things I've done for years is whenever I do free up new time, I want to intentionally optimize that time with something that I have not been spending time on.
So let's say, for example, a simple one here, you cut an hour out of your Workday that you used to waste on something that you didn't have to do. Well, now it's taking that hour and do something with it. Like use it wisely, you know, do some yoga for an hour, read a book for an hour, take a nap for an hour.
Like fill it with something that you are missing out on that would replenish you, that would make you feel better, they'll make you healthier, but make that swap and do so with intentionality behind it that usually wouldn't happen because for most people, if they cut an hour out of their schedule, the time just naturally fills in with more nonsense or more stuff or more work, but that doesn't serve the grander purpose of you're cutting something for a reason. Now go fill that space with something that really matters to you, and then you'll see the benefit. And it was like, Oh wow. I freed up an hour, I got that hour to do an activity I loved, now I want to do that again. How can I free up more time? How can I craft more of my schedule to be more like the day I want to live? And then, I was so excited then because I was like, this is the life I want, let's do more of that.
Jonathan Levi: Totally. And I'm really glad you're saying that because I have certainly in the past been guilty of, you know, leaving the office at three o'clock and then just kind of wasting away the rest of the day.
It's so easy to turn on a movie while you start tidying up the house and then you finished tidying the house and you leave the movie running and before you know, it's seven, o'clock, eight o'clock at night, and you really do have to be that deliberate and even to the extent of putting things into the calendar, so instead of going straight from the office, home, go into that yoga lesson or that Russian tutor, because otherwise, you know, time just slips through your fingers so quickly if you're not deliberate about how you're spending it.
Jeff Sanders: Yeah, it's amazing to me, just how often we think that we have no time at all, but then when the time does actually show up, we squander it.
Like it doesn't get utilized the way that it could. And so the more awareness you have about what your tendencies are, how you tend to fill your time, you can then catch yourself when you're wasting time and be able to stop yourself in the moment and shift gears. And for me, that's been really helpful cause I know that, you know, we all have certain tendencies of things that we do just because we've always done them, if you catch yourself in that habit, you can stop and then change to something better. And that on a daily basis, you can utilize that strategy and free up a lot of time right there.
Jonathan Levi: I love that, I love that. Well, Jeff, I know you're the productivity guru and whiz, and you fought hard to have the free time to have this call so I want to give you an opportunity to give people your details and let them know where they can connect with you before I let you go.
Jeff Sanders: Well, yeah, I appreciate that. My website is jeffsanders.com, that's the home base to find my podcast, the 5:00 AM miracle, I have two books, the first one was called the 5:00 AM miracle as well, and the second one, the free time formula. So those are kind of the big things to know about me, you can learn a whole lot of other things I teach from that location. So yeah, jeffsanders.com.
Jonathan Levi: Awesome, and you've been very busy. You've launched a productivity Academy with all kinds of courses and interviews and check-ins and stuff like that, tell us a little bit about that.
Jeff Sanders: Yeah, two years ago, I launched the rock and productivity Academy and I do those things you just mentioned, I've got training videos on there with all kinds of productivity tips, uh, lots of exclusive interviews with high achievers, uh, custom monthly coaching check-ins with me so if you want to get kind of feedback on your goals, you're working on now, that's built into it as well, uh, so that was really creative for people who are high achievers that just want to figure out kind of how to do what we discussed today. Like figuring out what's not working and how to correct those mistakes so you can get more out of your time.
Jonathan Levi: I love that. Awesome, well Jeff, I really hope we do keep in touch I want to thank you so much for sharing your very precious time with us today I really enjoyed our conversation and I know our audience did as well.
Jeff Sanders: Great. Thanks a lot.
Jonathan Levi: Take care, my friend. All right Superfriends. That is all we have for you today, but I hope you guys really enjoyed the show and I hope you learned a ton of actionable information tips, advice that will help you go out there and overcome the impossible. If you've enjoyed the show, please take a moment to leave us a review on iTunes or Stitcher, or drop us a quick little note on the Twitter machine @gosuperhuman.
Also, if you have any ideas for anyone out there who you would love to see on the show, we always. Love to hear your recommendations. You can submit on our website or you can just drop us an email and let us know that's all for today, guys. Thanks for tuning in.
Closing: Thanks for tuning in to the Becoming Superhuman Podcast. For more great skills and strategies or for links to any of the resources mentioned in this episode, visit www.becomingasuperhuman.com/podcast. We'll see you next time.