Jonathan Levi: How Entrepreneurship Saved My Life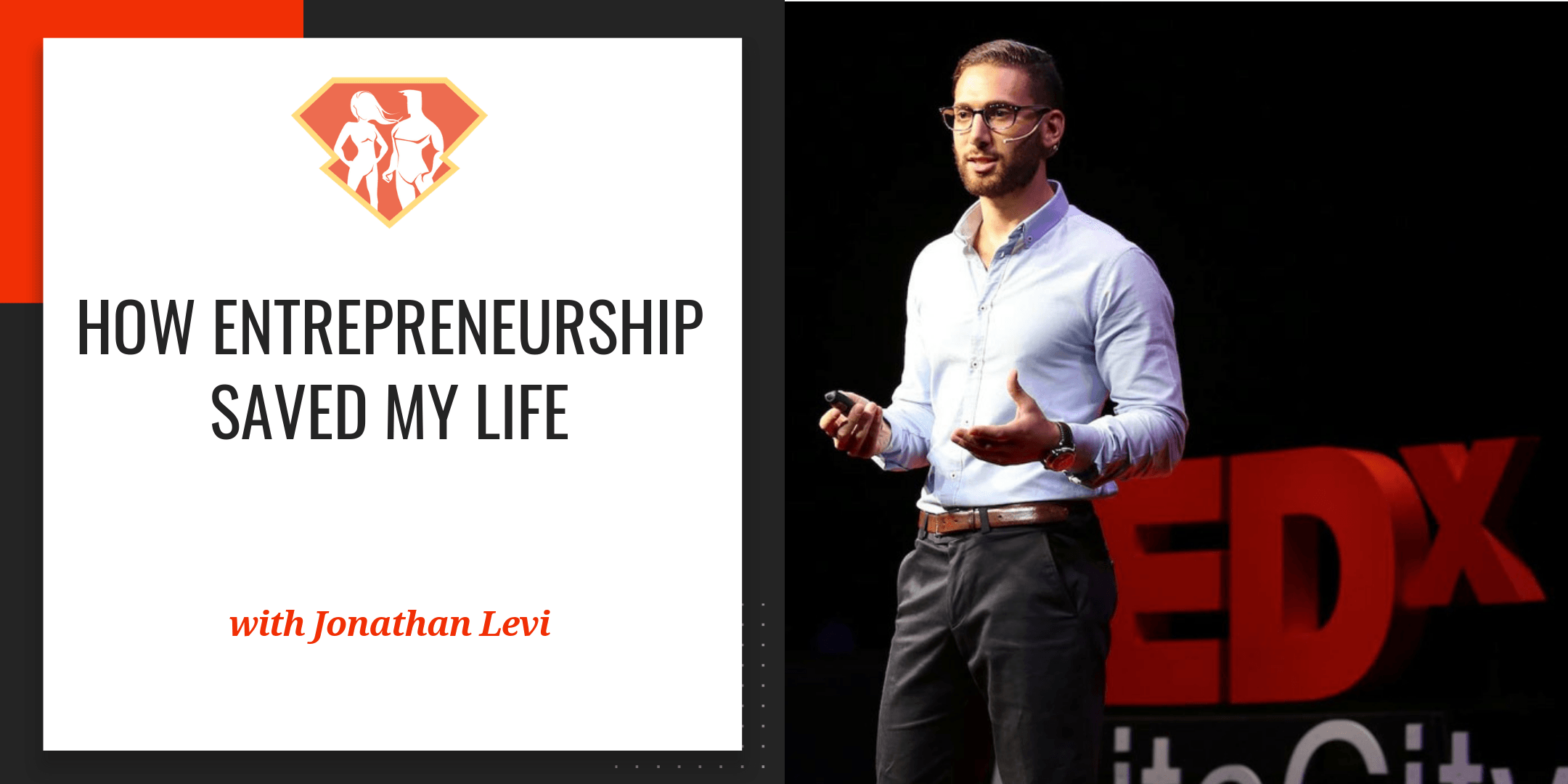 Tags:
Depression
,
Entrepreneurship
,
Learning
,
Memory
"I was put on this earth to teach people that there's a different, non-traditional, more creative, more exciting, more fulfilling way that they can live their lives."
— Jonathan Levi
Greetings, SuperFriends!
This week, we have a little bit of a unique episode… This week's guest is… Me!
You see, after lots of feedback from you guys to share more about me, and my thoughts, and my story, I decided to recruit my friend and repeat podcast guest Dr. Anthony Metivier to turn the tables around and interview me on my own show.
Now, in this episode, we cover a LOT of new information, and we unearth a LOT of things that I've never really talked about elsewhere. I share a pretty in-depth and pretty upsetting story of my own struggles with depression and low self esteem, I talk about the various ways that I've grown, changed, and overcome… and I share my thoughts on entrepreneurship, authenticity, and a lot, lot lot more.
Because Anthony and I are such dear friends, the conversation does have a pretty informal tone. And, I have to say that we do jump around a bit from subject to subject. My hope, though, is that this episode will really help you guys get to know me better, and that it will offer you some valuable information and insights that you can apply to your own lives…  Because, as you'll hear in the episode, it's really so critically important to me to ensure that my work improves your lives, and furthermore, it's one of my goals to build a more intimate relationship with my audience and fans.
I look forward to hearing your feedback! Let me know on Twitter or via the contact form on this site!
In this episode, we discuss:
Sooo WHY did Jonathan Levi want to be interviewed on my own podcast?
What drives Jonathan to combine entrepreneurship and accelerated learning?
What differentiates Jonathan Levi's successful companies from the ones that failed miserably?
How did Jonathan Levi start his current company, and how did it sort of happen "by accident?"
How has Jonathan's traditional education at the world's best schools failed him?
What challenges is Jonathan currently facing in his rapidly-growing business?
How does Jonathan Levi structure his days? What is his daily routine?
Is he living "the entrepreneurial dream?"
Where is the "line," and how does Jonathan Levi feel about promotion and promoting himself so heavily?
What is the role of "deviants" in a society, and how has this influenced Jonathan's behavior?
What was Jonathan Levi like as a child? At what point did he realize that he didn't fit in?
A couple painful stories about Jonathan's adolescence, and how they shaped who he is today
What caused Jonathan's chronic depression, and what was his psychology like at that time?
A deeply personal exploration of Jonathan's thoughts of suicide and revenge against his bullies
What brought Jonathan out of his depression at the age of 16 and restored his self esteem?
What is the role of mentors and mentorship in Jonathan's life?
What is one of the most powerful things Jonathan's parents did to set him on the path of success?
What was the flaw in how Jonathan first pulled himself up, and how has he corrected course since?
A discussion of ego versus true self esteem and confidence
What was one of Jonathan's biggest lessons in 2015?
The story of Jonathan's entrepreneurial journey, his many failures, and what he learned from them
What challenges has Jonathan had to overcome as an entrepreneur and as a leader?
What does he need to improve on?
What goals has Jonathan Levi  set for himself and his business in 2017?
Where does Jonathan see himself in 10-15 years?
A discussion of the market economics of the future economy and democratization of creativity
What mistakes have cost Jonathan Levi "easily over $100,000?"
What does "entrepreneurship" mean to Jonathan, and what does an "entrepreneur" do?
What makes the best entrepreneurs?
What does Jonathan Levi want the legacy of his work to be?
What books have changed Jonathan's life? What book does he feel he should write?
Resources Mentioned in This Episode:
Favorite Quotes from Jonathan Levi:
"I don't remember much of anything that I learned in my undergraduate degree… without mnemonic techniques… a lot of that learning was in one year and out the other."
"If you create something that you think helps people, you have an obligation to get it in front of them."
"I'm proud of our products, and I'm very proud of the results that people get."
"I was definitely an outcast child. The first kind of memory I have of not fitting in was maybe second grade."
"I felt like every kid had something to be proud of… I didn't have any of that."
"It was one of the only periods of my life that I actually hid things… That, ultimately, was the most painful thing."
"Mentors are everywhere, and they come in all different shapes and sizes and forms."
"The way that I improved my self esteem was to do more, have more, be more, accomplish more. And that's one way… But it's an entirely different thing…"
"Just be who you wanna be, man!"
"People have so much empathy – but you have to give them the opportunity to exercise it."
"The more you try to curate, alter, or influence people's perception of you, the worse that perception is going to be."
"I started my first 'company' when I was 4."
"Before long, I was doing $500,000 in sales – with no employees, and no overhead."
"What I have done really really well… is shying away from benchmarking and comparing myself to others."
"I realized that I wanted to build a billion dollar business… just because it would really serve my ego."
"I want to reach a million people."
"In my life and my experience, nothing has lasted more than 7 years."
"You can pick and choose, and assemble, and make whatever beautiful mess that you want to make out of your life."