Kris Carr: These Simple Lifestyle Adjustments Can Help You Overcome Anything – Even Cancer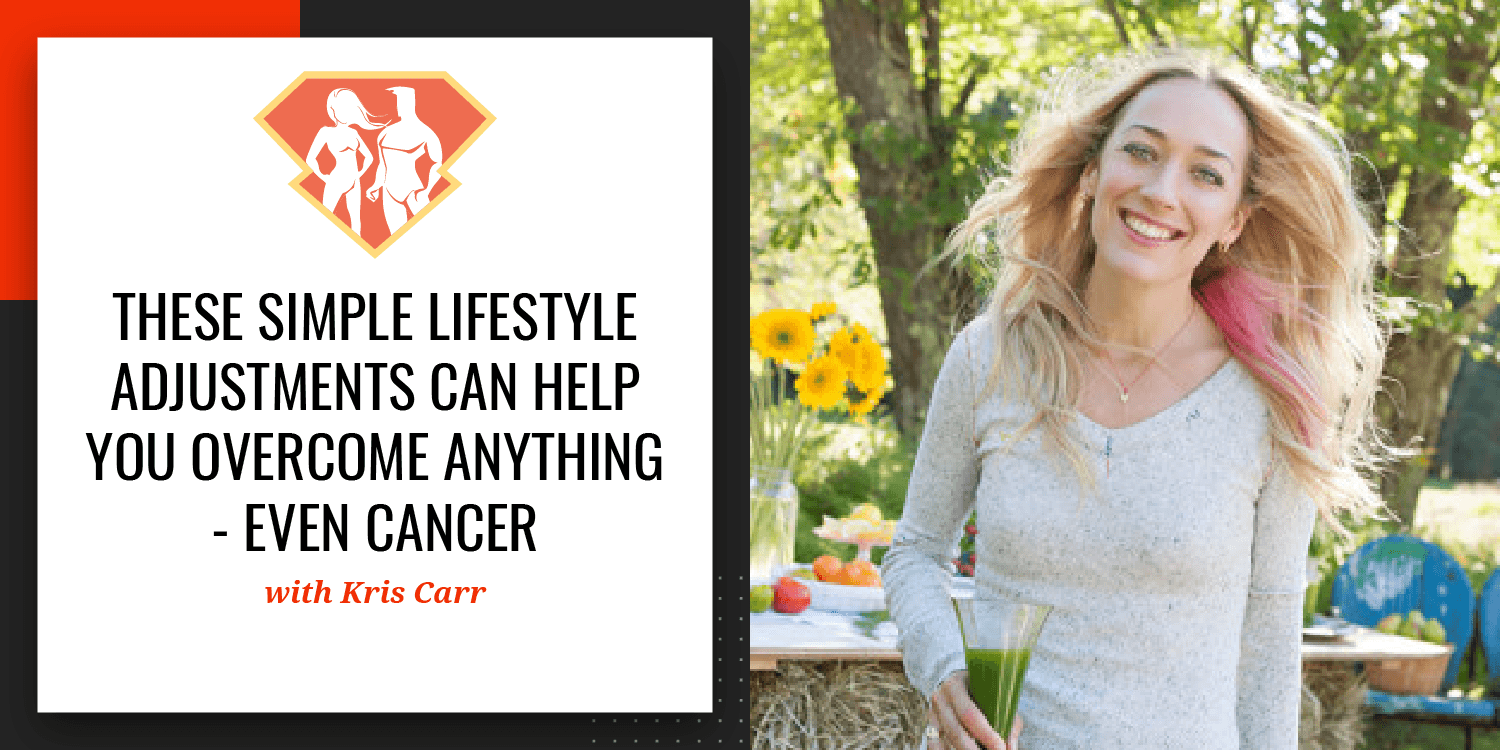 Tags:
Anxiety
,
Cancer
,
Confidence
,
Happiness
,
Juicing
,
Meditation
,
Nutrition
,
Podcast
"Changing your diet is pretty simple…What's hard is changing your mind, and I think that once you change your mind, you change your reality. You change the world, really."
— Kris Carr
Greetings, superfriends, and welcome to this week's show!
Our guest today is the #1 New York Times Bestselling author behind Crazy Sexy Diet and Crazy Sexy Kitchen. You also may know her from the documentary Crazy Sexy Cancer, which documents her battle with cancer, and ability to thrive despite it.
In total, she's authored four books, inspired hundreds of thousands with her blog, and been on just about every TV show you can imagine. She's even garnered attention from such greats as Oprah Winfrey – amazing!
You guys, this episode is flat out AWESOME… I went into it expecting to talk a bit about nutrition, and to be honest, I was completely blind sighted by how much wisdom, kindness, and inspiration she had to share. At some point, you'll hear that I was just about at the outer limits of my interview skills, just struggling to juggle all of the incredible life lessons that Kris was sharing… It was seriously THAT good.
In the episode, we talk about health and nutrition and juicing and fighting cancer… but we also talk about self esteem, self love, self talk, meditation, daily habits, and even entrepreneurship. As I said, Kris is such an incredible fountain of inspiration… I know this episode is going to blow you guys away.
So without any further adieu, let me introduce you to Ms. Kris Carr.
In this episode with Kris Carr, we discuss:
Kris Carr's journey to where she is today
How Kris has learned to live with a rare and incurable form of cancer for 13 years
The origins of Kris' incredibly successful brand
Kris Carr' struggles and misconceptions about nutrition, and how she confronted them
Kris' guidance on diet: low fat, high fat, vegan, or paleo?
Meditation, attitude, and outlook as one of the most powerful healers, emotionally and physically
What causes people to lose their confidence and self esteem, and how can they bounce back?
Moving away from big cities, and why it can be so beneficial
Important daily habits and practices Kris lives by every day
Some awesome ways you can hack motivation and give yourself a burst of energy
What is Kris not good at?
Thoughts on body shaming and how to help people (and ourselves) turn our health around
Kris' tips for making it easy and convenient to eat healthy
A great green juice recipe that you can try today
The differences between "juicing" vs. smoothies
What books has Kris most recommended?
What's the most impactful $100 Kris has spent recently?
A special homework assignment from Kris that you can do this week
Resources Mentioned in This Episode:
Favorite Quotes from Kris Carr:
"For me, it's about going the journey, and going the distance with a chronic disease. And if something changes, good or bad, it's about how I handle it.."
"I use humor a lot, to deal with many different things, especially my pain."
"Cancer, for me, has been a teacher."
"Your digestion is the heart of your immune system."
"I had never seen kale before, and I just didn't understand. I thought that weed was going to kill me a lot faster than cancer was!"
"Confidence is key for all of us…Every big revolution starts from within."
"I'm very aware of my inner 18-year-old, who's trying to get sh*t by me."
"It's not OK to not take care of ourselves."