Marc Schneider & Justin Roethlingshoefer On Peak Athletic Performance & Mental Toughness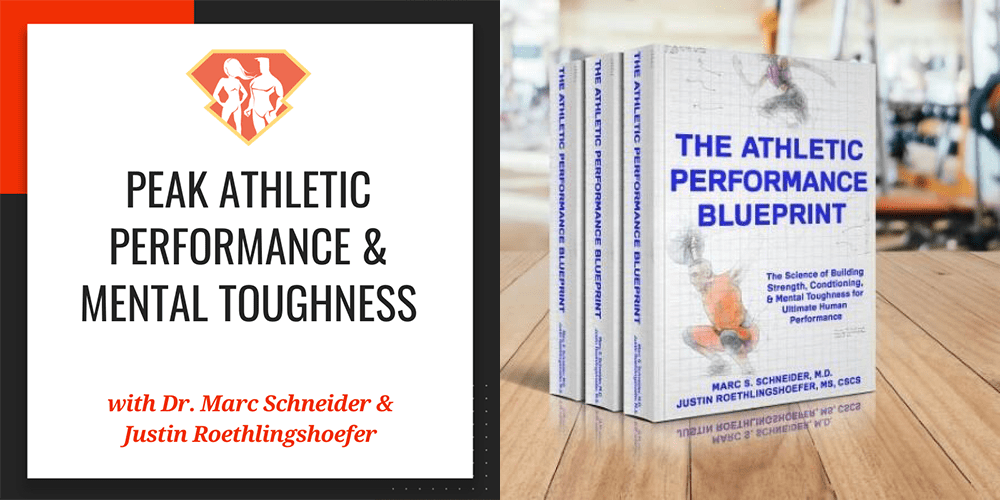 Tags:
Fitness
,
Health
,
Inspiration
,
Mindset
,
Nutrition
,
Performance
,
Podcast
,
Supplements
,
Tenacity
"Don't put yourself in a box. […] The only thing holding us back is that box we create for ourselves."
— Dr. Marc Schneider and Justin Roethlingshoefer
Greetings, SuperFriends!
Today we are joined by Dr. Marc Schneider and Justin Roethlingshoefer. These two gentlemen, one an athlete, and one a doctor and surgeon, they are together the authors of a new book on athletic performance, called "The Athletic Performance Blueprint".
This is a wide-ranging conversation – we went all over the place – because these gentlemen both have very different experiences. One was a professional athlete in NHL, the other one runs a sports nutrition company, and, in general, they are both very preoccupied with human performance.
So, we talked a lot about what that means, what that looks like, what are the ways that you can reach peak athletic performance, and I also took the opportunity to ask a former professional athlete about mindset, and how you actually train that mental tenacity to show up and bust your butt every day.
Personally, that was my favorite part of the episode! Stick around, and enjoy!
-Jonathan Levi
In this episode, we discuss:
How did Marc Schneider and Justin Roethlingshoefer start working together? [3:40]
How did Dr. Schneider get interested in athletic performance? [5:50]
What are some things that we need to be aware of when it comes to supplementation? [8:10]
Some of the best insights from Marc and Justin's work [11:45]
What can everyday people learn from Marc & Justin's book [18:30]
What are some unconventional things Justin & Marc have found can improve athletic performance [20:00]
How can we develop mental toughness? [24:20]
Some homework for you by Marc and Justin [33:10]
Where can you find more about Marc and Justin? [36:45]
Marc and Justin's final takeaway message [38:15]
Resources Mentioned in This Episode:
Favorite Quotes from Marc Schneider and Justin Roethlingshoefer:
"If you eat right, you're going to be just fine without a supplement."
— Dr. Marc Schneider
"Our beliefs shape our thoughts. Those thoughts develop certain emotions. Those emotions lead to actions, and those actions create results."
— Justin Roethlingshoefer
Transcript: