Nir Eyal On Defeating Distractions The Right Way And Becoming Indistractable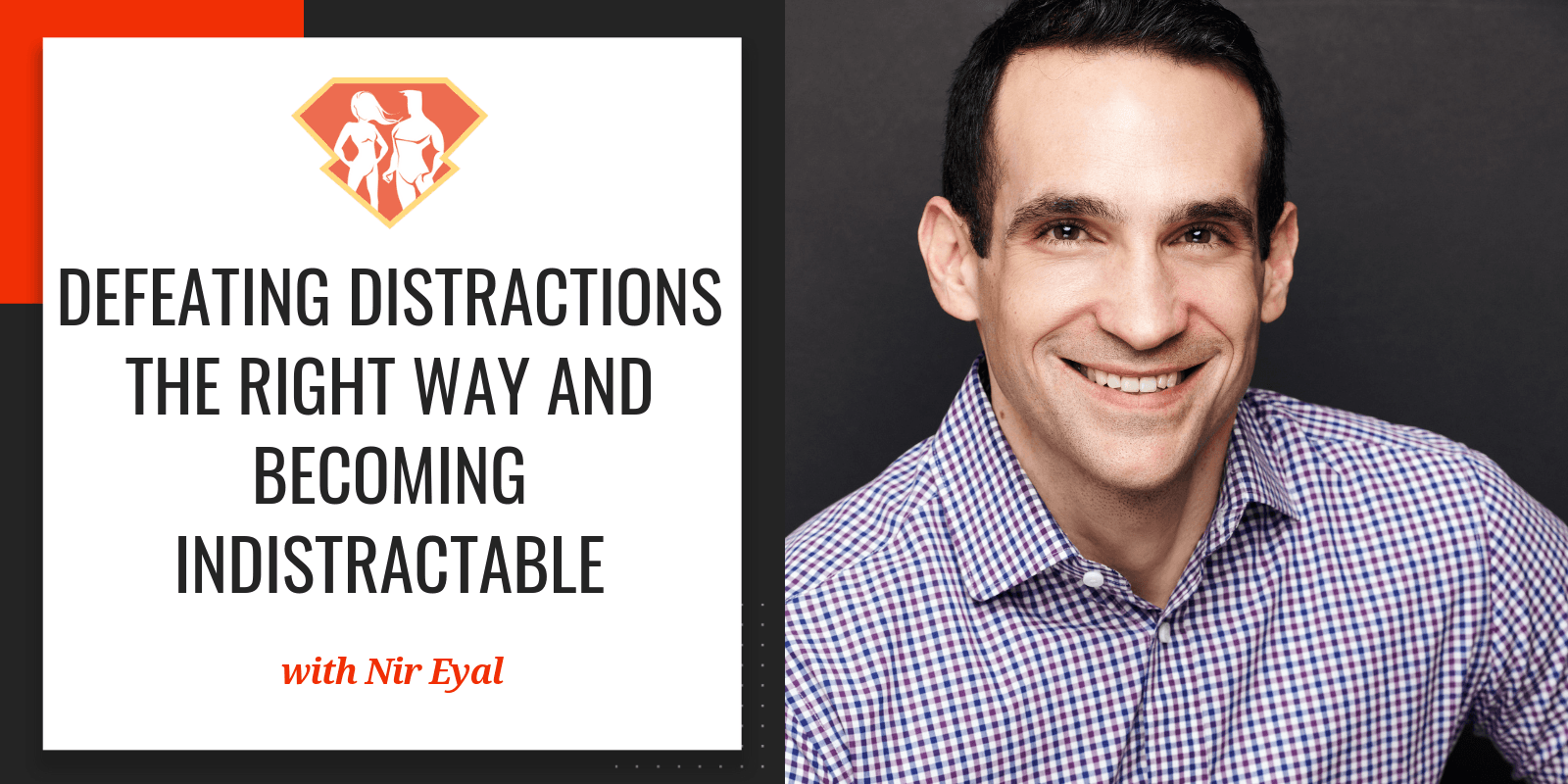 Tags:
Goals
,
Habits
,
Inspiration
,
Learning
,
Motivation
,
Podcast
,
Procrastination
,
Productivity
,
Tenacity
,
Willpower
"You are more powerful than you believe."
— Nir Eyal
Greetings, SuperFriends!
Today we are joined by Nir Eyal, an author, speaker, and thought leader. Nir writes, consults, and teaches about the intersection of psychology, technology, and business. Actually, the MIT Technology Review dubbed him the prophet of habit-forming technology after his last book Hooked went supersonic and became a best-seller in pretty much every place you can imagine.
By the way, many people don't realize that Nir has also founded 2 tech companies since 2003, he's taught at the Stanford Graduate School of Business and the Hasso Plattner Institute of Design at Stanford, and he's invested in a whole bunch of incredibly successful companies like Worklife, Product Hunt, Refresh.io and Eventbrite, in addition to many more. You've probably also seen his writing in HBR, Techchrunch and Psychology Today.
Wow! So, why have someone who is an expert in technology – and habit-forming technology at that – on the show. Well, actually Nir and I have intersecting interests besides the fact that we are both children of Israelis and Hebrew speakers. Nir has recently written an all-new book, which is called Indistractable: How to Control Your Attention and Choose Your Life. Now, as many of you already know, I've recently invested a ton of time working with an expert in my life to create a Digital Zen course and help people figure out how they can put control and controls back on their technology use and get their life back in order, digitally speaking.
I was really excited to pick Nir's brain and learn more. I have to say that, before we hopped on the interview, I asked Nir what would make this a huge success for him, and he had a really untraditional answer. Most guests answer that having a great conversation on the topics they are passionate about is what they are looking for, but Nir answered: "If I blow your mind or completely change the way you see an aspect of life, that'll be a huge win for me" – and I have to say that he did not disappoint.
I really enjoyed this conversation, and I can guarantee you will enjoy it as well!
– Jonathan Levi
In this episode, we discuss:
How did Nir get interested in what he does? [5:45]
Going from Hooked to Indistractable [7:45]
What is the real definition of distraction? [13:00]
How can we deliberately become indistractable? [17:00]
What is the root of motivation? [18:30]
What can we do about the internal discomfort that leads to distraction? [21:00]
Some practical advice you can implement right away [24:20]
How do we make time for traction? [26:35]
How to hack external triggers back to your control [28:50]
Committing to change by making a pact [30:15]
The truth about ego depletion [37:45]
A case study of reimagining our temperament [42:15]
How does Nir Eyal learn? [48:00]
What is Nir working on after this book? [52:45]
Nir Eyal's final takeaway message [53:30]
Resources Mentioned in This Episode:
Favorite Quotes from Nir Eyal:
"It's not the technology's fault. It's our responsibility."
"Distraction almost always comes from within."
"You can't call something a distraction unless you can say what it distracted you from."
"Make time to think."