This Life Skill Can Save You From Anything w/ Ryan Stewman: Ex Con Turned Millionaire Entrepreneur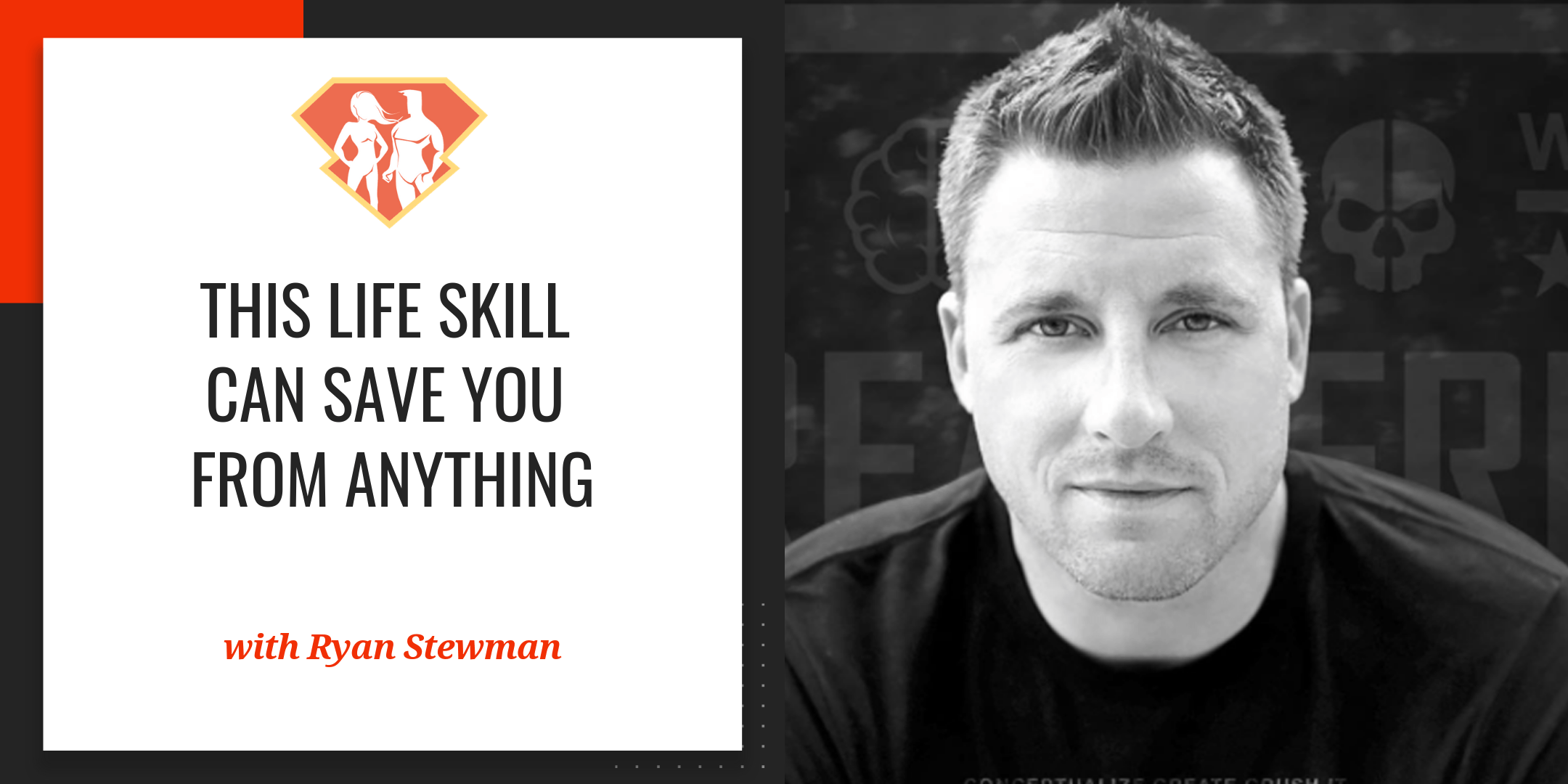 Tags:
Entrepreneurship
,
Learning
,
People Skills
,
Podcast
"Through all the bullshit in my life, sales has been the one thing that's there… Sales literally has saved my entire life. It's the one thing that I can rely on."
— Ryan Stewman
Greetings, SuperFriends!
Today we are joined by Ryan Stewman. Now, about his bio. Honestly, you can't make this kind of stuff up. Ryan started out life with a very, very challenging upbringing. He was adopted got into all kinds of trouble. He got arrested for selling drugs. He got out…. but got arrested again, and spent a pretty good amount of time in prison.
But today, fast forward, and he is a millionaire entrepreneur. He runs six different businesses. He's published four different books. He has three healthy children and a loving wife… He has really cleaned up his life, and has become an expert in sales and entrepreneurship.
Now you might be asking yourself at this point: "I mean, his workload sounds pretty superhuman. His time management sounds pretty superhuman. But what exactly is superhuman about this guy?" Well, first of, we do get into all of that: The entrepreneurship that he learned throughout his struggles. We get into what you can learn from such a challenging and trying experience, and how you can learn something like entrepreneurship. But beyond that, we also get into the skill of sales, and why I think it's an important skill that anyone should have, whether it's selling yourself at a job interview, selling yourself to that attractive guy or gal at the bar, or selling in your day job.
Throughout the interview, we talk a little bit about what good salesmanship or saleswomanship looks like, how you can learn it, and why we feel it's a skill that will allow you to unlock your superhuman potential. There's also some pretty touching personal stories in here, and obviously the story has a happy ending, because you can check out Ryan and all of his incredibly successful businesses today. Finally, there's some instructions at the end of the episode that will get you a free copy of his book, so check that out!
In this episode, we discuss:
Who is Ryan Stewman, and what is he known for?
A walk through Ryan's extremely troubling childhood, and the path it lead him down
How did Ryan Stewman end up going to jail – twice? Why was only one of them justified?
When did Ryan discover entrepreneurship, and how did it save his life in many ways?
What, if anything, did Ryan Stewman actually gain during his time in prison?
What is HardCore Closer, and why did Ryan decide to focus on sales training of all things?
Why is sales so important to Ryan? What does it mean to him and what's his mission?
What differentiates Ryan and his business to his competitors?
What are all of the (many) companies that Ryan Stewman runs, and how did he start them?
How does Ryan learn, and how has he learned so much so fast about his industry?
How has Ryan's perspective on business been influenced by his rough past?
A discussion of sales, why it's important for everyone, and how you can learn this important skill authentically
How does Ryan Stewman manage his time so he can run 6 companies and balance his personal life?
What does his daily routine look like? What time does he wake up?
What are Ryan's top books?
Where did he learn to write so well?
What's the #1 takeaway you should remember from this episode?
Resources Mentioned in This Episode:
Favorite Quotes from Ryan Stewman:
"There's lots of people that make money and have businesses and stuff. I think, really, what I'm best known for is being a guy that's really overcome a lot of bullshit in his life."
"Nobody other than John Gotti has ever beat the federal government."
"Even though I've been through all the bullshit in my life… I really feel like I went through it for a reason."
"I've had 4 years of my life to spend a great deal of time thinking."
"That's what happens to most convicts: they either become an entrepreneur, or they go back to prison."
"We made $2m last year – just from Facebook ads alone."
"I keep seeing needs out there, in the market, and I keep filling them."
"I've lost everything so much, but I've always gotten it back every time. So I'm not really afraid to lose it."
"If you believe in what you're selling… and you know that you can save people's lives, you're kind of an asshole if you don't get good at sales…"
"I read a book every single week."
"No matter how many times you #$@* up in life, you can still turn it around. It's never too late to turn it around."
"What looked like failure in some people's eyes was just a setback in mine."