The Science And Magic Behind Music And Brain.fm W/ Daniel Clark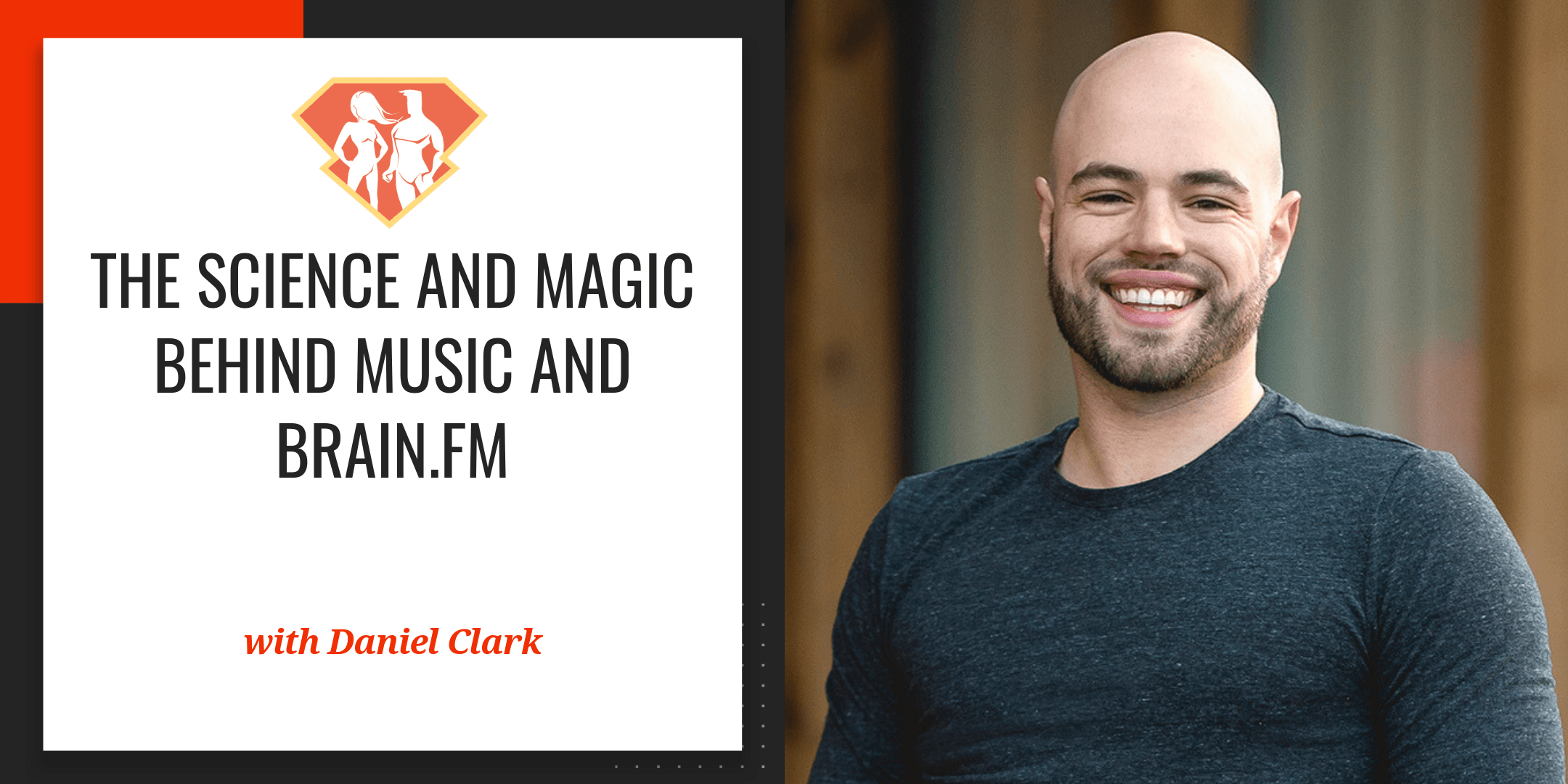 Tags:
Biohacking
,
Learning
,
Meditation
,
Music
,
Neuroscience
,
Podcast
,
Productivity
"Find a goal, pick it, make it a little bit crazy, a little bit challenging, and work towards it."
— Daniel Clark
Greetings, SuperFriends!
This week we are going to explore how you can become SuperHuman simply by putting on a pair of headphones…
No, I'm not talking about some crazy electrode that hacks your brain. I'm talking about music that is specifically designed to help you focus, help you fall asleep, help you calm down, or get you amped up.
You see, today I interviewed the CEO of a company called brain.fm, Daniel Clark. Some of you may have heard of them, seeing as they are creating scientifically-backed music that elicits specific states in the brain…
So, I wanted to figure out not just how this works, but why it works, and how we can leverage this new technology to improve our lives.
This turned out to be a far-ranging conversation. Dan and I really hit it off, and we just went into all the geeky things he and I both do to optimize our performance.
I know that you are really going to enjoy this conversation!
-Jonathan Levi
In this episode, we discuss:
Who is Dan Clark, and what does he do? [4:25]
What actually is brain.fm? [6:30]
The magic of music and human cognition [8:50]
Why music can have such an amazing effect on our brains [10:30]
How did brain.fm begin, and where is it currently? [13:30]
How does the brain.fm team test their products? [16:30]
How is the brain.fm music composed? [17:45]
Has the brain.fm team ever found similarities between their stuff and classical music? [20:10]
What is going on in our brain when we listen to the brain.fm music? [23:25]
Is the flow state similar to the state brain.fm can put you in? [25:40]
Our brain is a really complex thing [27:30]
What if using music can help us deal with important health problems, like ADD? [29:30]
What are some of the things Dan Clark uses to keep himself at maximum performance? [32:15]
The amazing tactic Dan has implemented to improve his creativity [36:00]
One product or service Dan can't leave without [37:35]
What kind of nootropics (if any) does Dan use? [39:20]
What are some books that have most impacted Dan's life? [42:20]
An offer for our listeners by the brain.fm team (use coupon code 'superhuman') [43:30]
Dan Clark's final takeaway message [44:15]
Resources Mentioned in This Episode:
Favorite Quotes from Daniel Clark:
"All the distractions of today's life are amplified because we don't face life and death situations."
"Just challenge yourself."
"People are way more capable than they think they are."