Tony Gaskins, Jr.: The Standards You Set Will Determine The Life (And The Love) You Lead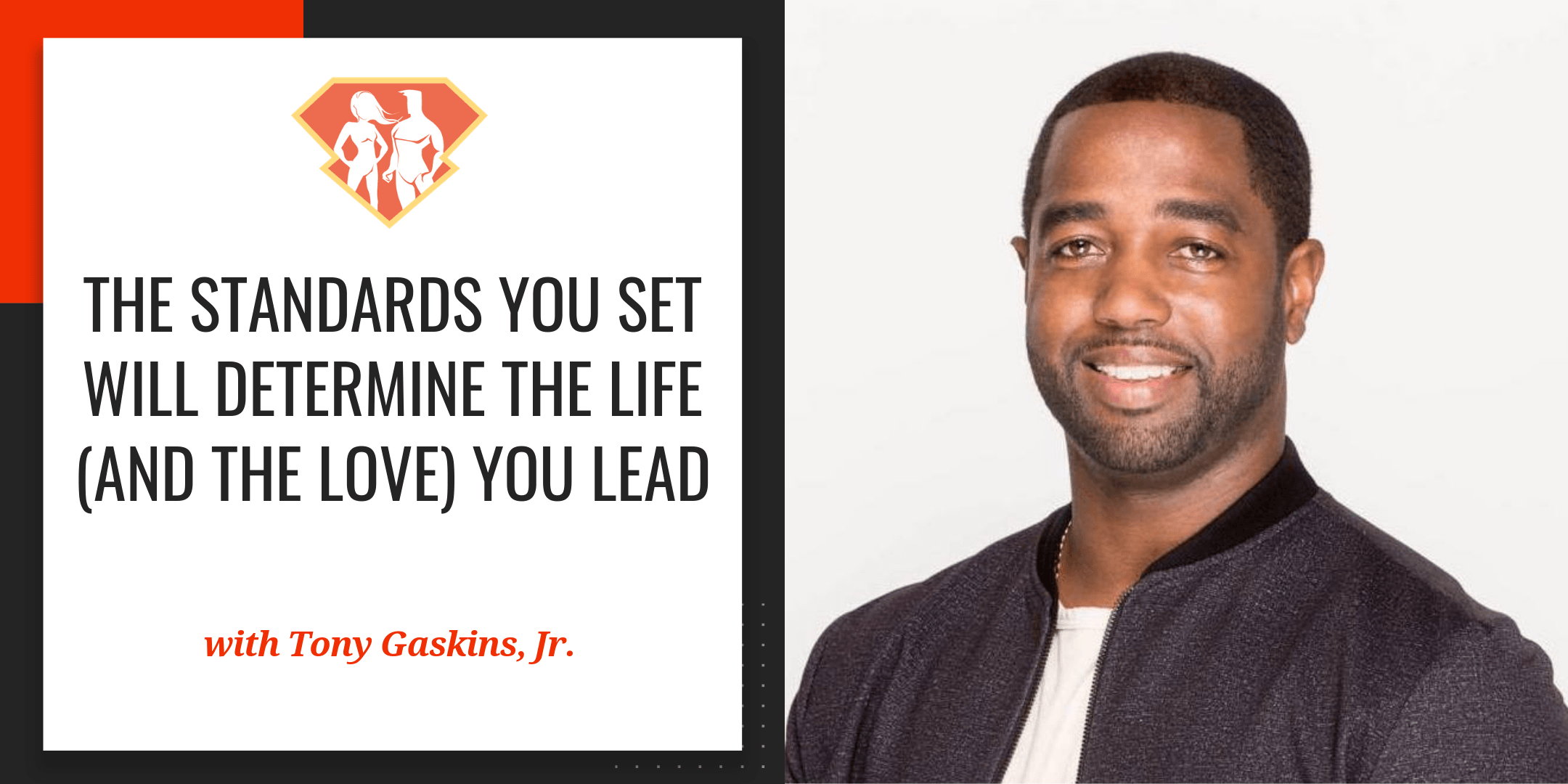 Tags:
Coaching
,
Goals
,
Learning
,
Love
,
Podcast
"You have to remember that you are the CEO of your life."
— Tony Gaskins
Greetings, SuperFriends!
Today we are joined by Tony Gaskins Jr. a celebrity life coach, a bestselling author an international speaker and a serial entrepreneur.
But life wasn't always so amazing for Tony. He struggled very much with a lot of different things throughout his youth: he got kicked off the football team, lost his football scholarship, and found himself, like quite a few of the guests we've had on the show dealing drugs at the age of 18.
But somehow Tony managed to turn his entire life around. At 22 years old he started publishing books. He started speaking and fast forward not that far ahead, Tony was invited to speak on Oprah, Tyra Banks, and many other media outlets, where he started sharing his wisdom and life experience… an absolutely incredible turnaround.
As you'll see in the episode, Tony has so much to share about everything: about coaching and finding the right coach, about how Tony learns, about how to prioritize certain things in your life and set standards for yourself, and everything in between.  I'm sure you guys are going to love this episode!
In this episode, we discuss:
Who is Tony Gaskins and what does he do?
How did Tony get into coaching? Where did he learn about life?
What happened in Tony's life that changed his entire direction?
How did Tony go from "the street life" to writing books in just a few years?
What was Tony Gaskins' first book about?
A discussion of love and how to start finding it
Some great homework that you can do today to improve your love life
A discussion of coaching – should you seek it, and if so, how?
How much would Tony advise spending on coaching? Why?
What advise would Tony Gaskins give to his 20 year old self?
What does it mean to "set standards" for yourself? What are Tony's?
What about monogamy? Does Tony Gaskins practice it? Why or why not?
Are men or women more likely to cheat? How does Tony know?
A discussion of ethics over nature and how to make the right choices
What are some of the other skills, strategies, or techniques that Tony Gaskins uses to perform better
What's Tony's favorite productivity tool and favorite app?
What 1 thing would make most people better off in their lives?
What's 1 thing Tony Gaskins believes that most people think is crazy?
How does Tony Learn? How has he learned so much so fast?
What are Tony's 8 businesses and how do you reach him?
What's the #1 takeaway from this episode?
Resources Mentioned in This Episode:
Favorite Quotes from Tony Gaskins:
"I was ignorant to the world around me, so I didn't know my limitations… so I HAD no limitations."
"The first thing that a person has to do is find different voices. Different people who have different experiences, and have taken the time to share those experiences… so that you can learn what real love is, what a real relationship is…"
"We believe that you have to play that hand that's been dealt you… but you still have to choose your mindset… You still have to choose your standards."
"We kind of need a coach for any area that we are looking to improve in."
"I like to see that a person has done what they are teaching. We live in a world of broke financial advisors, of single matchmakers.. I do my due diligence. If you can't implement it in your own life, then something is missing."
"I hear some people online say 'I charge $10,000 an hour for consulting,' – I would never pay a human being that!"
"We don't love ourselves enough, and we don't set standards."
"[Monogamy] is very, very realistic, and it produces the most productive human being possible."
"When you tell your brain what it will do, it will do just that."
"Everything I do, although I also make a living, I'm chasing purpose, not profit."
"Love. Yourself. More."