Staying Honest To And Loving Yourself W/ Kristina Mand-Lakhiani, Mindvalley Co-Founder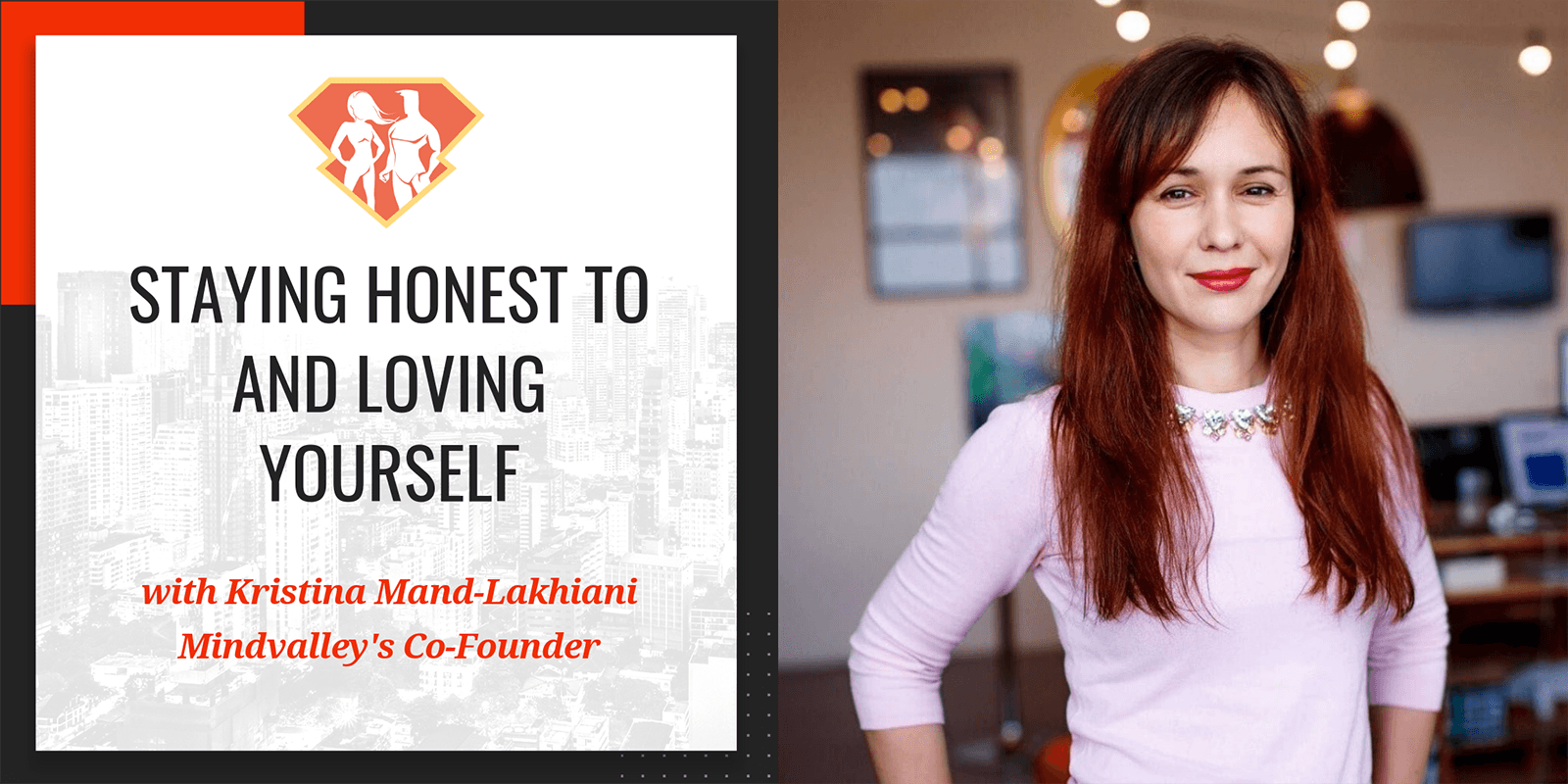 Tags:
Compassion
,
Entrepreneurship
,
Happiness
,
Inspiration
,
Lifestyle
,
Podcast
,
Success
"There is no such thing as too much love for yourself."
— Kristina Mand-Lakhiani
Greetings, SuperFriends!
Today we are joined by Kristina Mand-Lakhiani. Kristina is a serial entrepreneur, international speaker, artist, mom of two, and much much more.
In fact, you've probably heard of the business Kristina and her husband Vishen founded – it's called Mindvalley, and it is pretty much one of the largest education and transformation companies on the web. They run the popular A-Fest Event, MindValley U, and many more different business divisions. Mindvalley is currently a team of approximately 300 people, and they're based in Kuala Lumpur, Malaysia.
Kristina helps her students to virtually hack happiness by taking them through her unique framework. From a small meditation business, operating out of the couple's apartment in New York, her company quickly grew into a global educational powerhouse, partnering with some of the top thought leaders on the world.
I have to say Mindvalley is one of the companies that, since I discovered it not too long ago, really is a model and an inspiration for anything we are doing here at SuperHuman Enterprises.
So, it was really cool to connect with Kristina, learn more about her journey, and I think what you'll find is that she's admittedly very different from what you'd expect from the co-founder of a transformational education company. She thinks differently, she talks differently, and it was really cool to get her perspective on various subjects we discussed throughout the episode.
I have to say that this was a really good episode. Admittedly, Kristina told me that I put her in a different area than she's used to talking about, given that her message is more often about how to tap into self-love and discovering/grounding yourself. But it was really fun and we both agreed that it was an amazing conversation, that I think you are going to learn, enjoy, and benefit quite a bit from!
-Jonathan Levi
In this episode, we discuss:
Who is Kristina Mand-Lakhiani, what does she do, and how did she get here? [3:45]
The difference between optimizers and surfers [5:10]
The history of Mindvalley [8:00]
Why we sometimes have to offer people what they need, instead of what they want [10:20]
An amazing and inspiring story by Kristina Mand-Lakhiani [13:00]
What is Kristina's next step, after all those realizations? [17:25]
What does a typical day look like for Kristina now? [20:30]
A conversation on removing stuff that are not in your zone of genius [22:30] 
What are some of the things Kristina utilizes/suggests for a better life? [27:20]
What is Kristina's daily routine for maintaining optimal performance? [30:15]
What are some books that have changed Kristina's life? [32:40]
One thing Kristina believes that other people believe is crazy [33:35]
Where can you learn more about Kristina Mand-Lakhiani? [37:25]
Kristina Mand-Lakhiani's final takeaway message [39:30]
Resources Mentioned in This Episode:
Favorite Quotes from Kristina Mand-Lakhiani:
"When you hustle, you feel that you are worth a result only if you put 110%."
"We all have this tendency to live by someone else's scenario."
"A much more powerful transformation happens if you start from within."
"Only when you know what you are, you are capable of moving towards what you want to become."
"Entrepreneurship is a creative activity."
"Most people would be better off if they started being honest with themselves."
"The most important thing [when on stage] is to say the message that the audience needs to hear."