Tackling One Learning Challenge After The Other W/ Max Hertan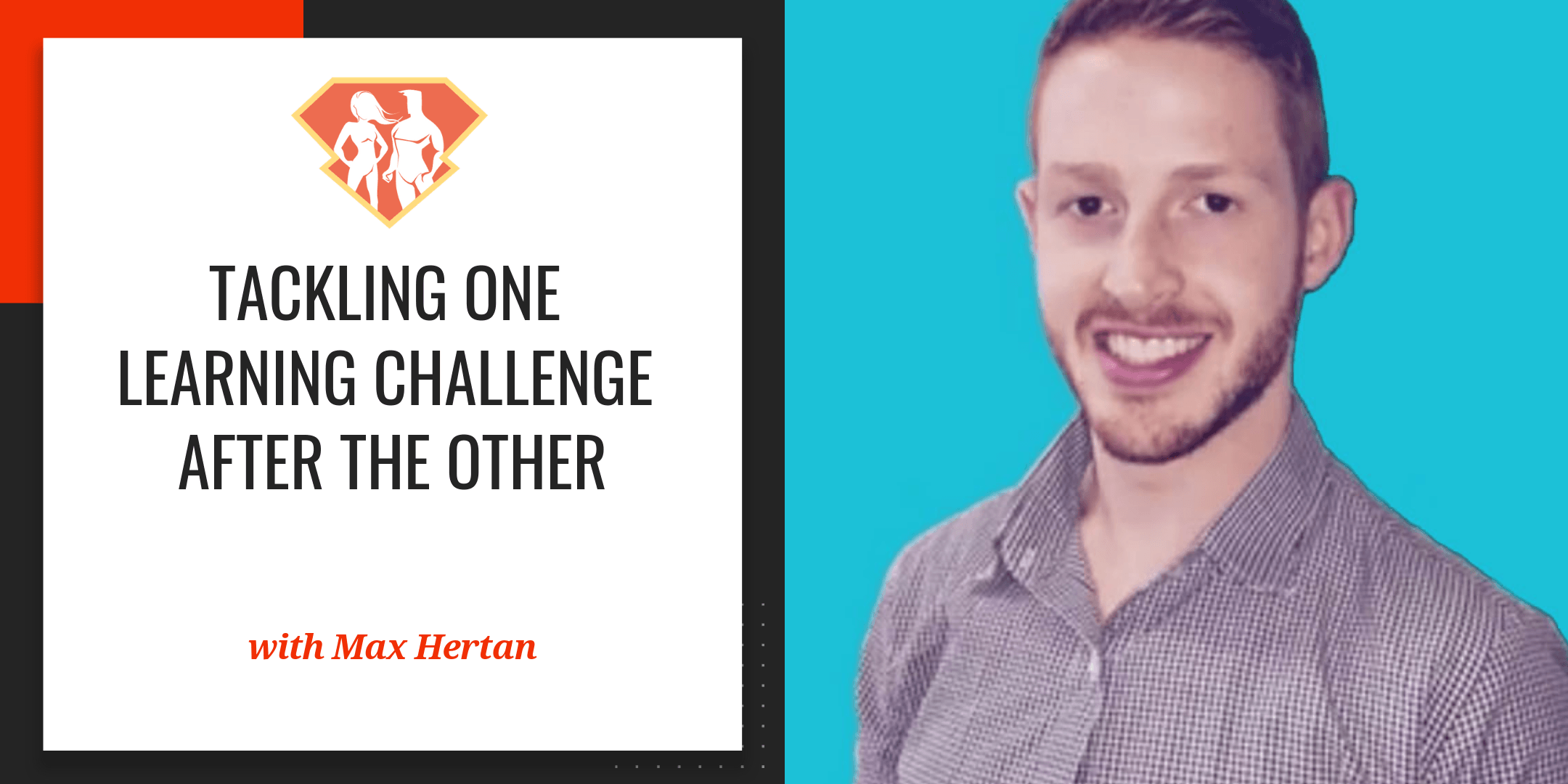 Tags:
Goals
,
Happiness
,
Inspiration
,
Learning
,
Performance
,
Podcast
,
Superlearning
"Ask yourself why, and break it down further and further."
— Max Hertan
Greetings, SuperFriends!
Today we are joined by Max Hertan, a serial learner.
Basically, here's his story. Max built up an award-winning 7-figure digital marketing agency, Megaphone, and started investing in startups, but, along the way, he, like me, started wondering "Hey, what do I get to learn and how do I get to learn new things as a grown-up adult?".
So, he started a new YouTube channel, "Max Hertan",  where he tackles a new challenge every month from learning backflips, salsa dancing, skateboarding, meditation, bodybuilding and much more! Right now he is working on learning Spanish in 1 month.
We talked, we connected, we shared notes, and we started to understand what he has learned by learning and learning how to learn.
I think my big takeaway from this episode was really just the value, the inherent value, of learning for learning's sake. But, as you'll find out, Max also has some really interesting points to share about how you can become a better learner.
I'm sure you are going to enjoy this episode!
-Jonathan Levi
In this episode, we discuss:
Who is Max Hertan, and how did he come to do what he does? [5:00]
Getting better at learning through challenged [6:20]
Usage of visual mnemonics in Max Hertan's latest learning challenge [7:30]
What was the most difficult learning challenge Max tackled? [9:00]
The importance of feedback in learning [10:50]
Progression and feedback on meditation [14:00]
What was (unexpectedly) the easiest learning challenge Max tackled?  [15:30]
How did Max Hertan study to learn how to draw? [17:45]
The transferability of knowledge [19:00]
What are some of Max Hertan's upcoming challenges? [23:25]
How does Max choose his challenges? [25:00]
A piece of homework for you [27:10]
The importance of having mentors and coaches [28:45]
What are Max Hertan's biggest takeaways from his learning challenges? [32:00]
Where can you find out more about Max Hertan? [34:00]
Max's final takeaway message [34:45] 
Resources Mentioned in This Episode:
Favorite Quotes from Max Hertan:
"I'll be like 'What are the core concepts that I can stack on one by one, so that I'm not stacking on too much?'"
"I really appreciate [skateboarding] after having done that challenge. I understand the difficulty involved with that."
"Define a really strong why and have a really strong foundation of motivation."
"Look at getting a mentor or someone that you can actually leverage to give you feedback, challenges, and homework."
"Setting a good practice schedule is very important."