Ultra Marathoner Dean Karnazes On How To Beat Your Mind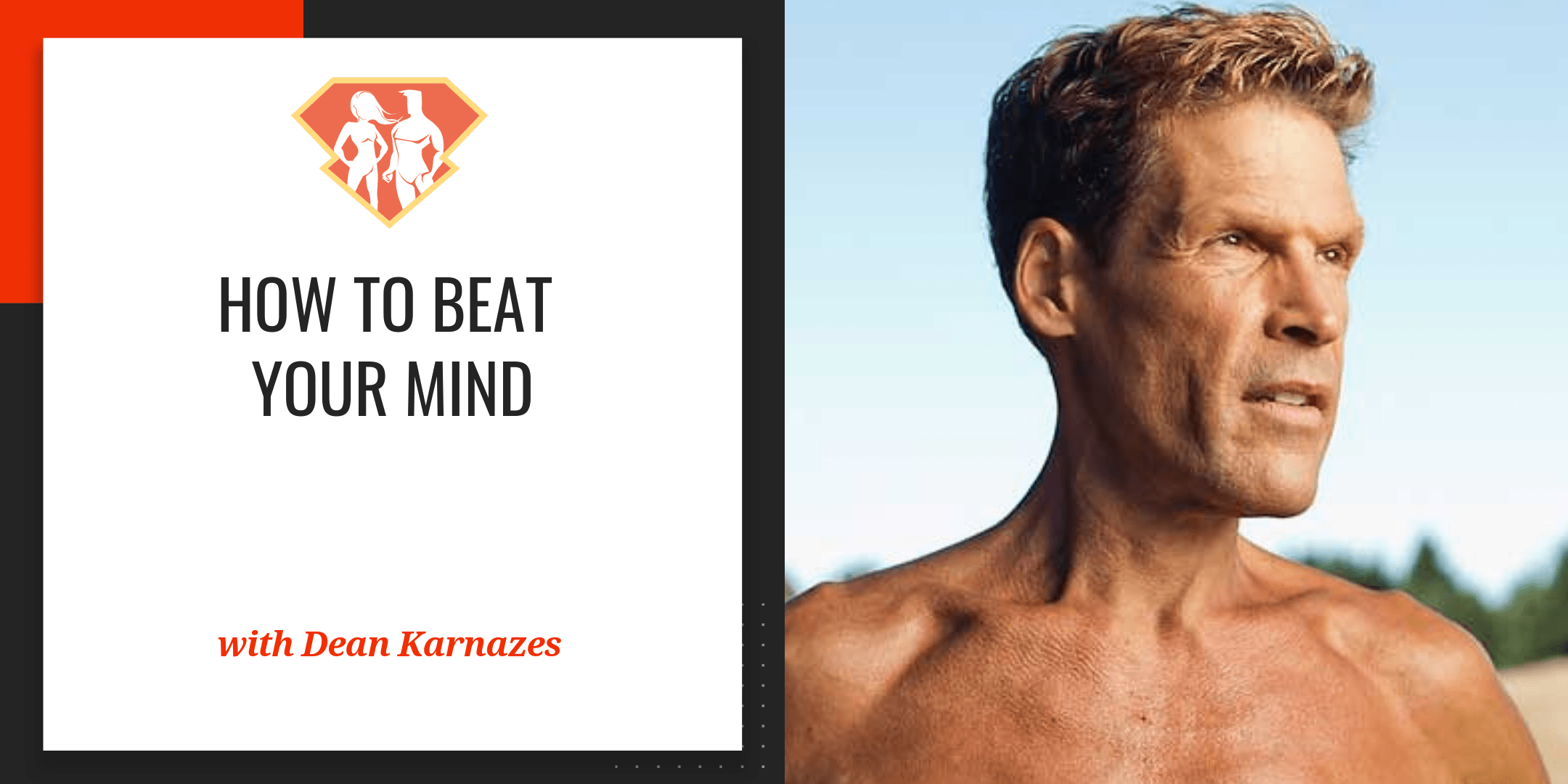 Tags:
Diet
,
Endurance
,
Fasting
,
Fitness
,
Nutrition
,
Paleo
,
Podcast
,
Running
,
Tenacity
"If you can turn off the noise, you can get through anything."
— Dean Karnazes
Greetings, SuperFriends!
Today we are honored to have with us Dean Karnazes. He's a speaker, a bestselling author, an athlete, and an entrepreneur. TIME Magazine named him one of the top 100 most influential people in the world. Why, you ask? Because he is an ultra marathoner… not just any ultra marathon, by the way: he has run three hundred and fifty CONTINUOUS miles… not going sleep for three nights. He's run the Sahara Desert at 120 degrees. He has run 50 marathons in 50 days. He's biked for 24 hours straight. He swam San Francisco Bay…
I could just go on basically and spend the entire episode talking about all the insane feats of endurance and athleticism that Dean has done. But I won't because I want you guys to hear from him. In any case he's been on The Today Show, 60 Minutes, Late Night Show, CBS, ESPN, CNN… basically all the networks! Again, I could spend the entire episode.
I wanted to get Dean on the show for very obvious reasons. He is literally a superhuman. He has a lot of very interesting things to say about tenacity and about fitness. About training… well, he has some things to say that will surprise you. Some things to say that definitely will NOT surprise you. And in general we just hit it off and had a really great conversation.
I hope you guys enjoy it as much as I enjoyed creating it!
In this episode, we discuss:
Who is Dean Karnazes, and what makes him SuperHuman [05:30]
What is an ultra-marathon? What differentiates it from a regular marathon? [06:00]
What motivates Dean Karnazes to do these incredible feats of endurance [06:40]
HOW the heck does Dean do what he does, running for days without sleep? [7:35]
What is the secret to Dean's incredible endurance and mental toughness? [08:35]
What is Dean's diet, and how has it changed throughout the years? [10:30]
How the heck does Dean Karnazes get 20-30K calories on a Paleo diet? [11:45]
What does it mean to be on a "fat adapted" diet? [12:30]
Does Dean have any genetic advantages? Can anyone do what he does? [13:00]
How did Dean get to the right biomechanics for ultra-marathoning? [14:45]
A discussion of running shoes and whether or not they're good for us [15:00]
Has Dean ever had any injuries or issues from his sport? [16:40]
A discussion of sitting and the benefits of standing desks
An interesting routine of HIIT exercises that Dean does throughout the day – and why [17:30]
A discussion of intermittent fasting and it's many benefits [18:30]
Does Dean Karnazes actually run on ketones? Or does he need carbs? [20:30]
What are some of Dean's top health and productivity hacks? [21:00]
What does Dean do all that time he's running? [22:15]
Which books have changed Dean Karnazes' life? [22:20]
A funny story about Dean's relationship with Tim Ferriss [23:30]
Which of Dean's books should you start with? [24:30]
What's Dean's NEW book about, and what did he learn while writing it? [25:30]
Where can you reach out and learn more about Dean Karnazes? [28:00]
What's the #1 biggest takeaway from this episode? [29:50]
Resources Mentioned in This Episode:
Favorite Quotes from Dean Karnazes:
"Why is not an easy question to answer…"
"There's something profoundly powerful about running."
"There's no tricks to running 100 miles… It just comes down to grunt work, and how much do you want it."
"Sitting is poison… it's toxic."
"It's better not to eat than to eat something bad."
"Listen to everyone, follow no one."
"One thing that I've really learned is to protect my time and protect my attention. It's so easy to get distracted these days…"