Understanding Your Purpose & Existence Using Kabbalah w/ Rabbi Moshe Miller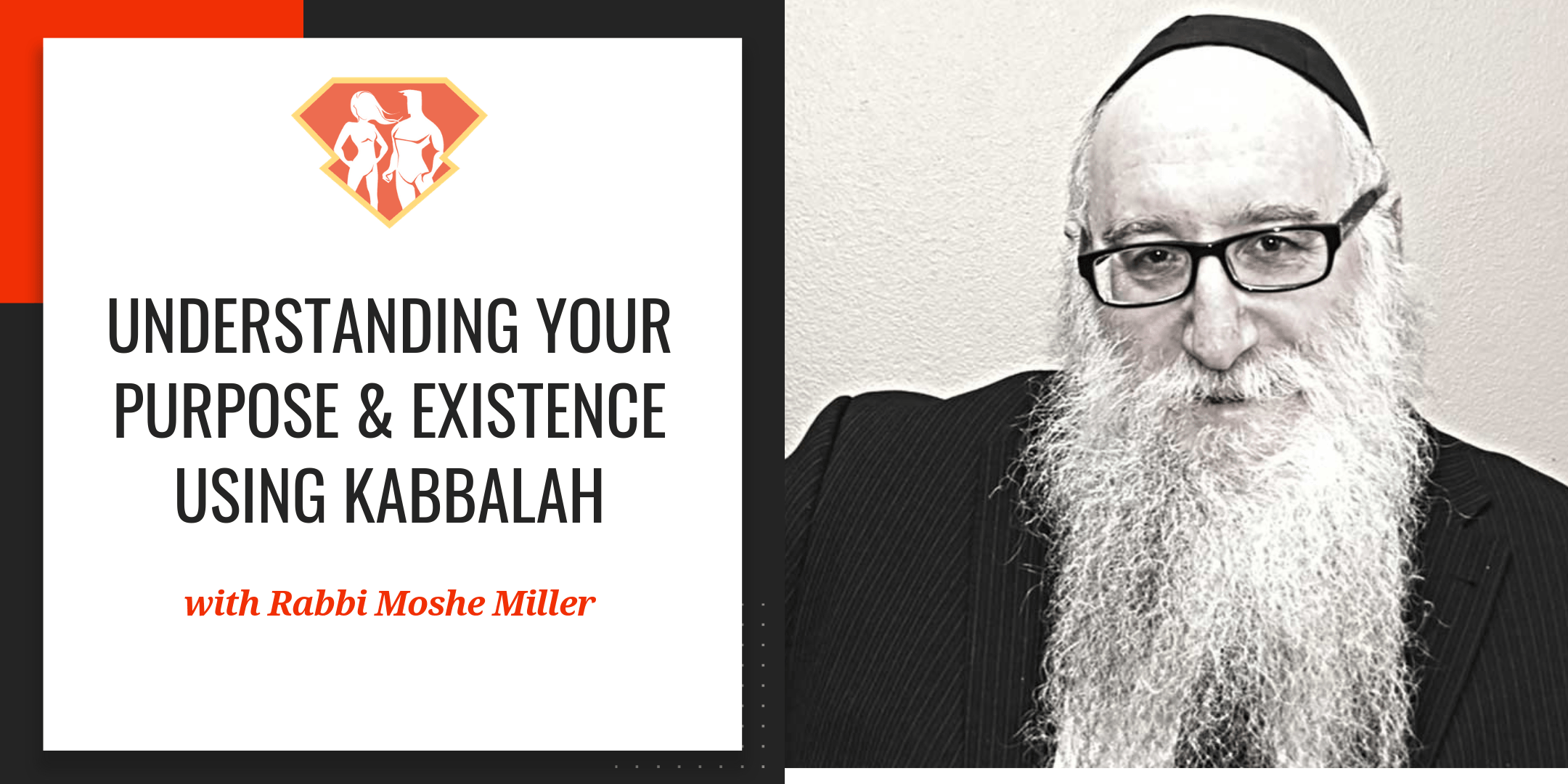 Tags:
Meditation
,
Purpose
"The objective is not information… but rather, transformation. The transformation of the person."
— Rabbi Moshe Miller
Greetings, SuperFriends!
In this episode with Rabbi Moshe Miller, we are going to be exploring something a little bit different… In the past, we've talked about meditation and yoga, and in a sense, this episode will be a continuation of that. However, today, we're going to explore it from another angle – Kabbalah.
For those of you who have never heard of it, Kabbalah is a lesser-known teaching of Judaism, characterized by mysticism and mystery. In recent years, it's become hugely popular among dozens of celebrities, from Madonna to David Beckham, Ashton Kutcher, and Natalie Portman. Personally, I've always been intrigued and curious about it, given my interest in and enthusiasm for meditation, so I decided to explore that curiosity in a conversation, and record it for all of you. In that sense, I'm inviting you all to join me on my own learning journey, on a topic I used to know little to nothing about.
My guest today is a world-renowned expert on Kabbalah, originally from South Africa. He's a prolific author and translator, who has published hundreds of articles and some 20 books. He is most widely known for his translation of The Zohar, and other kabbalistic works. He's also the author of The Kabbalah of Character, a highly successful course on the subject.
In this episode, I wanted to gain a deeper understanding both of what Kabbalah is, and what benefit it can offer us in our own lives. My goal was to extract some of the practical teachings of Kabbalah in a secular and non-religious fashion, and make it accessible to anyone in the audience. I hope you take a lot of value away from it.
In this episode, we discuss:
What prompted Rabbi Moshe Miller to dedicate his life to the study and practice of Kabbalah?
What exactly is "Kabbalah?"
What are the 4 different ways to approach and understand biblical teachings?
What does Kabbalah seek to do? What is it's purpose?
How exactly does one practice or study Kabbalah?
How is Kabbalistic meditation very different from other forms?
What does Kabbalah have to say about one's purpose in life, and how to realize it?
A discussion of the most advanced practitioners of Kabbalah and what they do with their lives
Why have so many celebrities and athletes taken up Kabbalah in recent years?
Is it true that Kabbalah cannot be learned until the age of 40?
What are Rabbi Moshe Miller's thoughts about psychedelic drugs as a means of spiritual exploration?
What are the 12 senses according to Kabbalah?
Is Kabbalah for everyone? Or are there some people who shouldn't experiment with it?
How can you begin to take advantage of Kabbalah in your own life? 
Resources Mentioned in This Episode:
Favorite Quotes from Rabbi Moshe Miller:
"In philosophy… There's a lot of semantics, a lot of ideas, but not getting really down to the root of what a human being is all about… It wasn't getting towards what I suppose you would call the universal truth."
"There are many ways of looking at the same thing and describing it differently. That's really what Kabbalah is… it's a way of looking at things."
"It's synchronicity and alignment that Kabbalah is all about."
"There were people – and there are today – who could… adjust areas of existence which were problematic for one reason or another."
"Everybody can achieve the basic paradigm of what it means to live a good life in the world."
"Kabbalah provides us with perspective by which you can understand yourself and the world in which you live… and a framework by which you can live your life to the fullest."
"We're all here for a reason. There's no one alive in the world who doesn't have a place and a purpose in being here."
"Start working out what it is that you are needed for, and then pursue it. Pursue it with everything that you have, with all your strength."