Mastering Your Long Term Memory w/ Ron White, 2X USA Champion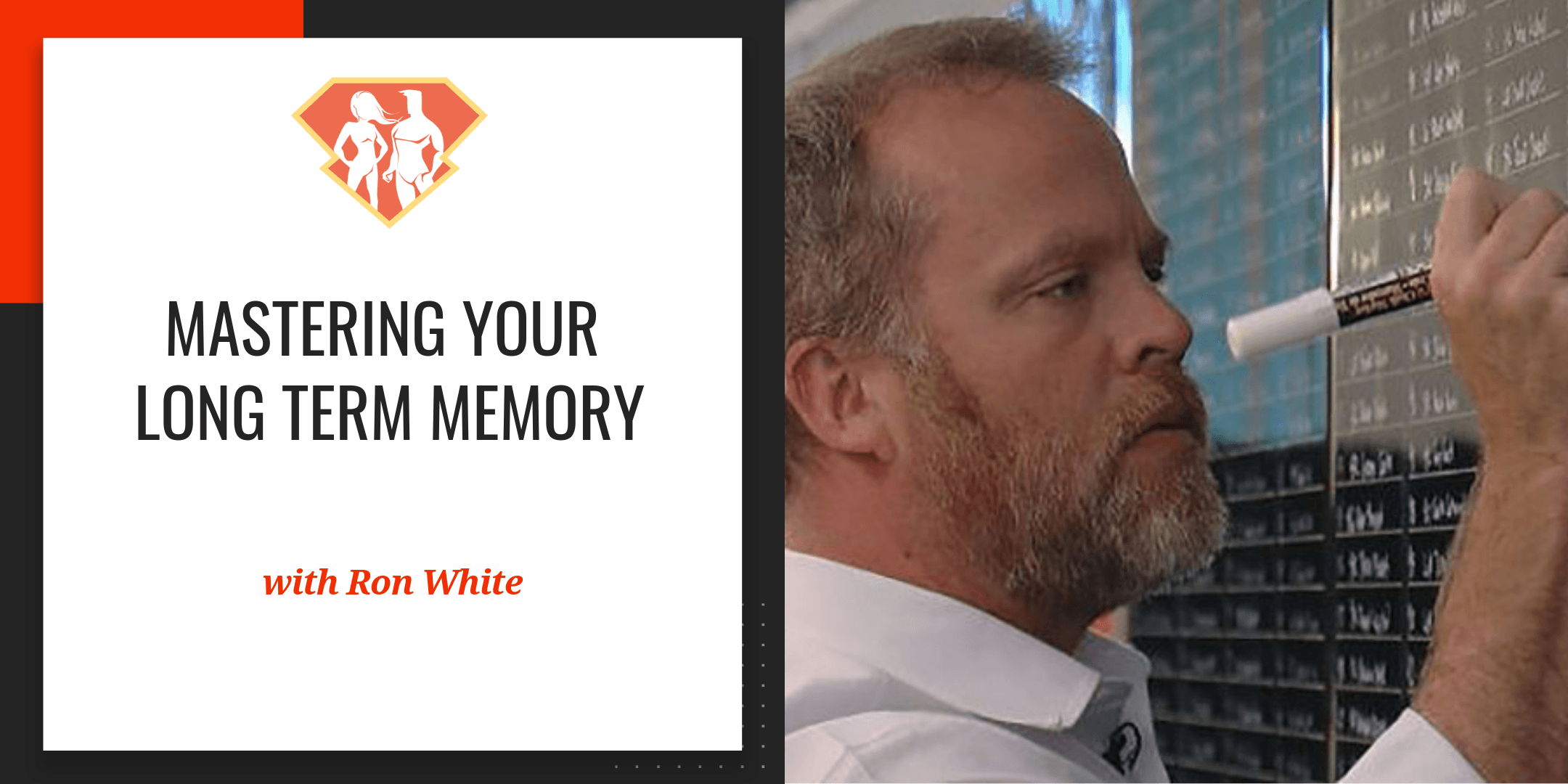 Tags:
Learning
,
Memory
,
Podcast
,
Superlearning
"The difference between short term memory and long term memory is going to be in the review."
— Ron White
Greetings, SuperFriends, and welcome to today's show.
My guest today is Ronnie White, one of the top memory experts in the world. He's a two-time national memory champion, having won the USA competition in both 2009 and 2010. He also held the record for the fastest memorization of a deck of shuffled cards for 2 years – a shocking 1 minute and 27 seconds.
Today, he trains individuals and corporations all over the world on how to better take advantage of their natural memory skills.
Given my background in Memory, Speed Reading, and Accelerated Learning, I was eager to interview Ron and learn everything I could from him. We talk about mnemonic techniques, adaptations, and a lot of powerful learning strategies.
Just a heads up, this episode is going to be a bit "technical," and we're not going to dumb things down for you. If you're unclear on some of the terms, I suggest checking out our past episodes with Dr. Anthony Metivier, Nelson Dellis, and Mark Channon.
As always, please share your thoughts with me on Twitter @gosuperhuman, and if you haven't already, please remember to leave us a review on iTunes or Stitcher.
In this episode, we discuss:
What podcasts Ronnie White listens to
How Ron White got into the memory improvement industry
Do some people have a larger memory aptitude than others?
Why is memory important to train, even today?
What are the practical benefits of improving your memory?
Short term versus long term memory and how to move information between them
How exactly Ron White memorized 2,300 fallen soldiers' full names & ranks
Practical tips for reviewing names & faces
I test out Ron White's Hebrew skills, and he explains how he memorized sentences
A discussion of synesthesia as a mnemonic technique
Advanced techniques used in memory championships such as PAO, Ben System, etc
What exact techniques did Ron White use in the championships, and what is used today?
How does Ron White approach learning in general, especially when it's not just memorization?
Why did Ron White choose a Navy SEAL as a coach instead of a memory expert?
A very unusual training technique Ron White used to dominate his competitors
Who are some of Ron White's role models?
A discussion of great books and reading older books
Information about Ron White's business
What is the 1 takeaway message that Ron White would like you to remember from this episode?
Resources Mentioned in This Episode:
Favorite Quotes from Ronnie White:
"[Memory Improvement] is more beneficial now than it's ever been."
"I just remember what's important to me."
"If you don't focus on it, and you don't review it, you're not going to remember it long term."
"We're all using really similar systems."
"What has changed in [memory] sport is how you compress the information."
"I was training for a memory tournament, and my coach wasn't a memory expert… it was a Navy SEAL."
"I eventually got to the point that I could memorize a deck of cards faster under water than anybody in the United States could do above water in perfect conditions."
"The harder you are on yourself when no one else is watching, the easier life will be on you. The easier you are on yourself when no one else is watching, the harder life will be on you."
"Don't assign skills to other and deny them to yourself."