Flow Expert Steven Kotler On Unleashing SuperHuman Mode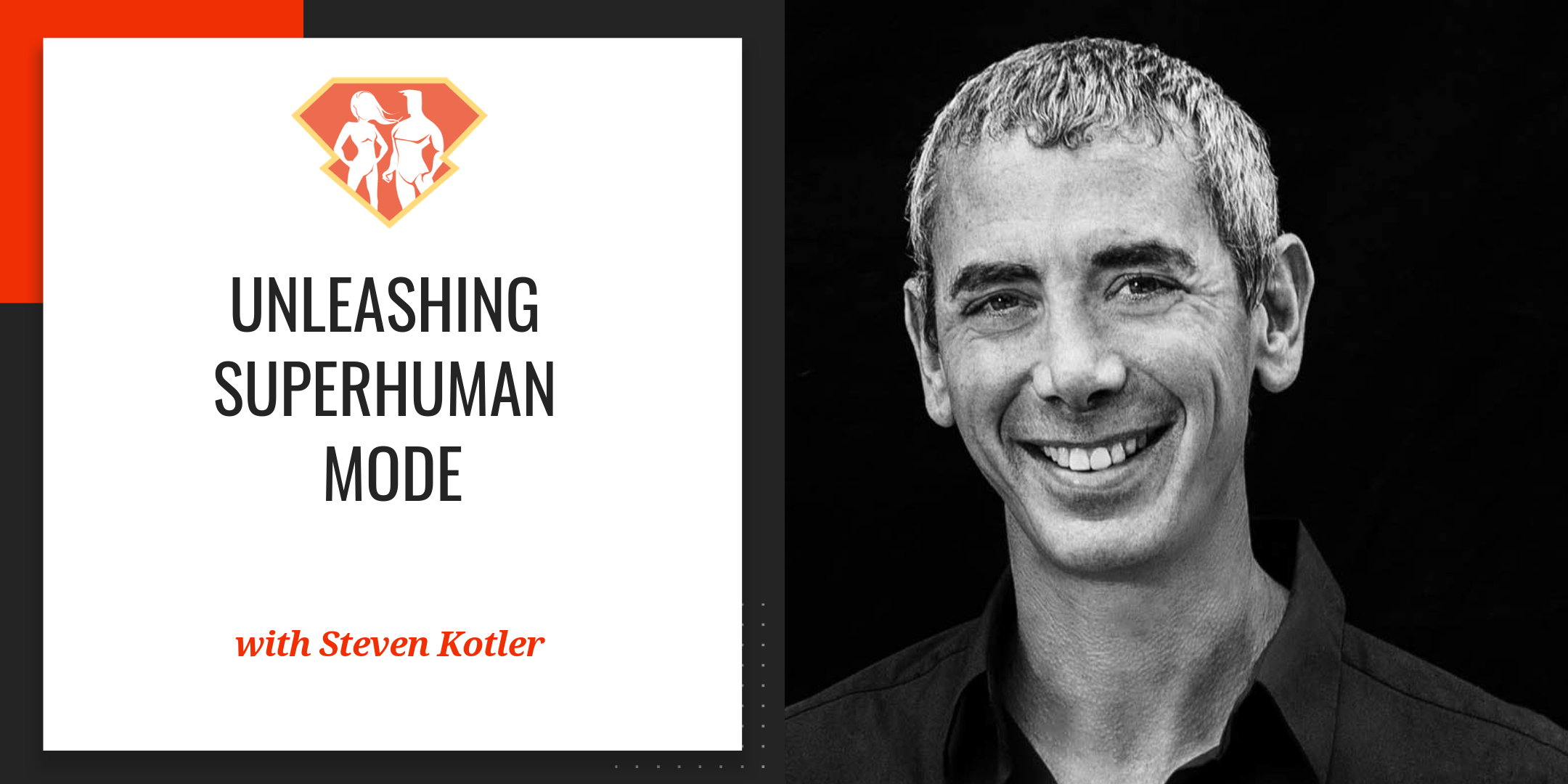 Tags:
Attention
,
Flow
,
Focus
,
Memory
,
Podcast
,
Writing
"You get one shot at life, and you're gonna spend a third of it asleep. What you do with the other two thirds is the only thing that matters."
— Steven Kotler
Greetings, SuperFriends!
Today we are joined by Steven Kotler. Steven is the co-founder of the Flow Genome Project, and he is also a New York Times' best selling author. He has written quite a number of books, many of which you have already heard of, like "The Rise of Superhuman", his book on flow, "Abundance", his book on the future, "Tomorrowland: our journey from science fiction to science fact" and "Bold", which he wrote with Peter Diamandis, the book about how to go big, create wealth and impact the world. He has also written a bunch of other books like "Stealing Fire", his most recent one.
Steven is an absolute authority, not just on writing, but also on flow. The Flow Genome Project has been doing research for decades, developing and understanding ways that we can get into flow and understanding what flow is and why it matters, why it exists and what we can use it for. I think that this is one of the most important topics in the whole realm of SuperHuman Academy and it is something that we haven't really covered in any of the stuff we've put out, from the podcast to the online courses. It has been my goal to fix that, to understand flow, to understand why it is crucial and most importantly to give you the skills and strategies to get into flow, so you can go out there and be SuperHuman.
Steven did NOT disappoint on any of these, as he was extremely generous with his time, enthusiasm, energy and wisdom. Personally, I think you guys are gonna be blown away by this episode!
In this episode, we discuss:
Who is Steven Kotler? [5:15]
How did Steven Kotler get into the field of studying flow and human performance? [6:25]
How is flow different from just being focused? [9:45]
Does everything great from humanity happen during flow? [12:10]
Can we get into flow consistently and reliably? [14:50]
An important prerequisite for getting into flow [18:50]
The individuality in the flow triggers [22:10]
The impact of getting knocked out of flow [25:35]
Other things that Steven Kotler does to perform at the highest level [35:20]
What is a piece of homework that everyone can try this week to get into flow? [40:20]
What is the limit of flow? [47:15]
Where can people learn more about Steven Kotler? [52:15]
How does Steven Kotler fund his research? [55:15]
Resources Mentioned in This Episode:
Favorite Quotes from Steven Kotler:
"Flow is the signature of optimal performance."
"Flow can only show up when all your attention is focused in the right here, in the right now, in the present moment."
"If you are 500% more productive in flow and you have a 3 hour work window to get something done, think about how much work a 15 minute knockout will cost you."
"When talking about conscious attention, the brain is a serial processing machine. There is no such thing as multi-tasking."
"Flow shows up outside your comfort zone. You have to get really comfortable with being uncomfortable, but just a little."
"When I think about my career and what it took to write seven best-sellers and get two Pulitzer Prize nominations, I think it is that I just kept saying no."
"I try to have a confrontation with mortality at high speeds at least once or twice a week."
"If you are not making a daily to-do list, you are insane."