JJ Virgin On The Things You Must Know About Health & Nutrition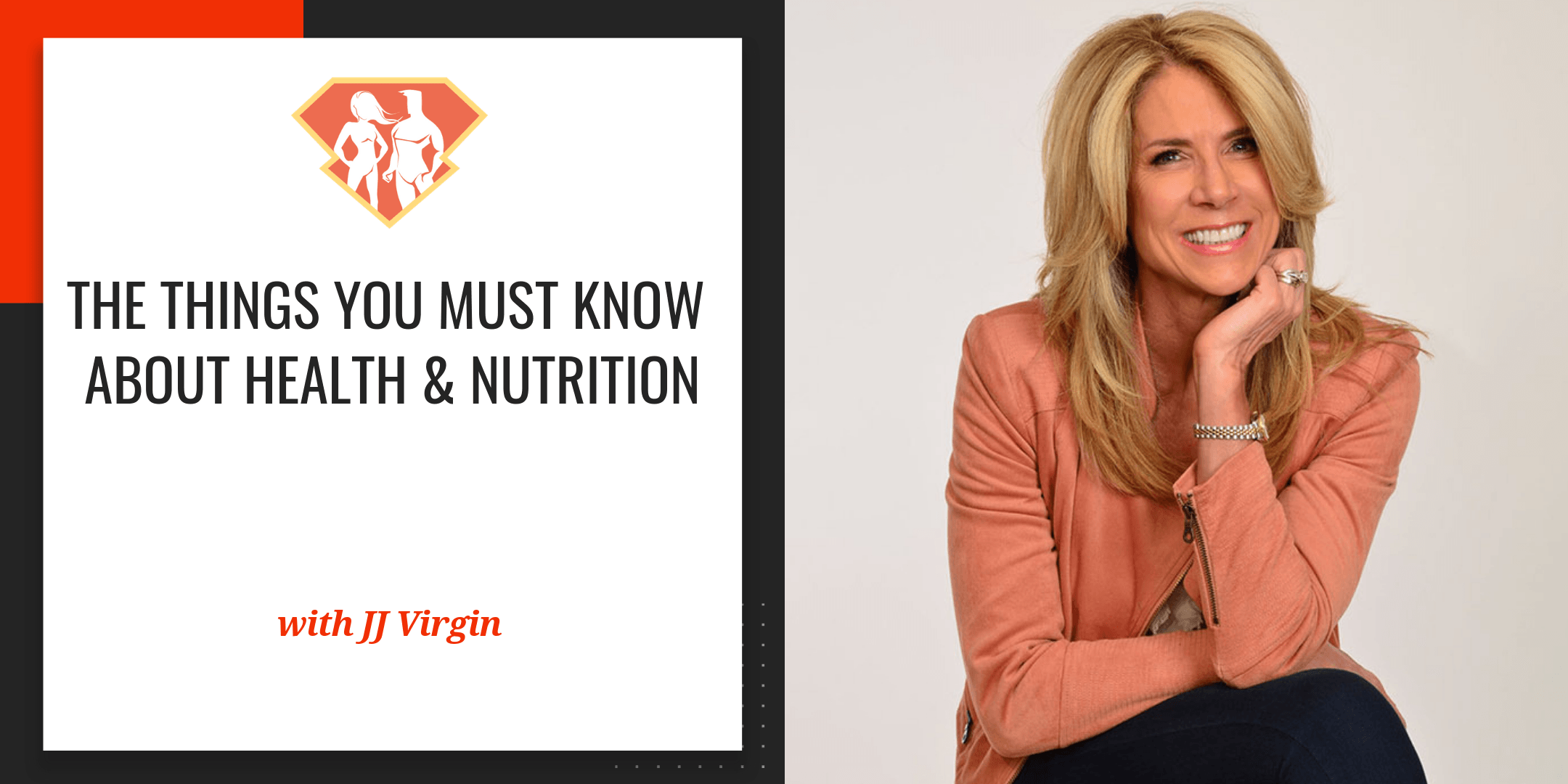 Tags:
Podcast
"We are never better than when we are challenged."
— JJ Virgin
Greetings, SuperFriends!
Today we are joined by a four-time New York Times best-selling author! She is a prominent TV and media personality, who has been featured as a co-host of TLC's Freaky Eaters, and has spent years as the on-camera nutritionist for Weight Loss Challenges on Dr. Phil, also appearing on places like PBS, Dr. Oz, Rachael Ray, Access Hollywood, and the TODAY Show.
She is also a successful serial entrepreneur with a number of events, summits, organizations, and an entire line of food and nutrition products with her name on it. I'm talking of course about JJ Virgin.
Now, if you haven't heard of JJ, I have to admit that I find that very strange – but, don't worry, we are going to get you caught up to speed on this woman – or rather, this force of nature in the health and wellness industry.
In the episode, we're going to learn how she got to where she is, as well as all the health recommendations that have made her one of the top thought leaders in the space.
It's an incredible conversation packed with all kinds of insights – I learned a ton – and, as you'll hear, I definitely hit it off with JJ! I'm looking forward to what you all have to say.
-Jonathan Levi
In this episode, we discuss:
What does JJ Virgin do? [3:30]
Women in entrepreneurship [5:45]
Where has JJ drawn her motivation and desire to help people from? [6:30]
What led JJ to focus on the health industry? [8:00]
The epiphanies that led JJ to understand that traditional health advice does not work [8:55]
What has caused the current culture of obesity? [12:20]
The importance of connecting face to face with people [13:30]
What is the premise of JJ Virgin' philosophy on health and nutrition? [15:00]
The importance of having alternatives [20:00]
What is JJ Virgin's view on 'natural' sweeteners? [25:00]
Why do we crave sugar? [28:15]
The right process to get off sugar [29:45]
What is JJ Virgin's take on fruit? [32:00]
Why you should be eating resistant starches? [33:50]
The spices JJ and Jonathan use [36:00]
A piece of homework from JJ Virgin [36:55]
Why entrepreneurs need to learn a few things from the corporate world [41:30]
Teaching as the best form of learning [43:00]
What are some of JJ Virgin's high-performance habits? [44:10]
What is JJ's favorite of her own products? [47:45]
Where can you find more about JJ and her work? [49:00]
JJ Virgin's final takeaway message [49:20]
What inspired JJ Virgin's move to Tampa? [50:25]
Resources Mentioned in This Episode:
Favorite Quotes from JJ Virgin:
"The core of all my businesses is community and creating connections."
"Our body is a chemistry lab."
"I think diet should be something that you do short-term for a therapeutic outcome."
"What is really important to do is to say: 'How do I feel when I eat this food?'"
"There is never a reason to add sugar [to your diet]."
"We should focus on making a decision to make one change."
"If you want to become excellent at what you do, it's teaching that makes you excellent."