We Talk Productivity, Purpose, & Fear w/ Alli Worthington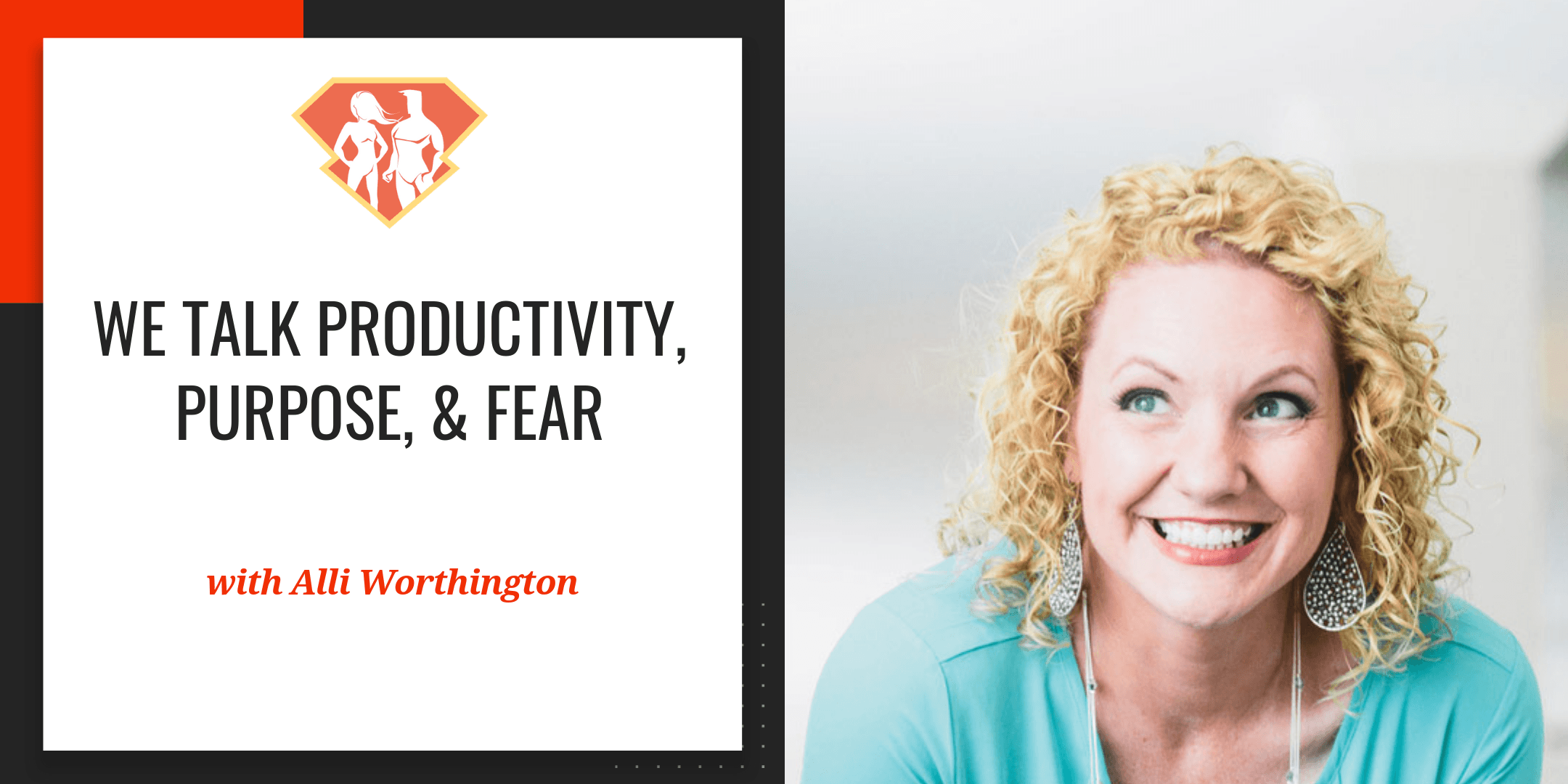 Tags:
Fear
,
Habits
,
Happiness
,
Learning
,
Meaning
,
Podcast
,
Productivity
,
Purpose
"If time management was the real cure for busy-ness, we wouldn't all still be busy."
— Alli Worthington
Greetings, SuperFriends, and welcome to today's show.
Today we are joined by Alli Worthington, the author of the book Breaking Busy: How to Find Peace & Purpose in a World of Crazy. She's also the founder of BlissDom, the world's largest international women's business conference, the cofounder of the BlissFul Media Group, and the executive Director of the Propel Women leadership initiative. You may have even seen her on The Today Show, Good Morning America, or featured in Sheryl Sandberg's website, Lean In.
In this episode, we talk about how to break the endless cycle of busy-ness to discover your life's true meaning and purpose. Given that I've recently released a course with one of my mentors on the topic of creating a meaningful life, you guys probably know that this topic is something near and dear to my heart – and so I was very excited to learn from someone as accomplished and thought-provoking as today's guest. It's absolutely PACKED with actionable tips and tools that you can implement TODAY to be more productive and feel less stressed. I think you're going to love it.
As always, please share your thoughts with me on Twitter @gosuperhuman, and if you haven't already, please remember to leave us a review on iTunes or Stitcher.
In this episode, we discuss:
Alli Worthington's amazing story of overcoming adversity and finding her purpose and calling
A discussion of stress and how we all try to thrive on it
What 2 symptoms alerted Alli Worthington that she was too stressed?
How did Alli Worthington learn so much in such a short time to become an expert?
What is the underlying cause of all of us being so busy, and how do we escape it?
What are the most powerful productivity tips Alli Worthington uses?
The power of "firing" customers
What are the biggest barriers standing between people and their dreams?
Self-talk and some practical tools for overcoming your fears
Who are some of the most influential authors and thought leaders that Alli follows?
The "story arc" and how important it is in business and in life
What is Alli Worthington working on next?
A tool-by-tool discussion of how Alli Worthington works (surprising!)
Resources Mentioned in This Episode:
Favorite Quotes from Alli Worthington:
"We lost everything before losing everything was cool."
"If we're not in a storm right now… we're either coming out of one or about to move into one."
"Once I was paying attention to what I was doing, I was able to cut my work day down by 3 or 4 hours a day."
"Just like we have to remind ourselves to do things, we have to remind ourselves to stop doing things."
"Fear weighs us down and keeps us from reaching our potential."
"Nobody loves to wear pink high-heeled shoes and kick down doors more than me."
"We need to live the life that we are meant to live… Not the one that we think we should live."
"For most of us, we need to break the busy-ness in our minds – before it breaks us."