Build The World's Most Valuable Network w/ Jayson Gaignard of MasterMind Talks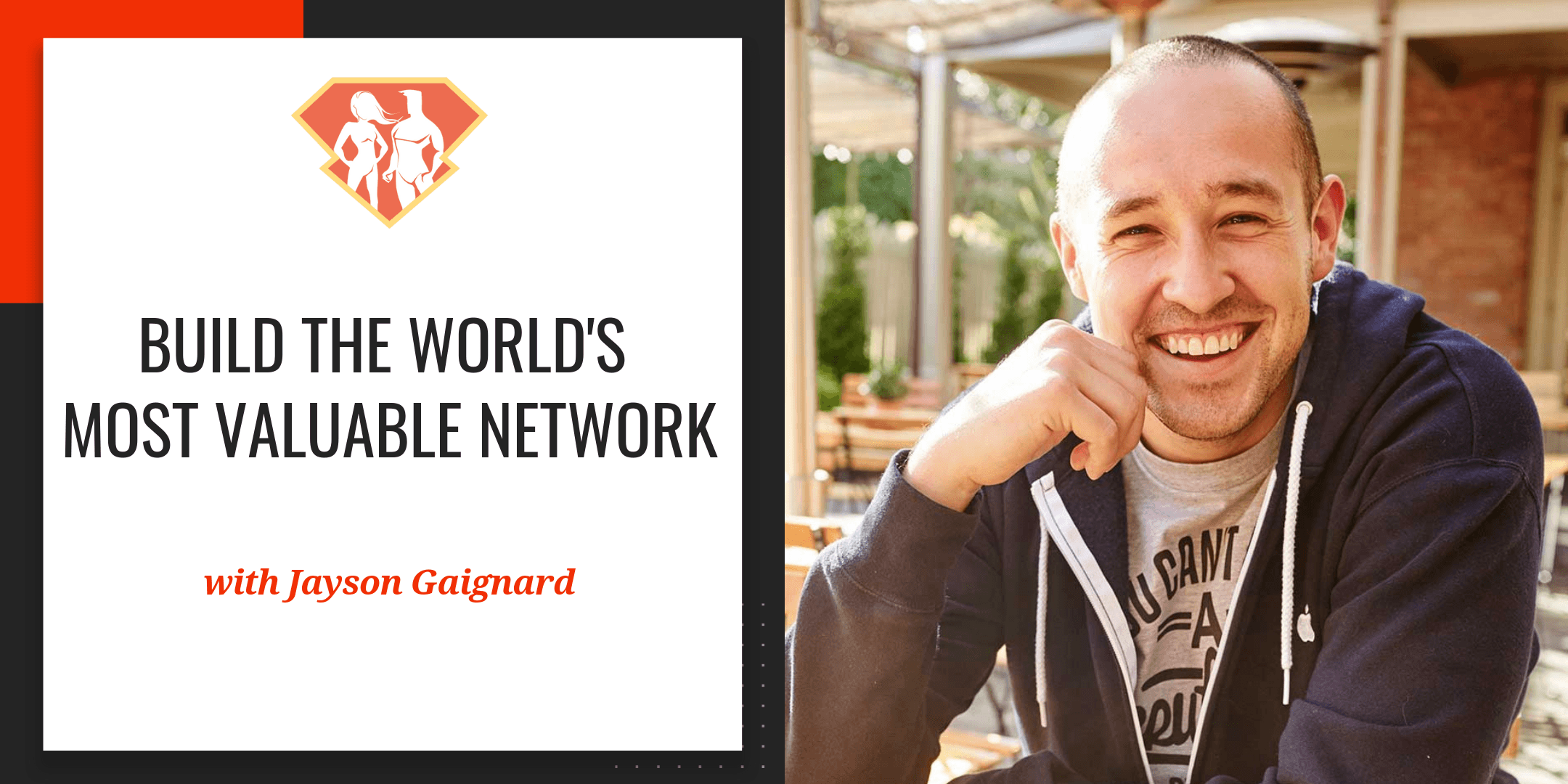 Tags:
Entrepreneurship
,
Networking
,
Relationships
"How people invest in businesses is how I try to invest in people… Find somebody who's undervalued, a rising star… My network is my portfolio."
— Jayson Gaignard
Greetings, SuperFriends!
Today we are joined by Jayson Gaignard – quite possibly one of the world's best networkers.
In 2012, Gaignard began curating dinners in Toronto, Canada with small groups of entrepreneurs that focused on relationship building. The invite-only dinners became MastermindTalks—larger conferences for entrepreneurs geared toward health, wealth, self-improvement, and networking.
Despite humble beginnings, Jason has grown mastermind talks into a world-renowned institution in the entrepreneurial space, hosting such greats as Tim Ferriss, James Altucher, A. J. Jacobs, Esther Perel, Dave Asprey, Guy Kawasaki, and Marc Ecko. In fact, Forbes described Gaignard as one of the top networkers to watch in 2015.
He's also published a book and produces a podcast on the topic of network building.
In this episode, I wanted to learn more about how Jayson has built such strong ties with some of the world's most influential entrepreneurs, and see if we can learn anything from his success. My father always told me that it's not just about what you know, but also whom you know – and if that's true, then both Jayson and his incredible skill set are definitely worth knowing.
Throughout the episode, we talk about the power of a network like Jayson's for improving oneself, accomplishing one's goals, and making a lasting impact on the world. Jayson also shares some very practical tips for building your own network and connecting with the people you admire. All in all, I think you'll take a LOT away from Jayson's success story, and his wisdom.
In this episode, we discuss:
What has Jayson Gaignard been up to for the last year?
How Jayson went from being a 17-year old dropout, to successful entrepreneur, to where he is today
The story of Jayson's successful business, how it grew, and why he sold it
The connection economy, and how Jayson Gaignard started with dinner parties
The incredible story of how Jayson built a strong personal relationship with my role model, Tim Ferriss
The idea of losing one's personal identity when they lose their job or company
What HUGE risks Jayson Gaignard took when he was at his most vulnerable point
Does Jayson have some kind of special superpower that has allowed him to do what he's done?
How to avoid being "star struck" or weirding out celebrities when you meet them
An awesome story of how Jayson built his relationship with Gary Vaynerchuk
What are the biggest, most valuable outcomes that have come from building such a huge network?
What is Jayson Gaignard's calling, his purpose, and where he fits into the world?
How is MasterMind talks different from other events, and more selective than Harvard?
The incredible story of how Jayson is getting to work with Hollywood mega-agent Shep Gordon
Practical advice on how to connect with more influential and inspiring people in your own life
The idea of curating your network, both in the real world and online
The importance of doing work for free, mentorship, and volunteering
How to conduct game-changing mastermind dinner parties to build your network
Dealing with the flakiness of modern people
What's next for Jayson Gaignard? What's he working on now?
Where to reach Jayson Gaignard
Resources Mentioned in This Episode:
Favorite Quotes from Jayson Gaignard:
"I dropped out of high school when I was 17… I'm not much of an academic."
"I was making 22 times the national average income… which was bothersome to me, because I'm like, 'I'm not 22 times happier… I'm not 22 times healthier.'"
"When one door closes, another door opens… but it sucks being stuck in the hallway."
"The bank could take my car, they could take whatever measly assets I have left, but they can't take my relationships."
"If people are paying $10,000 to be there, there's bound to be some interesting folks."
"There's a slogan: 'If you're the smartest person in the room, you're in the wrong room.'"
"There's nothing in business that you can really, with 100% certainty, peg an ROI to."
"I wouldn't call myself successful, per se, but some people in the outside do, and the only core reason for that is relationships."
"When you play for the applause, you put your happiness in the hands of someone else."
"How you treat a normal relationship is how you have to treat these people. When you put them on a pedestal, you're just never going to build a deep, genuine relationship with them."
"Amazing people become increasingly amazing over time."
"My goal in the world is really creating community."
"Any value in my life usually stems from some kind of relationship."
"I have no problem taking one step back to take three steps forward."
"One of the fastest ways to build your network is going to events, specifically intimate, curated events."
"It's really important to curate who you spend time with."
"I have very little desire to meet more people. My focus is going deep with the relationships I already have."
"."
"."