Outsourcing To The Philippines Will Make You SuperHuman w/ Mike Grogan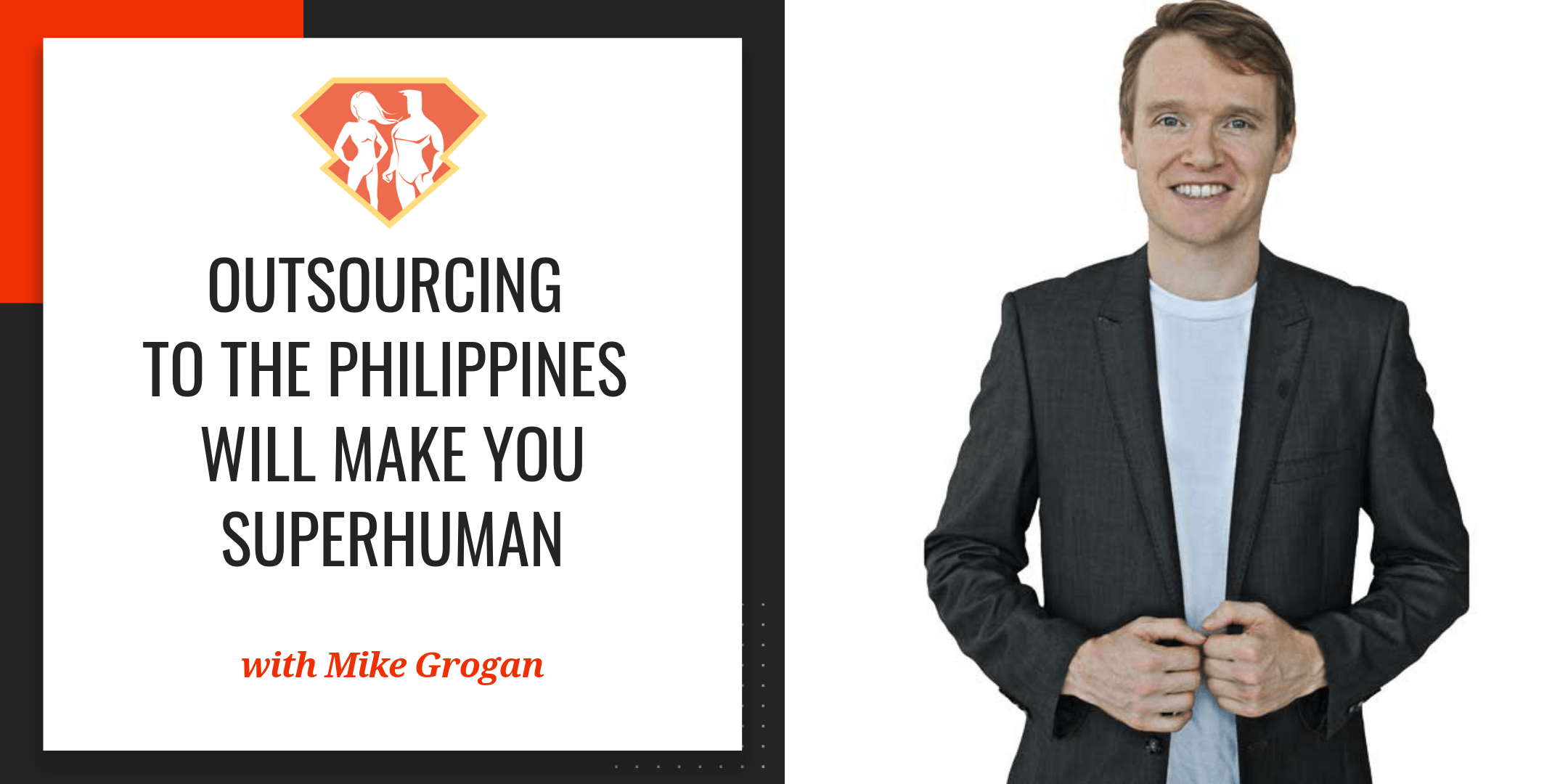 Tags:
Outsourcing
,
Podcast
,
Productivity
"These people have given me more value than I could ever possibly give back to them."
— Mike Grogan
Greetings, SuperFriends!
If you've been listening to the show for any amount of time you know that I'm a big fan of leveraging my time, and you know that I'm all about "outsourcing," "delegating," finding ways to do things in a more efficient way, by hiring people bringing people on… so on and so forth. And today, I wanted to talk with someone who is an expert in that field. Specifically, his name is Mike Grogan, and he's a best selling author, sought after speaker, and an internationally recognized expert on habet creation, change management, and leadership development. Mike is an Irish national who's traveled all over the world, spoken to over 100,000 people in the U.S., Europe, Africa, Asia, and the Middle East. His online videos have reach over 15 million people. But we didn't even get into a lot of that stuff, because what Mike does today is that he actually lives in the Philippines, where he is the co-founder of The Rise of the Pinoy, an advocacy group with a mission of empowering Filipinos to create a First World Philippines. He also is involved in helping a lot of individuals and international organizations work with and really harness the incredible amount of intellect and ambition that there is in the Philippines.
Now you guys probably know, if you've ever reached out to our customer service or watched our videos, that more than half of our team is all based in the Philippines, working full time to deliver you guys great content, answer all your emails, and more. So this is something that I'm really passionate about, something that I feel was one of the best decisions I made in my business, not just from a cost perspective, but also from a quality of service, quality of product perspective. I really feel that it has allowed me personally and my business to grow and accelerate in ways that I just couldn't have if I hadn't tapped in to this incredible country of 100 million smart, ambitious, and hardworking people.
In this episode, I wanted to share that with you guys. I think there's going to be a ton of value for you, whether or not you're entrepreneurs, because you can start discovering how you can potentially outsource or delegate some of the things that you're doing every single day… whether that's research, whether that's organizing your daily life, and really benefit as so many top business leaders have already from the power of the international workforce. We talk about that, we talk a little bit about habits, we talk a little bit about what makes Mike superhuman, and just a little bit about mindset. Also, make sure you listen through to the end for a FREE copy of Mike Grogan's book! I think you guys are really going to enjoy this episode!
In this episode, we discuss:
Who is Mike Grogan, what does he do, and why does he live in The Philippines
What's the big deal with The Philippines? Why's it special?
Can you benefit from the exciting stuff going on in The Philippines? How?
A discussion of the term "outsourcing" and what it does and doesn't mean?
Does it make sense for anyone and everyone to delegate and hire in The Philippines? What are the caveats?
What are some interesting things people are hiring Filipinos for?
What is the "false belief" problem going on in The Philippines?
What is Mike Grogan's 1% morning ritual that makes him superhuman?
A discussion of how difficult and tumultuous entrepreneurship can be
What are the products/services that have most changed Mike Grogan's life?
What books have most improved Mike Grogan's life?
How you can get a free copy of Mike Grogan's book!
What's the #1 takeaway from this episode?
Resources Mentioned in This Episode:
Favorite Quotes from Mike Grogan:
"Writing a book will change your life. It's one of the best career decisions I've ever made in my life."
"Exercise your belief muscle on a daily basis."
"The quality of your life really is measured by how you can consume knowledge."
"The more I talk, the less people learn."
"The quality of life is measured by the quality of your thinking."
"Change can be made easily if you use the right approach."
"The secret to your success is found in what you do every day."