Cracking The Happiness Equation w/ Neil Pasricha, Blogger & Author Extraordinaire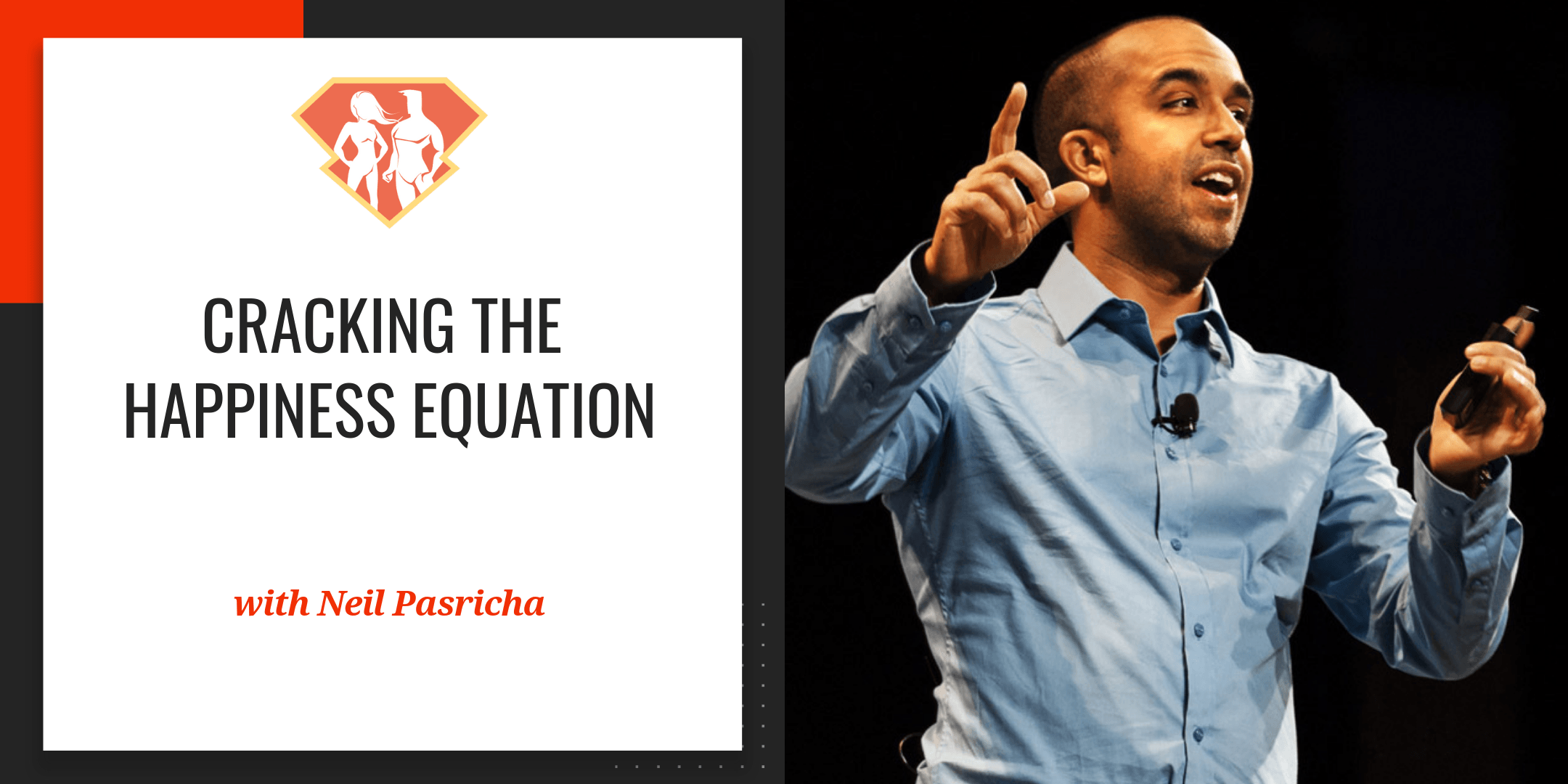 Tags:
Habits
,
Happiness
,
Podcast
,
Success
"Happiness is an investment at the beginning. It's not something you get to at the end"
— Neil Pasricha
Greetings, SuperFriends!
In this episode, we are joined by a highly esteemed author and public speaker, a Harvard MBA and formal Walmart executive, who's book, entitled "The Book of Awesome," has been a New York Times Bestseller for 5 years straight. His popular TED talk has garnered millions of views, and his award winning blog, 1000 Awesome Things, ranks among some of the top blogs on the web. In addition, he's published a number of other books, and has most recently published The Happiness Equation, a book on how to rethink your life, your career, your time, and your relationships.
In this episode, I wanted to get behind the science of happiness and simplicity with someone who has devoted his career to it. We talk about the habits of happiness, the law of attraction, the science of success, life satisfaction, motivation, life transitions, and much, much more. It's an absolutely fascinating episode with a brilliant mind, and I just know you'll take away a ton of motivation and inspiration, just like I did.
In this episode, we discuss:
Neil Pasricha's background, and how he got to where he is today
The two tragic events that changed Neil Pasricha's life forever
The incredible story of Neil's latest book and why he wrote it after a major surprise
Is Neil happy? What are his thoughts on his own happiness level?
What are the 5 things that Neil does when he is unhappy?
What is the actual "happiness equation?"
What one thing do young people want to be more than rich?
What is the role of freedom in happiness?
Why didn't Neil Pasricha quit his job at Walmart until recently?
What is the secret to Neil's tremendous success?
The idea of becoming an "overnight success" and why it's bullshit
A discussion of the law of attraction
What's the trick to doubling your rate of success?
What are the "4 S's" of a good job?
How is Neil motivating himself now that he's not at a big company?
The idea of a "7 year itch" and life phases
Interesting research on how vacation improves productivity and creativity
What books or thought leaders is Neil Pasricha a fan of?
What crazy system does Neil use that he borrowed from Ryan Holiday for organization?
Where can you learn more about Neil?
What is The Institute for Global Happiness and what do they do?
What's the biggest takeaway Neil would like you to remember from this interview?
Neil's personal email, if you listen through to the end of the episode!
Resources Mentioned in This Episode:
Favorite Quotes from Neil Pasricha:
"I had this sense of awe, and appreciation for life, that I think came from my parents."
"The average person lives 25,000 days."
"Our minds have no GPS signal in them. You don't actually know where you are."
"People do judge a book by it's cover."
"You only made what you spent and enjoyed."
"If you die with money in the bank, you wasted something. You either wasted that money, or you wasted the time spent earning it."
"If you cut down your hours at a job you don't like, somehow, a safety net will appear… Things will just kind of curve into the lifestyle you desire."
"The model is actually flipped. It's Be Happy First. And THEN you do great work. And THEN you have the big success."
"If the world really is as random as we think, and as chaotic, then just trying 10 new things… maybe one will work."
"I'm messy in my response to you, because I'm messy in my thoughts."
"The longer you hold your breath underwater, the more interesting place you come up."
"Remember the lottery: you've already won."