How & Why To Become A More Creative, Better Writer w/ Grant Faulkner of National Novel Writing Month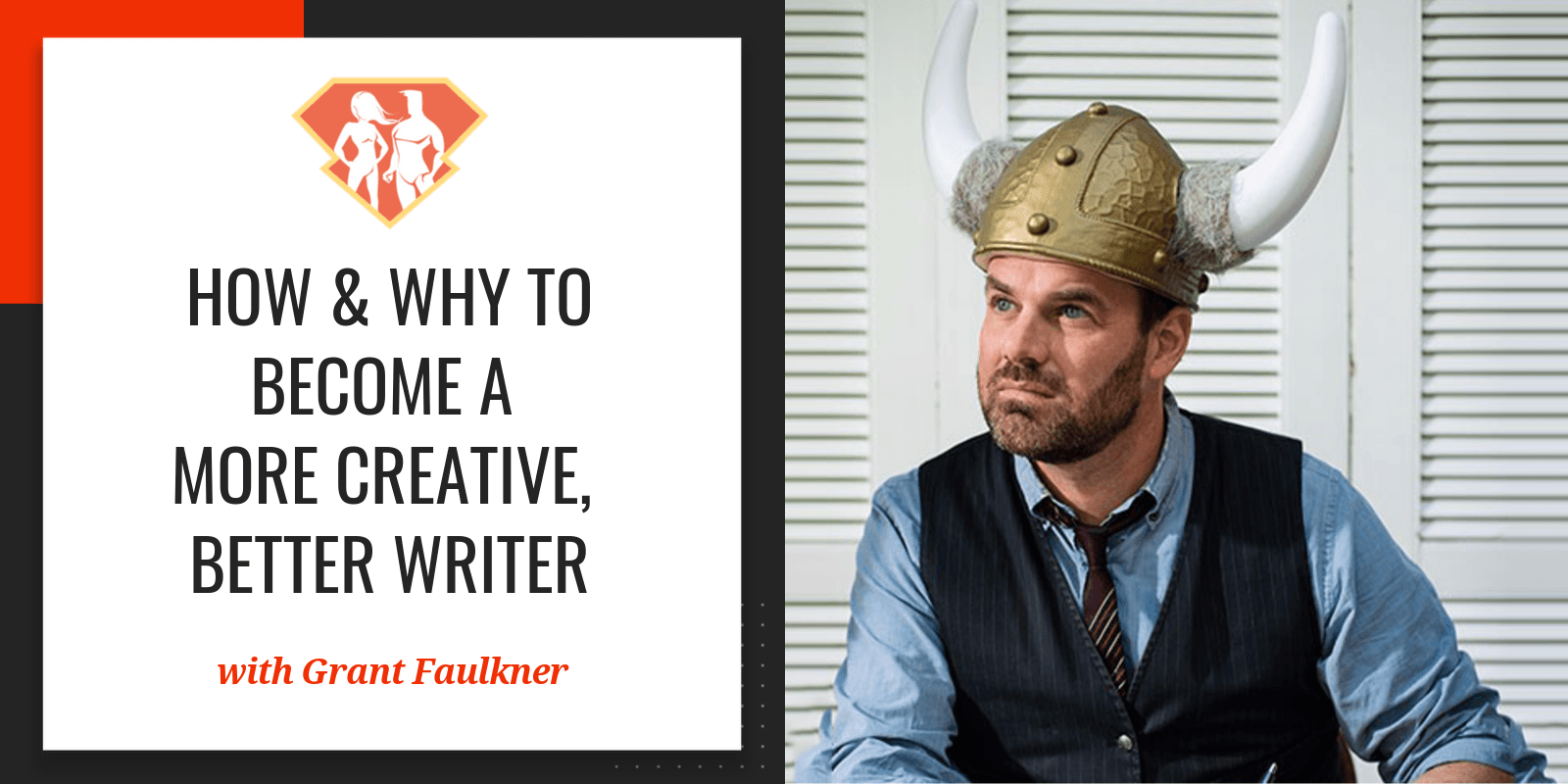 Tags:
Creativity
,
Podcast
,
Writing
"One of the things that really disturbs me is how often I hear people say that they're not a creative type… you are a creative type, because you're a human."
— Grant Faulkner
Greetings, SuperFriends!
Today we are going to talk about creativity, and to do that, we are inviting someone on the show who really has helped thousands and thousands of people become more creative in a way that might surprise you. His name is Grant Faulkner, and he is the executive director of National Novel Writing Month and he's the co-founder of a 100 Word Story.
Now you've seen his stories in Tin House, Southwest Review, Green Mountains Review, all kinds of different places, and you've seen his essays in the New York Times, Poets and Writers Digest, and The Writer.
Grant recently published a collection of 100 word stories, Figures and what he does is help people become more creative. He's written a book called Pep Talks for Writers, and he has a new book coming out in October.
I wanted to have Grant on the show because he has helped so many people do something that maybe they didn't think they could do: be creative and write. But in the course of the conversation we go a lot deeper and we talk about why writing and creativity are such superhuman skills, why they will change the way you think, change the way you live, and help you accomplish your goals.
It's a great episode, and I think you guys are going to find it very interesting. Grand and I have a lot of in common things as you will see. Enjoy!
In this episode, we discuss:
Are we all creative? Or are there "creative types?"
Can you learn to be more creative? How?
What does Grant Faulkner do, and how is he helping thousands of people become more creativity
What does creativity mean to Grant Faulkner? How do people misunderstand what it is?
Why is creativity important for everyone?
What are some exercises you could do to improve your creativity?
Is it true that "All wealth comes from writing?" Why or why not?
What's some homework you can do this week to become a better writer? (It's easy!)
Thoughts on keeping a journal, and why it might be beneficial for your wellbeing (and your career)
Are there any other "superhuman" productivity hacks that Grant uses to be more productive (surprising!)
A debate over "big chunks of time" vs. small increments?
Who are Grant's favorite writers and books?
Why should you read fiction? Isn't it just a waste of time?
Where to get in touch and learn more from Grant
The #1 biggest takeaway from this episode
Resources Mentioned in This Episode:
Favorite Quotes from Grant Faulkner:
"When you write with others, your creativity is enhanced."
"Creativity is many things, but one thing it is is attentiveness to your surroundings."
"I happen to believe that writer's block doesn't truly exist."
"Writing every day is a matter of introspection…. It's the SINGLE best tool for critical thinking that I can imagine."
"We are living in the golden age of writing right now, just because of the internet."
"One of the benefits of writing (and all creativity) is exploring your own vulnerabilities."
"Big things are built in increments."
"Prioritize your creativity, because you're a creator."