David Heinemeier Hansson On Leadership, Remote Work, and The Workplace of Tomorrow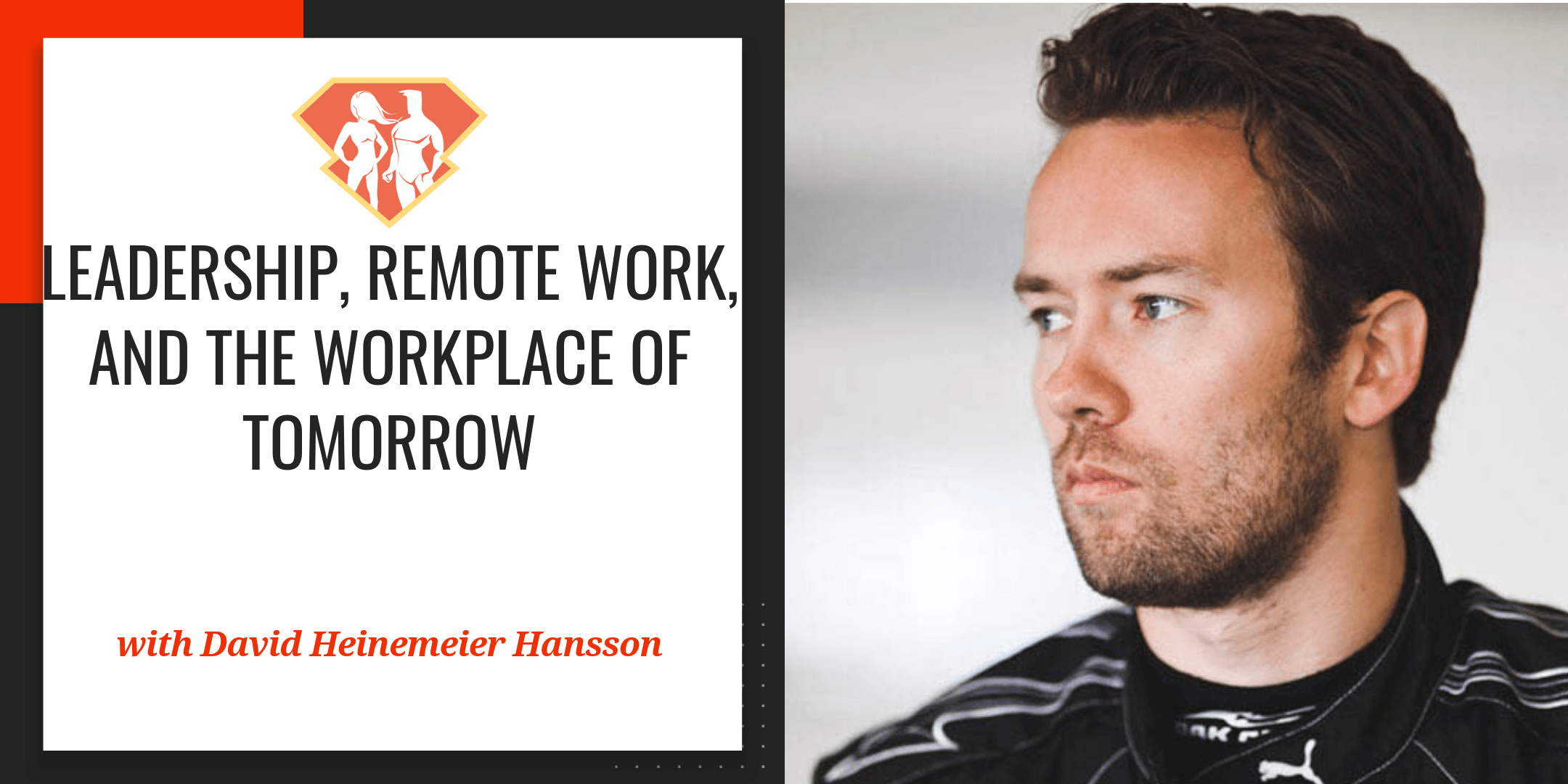 Tags:
Entrepreneurship
,
Inspiration
,
Performance
,
Podcast
,
Productivity
,
Remote Work
"Sometimes all you need to see the world in different light, is to look at someone else who has viewed the world in different light."
— David Heinemeier Hansson
Greetings, SuperFriends!
This is an episode that is worth many, many listens. Personally, I am going to listen to it way more than I normally listen to our own episodes, which is 2-4 times already.
Why, you ask? Well, do you guys remember how in 2016 we won Product Hunt's best podcast episode of the year? We got a Golden Kitty award, which is kind of a really cool thing. And we did it because we had today's guest on the show.
That's right. We have David Heinemeier Hansson back on the show! For those of you who haven't heard that episode, stop what you are doing, go back and listen to it.
David is the epitome of what we call a SuperLearner. He invented the Ruby on Rails software development platform, which is used by companies like Fiverr, YellowPages, Shopify, and Github. Many of the websites that you use every day were built on technology that David himself invented.
On top of that, he is the co-founder of Basecamp, which he's been running for almost 20 years. To top even that off, he is an accomplished professional race car driver, an amateur photographer, a husband, and a father. He also is various more things.
In this episode, we wanted to talk not about learning and productivity, but about a different subject that David and his partner have covered in their books, which is leadership. Managing and working in remotely distributed companies, what the workplace of tomorrow will look like, and how we can all become SuperHuman in our productive lives and careers.
I have to say I'm a huge fan of David's and I tried as much as possible to let him present his ideas. With that said, so many of his ideas have shaped the way I live my life, the way that I run my companies, and have influenced the lives of my employees and my customers.
So, again, I really can't overstress this, listen to this episode with a pen and paper, listen to it at least twice, and you guys will learn just so much about how to get great work done in less time, with greater happiness, from anywhere in the world that you choose to be.
This is an incredible episode! I think it gives a really, really solid fight to the first episode we did with David, which was an award-winning one. It's a shame that Product Hunt has discontinued that award because I'm quite confident this episode would have won it again!
In this episode, we discuss:
How did David Heinemeier Hansson originally get interested in management and leadership? [7:10]
The importance of witnessing the wrong way to do things [8:10]
Just reading a book or any material won't make all the difference, unless you actually need it at that moment [10:15]
The story of how DHH got involved with Basecamp, and how that led to the creation of his first book [12:00]
How years of recording experience on Signal v. Noise formed the basis of a bestselling book [15:00]
Why the fact that the book was not written by academics, but by actual business owners, makes a difference [16:00]
A book created on the astonishment of remote work [17:50]
David's surprise from the lack of popularity of remote work [19:30]
The story of how (and why) David Heinemeier Hansson created Ruby On Rails [21:00]
How does DHH feel about the fact that millions use Ruby on Rails? [25:20]
The importance of Ruby on Rails on building things quickly [27:45]
Who does David Heinemeier Hansson really want to help with Ruby on Rails? [28:40]
How did David meet such a matching partner in the face of Jason? [30:30]
Being away from major tech hubs allowed David and Jason to thrive with their business [33:00]
A glimpse in the collaboration of David with Jason [34:00]
David Heinemeier Hansson works 40 hours per week in Basecamp for the past 15 years [35:50]
The meaning that David finds in avoiding workaholism and devoting time to other things too [36:40]
You can build a business without having to work 100 hours per week [38:00]
Why Basecamp has no full-time managers [39:30]
David's key takeaways from Tim Ferriss' book, The 4-Hour Workweek [44:10]
What are the amazing benefits of remote work? [47:50]
The terror of commute, described by DHH [50:00]
Why being able to work behind a closed door for long stretches of time is important [51:50]
Why Basecamp decided to pay Silicon Valley salaries to its employees when none of them lives in Silicon Valley [55:30]
David's tips regarding people that are working or hiring remotely [1:02:00]
The questions you should ask to evaluate another person's work [1:04:00]
Why there is no chat in Basecamp's internal communication, and how did they come to such a decision after years of using chat [1:09:00]
Too many new companies use too many tools with too much functionality – The topic of the upcoming 4th book from David Heinemeier Hansson and Jason Fried [1:14:10]
Resources Mentioned in This Episode:
Favorite Quotes from David Heinemeier Hansson:
"When you are being taught how to not do things, you internalize it way more deeply."
"You can't just load a brain with facts and best practices. First, you have to load it with frustration, experience, guts, and then the space for the best practices is created."
"Even with our principles and approaches, we would still get less done when we just crammed into the same office and tried to work shoulder to shoulder for 8 hours a day."
"Meaning comes from doing great work, but also from doing other things too."
"Most of the things that most people do most of the time, don't matter. Those are not the ones that move the needle."
"Remote work has allowed us in Basecamp to hire the very best people in the world, who just happen to live where they want to live."
"If you're constantly changing colleagues and peers, it's very hard to develop those permanent bonds that help you do the best work of your life."
"When you can't actually see your employees sitting in front of a computer typing away, what is left is a view of their actual work."
"If work is crazy, well, that's crazy."
"When you examine assumptions about how the world is supposed to work from a new perspective, that is the first step on the wonderful journey of starting to question everything."