The Effects A Religion – Judaism – Has On The Brain W/ Dr. Andrew Newberg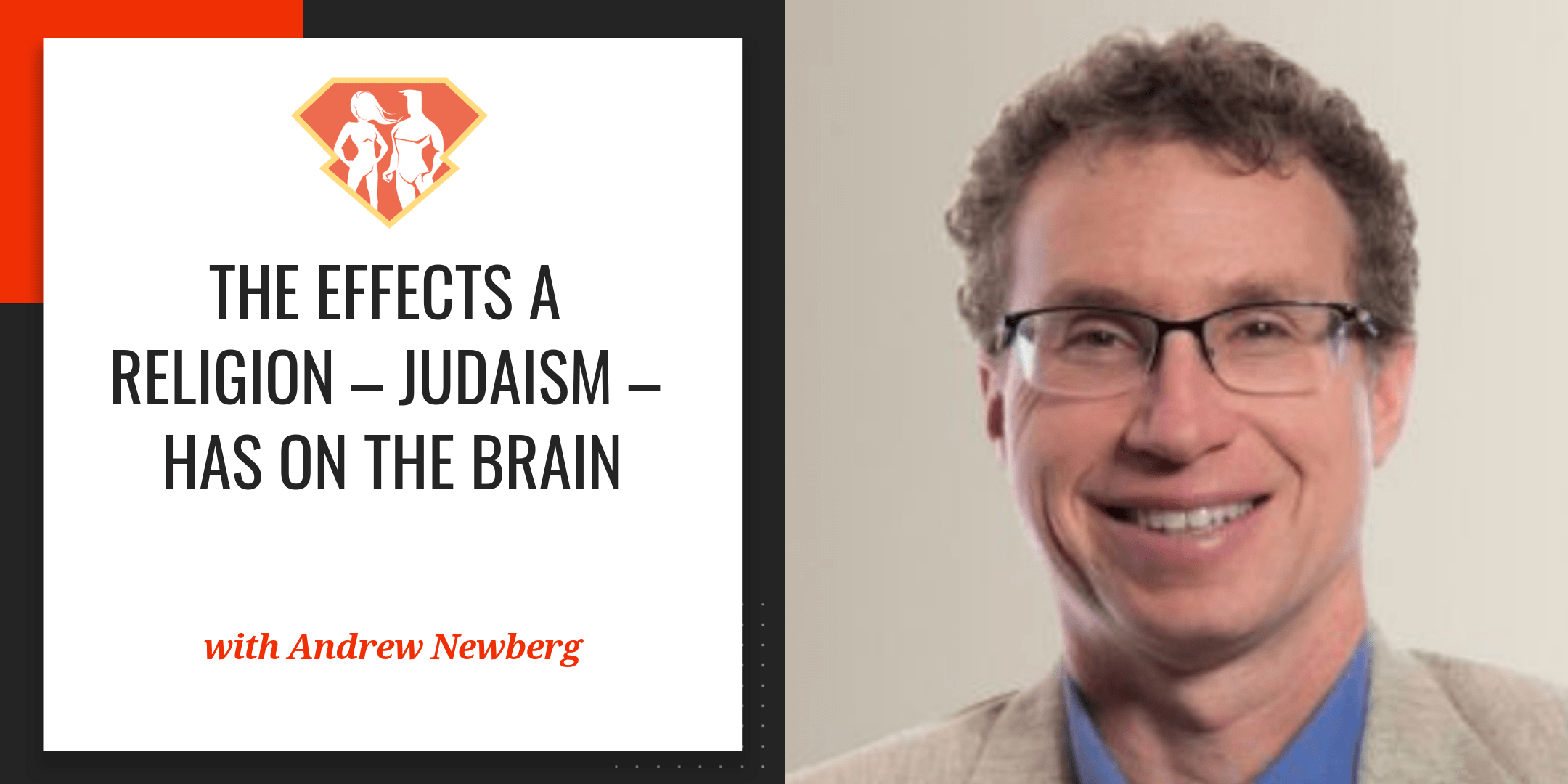 Tags:
Inspiration
,
Meditation
,
Neuroscience
,
Podcast
,
Religion
,
Spirituality
"The more the person believes in the practice, the greater the impact it has on the brain."
— Andrew Newberg
Greetings, SuperFriends!
Today we are rejoined by Dr. Andrew Newberg. Dr. Newberg is currently the Associate Director in Charge of Research at the Marcus Institute of Integrative Health at Thomas Jefferson University and Hospital in Philadelphia. He is also a Professor in the Departments of Emergency Medicine and Radiology at Thomas Jefferson University, and the adjunct professor in the Department of Psychology at the University of Pennsylvania. (Try saying all that out loud!)
Dr. Newberg is also, as you know from our previous episode, which I highly recommend, one of the preeminent experts on the study of neurotheology, which looks into how religion affects our brain – a very interesting topic. He's published over 200 peer-reviewed articles on the subject, and he's authored a number of books, including How God Changes Your Brain, Why God Won't Go Away: Brain Science and the Biology of Belief, and his most recent book The Rabbi's Brain, which is what we wanted to talk about in the episode.
Now, I want you to avoid the temptation to go "Oh, this is an episode about Jewish stuff and I'm not Jewish – who cares…", because I'm also not very Jewish, despite being a Levi and born into Judaism. As we learn from our episode with Andre Norman and many other episodes, you don't have to be of a particular faith to learn some of the lessons and some of the values from it – you don't even have to particularly be faithful, as there are a lot of good stuff in there anyway.
So, my goal for this episode was to understand how a specific religion (in this case, Judaism, but it could be anything) actually affects our brain, whether it benefits or hurts us, and what are the things that are happening in the brain. I was especially interested in this because of my fascination with not only the brain itself, but also meditation and how it changes our brain. So I wanted to know, is meditation different from reciting Hail Mary, reading the Shema, or doing the morning prayer in Islam?
In the episode, we answer all these questions and many more – I think you are really going to enjoy this episode, as I always enjoy chatting with Dr. Newberg!
-Jonathan Levi
In this episode, we discuss:
How did Andrew Newberg get to focus on Judaism within the realm om neurotheology? [5:00]
What are some unique features of Judaism [8:00]
Does spirituality play a role in the effectiveness of the practice (prayer or meditation)? [10:00]
The characteristics of what you believe in play a role [12:30] 
Can a religion be taken to the dark side by a practitioner? [14:30]
How did Andrew Newberg design the studies for his book? [15:35]
Where do rabbis draw their wisdom from – thoughts, experiences, or emotions? [18:00]
What are some surprising discoveries from Andrew Newberg's research? [19:25]
How did rabbis decide to practice religion? [22:00]
A quick note on mystical experiences in Judaism [24:00]
The effect of reading the Shema on the brains of two different people [24:50]
Some amazing changes Andrew Newberg noticed in the brain during reading the Shema [27:00]
Language and neurotheology [28:40]
The comparison between the religious practice's effects on the brain and meditation's [30:55]
Psychedelic experiences and prefrontal cortex [33:20]
What could you do as homework based on this episode? [34:50]
A few notes on the book [36:45]
Where can you get in touch with Andrew Newberg? [37:35]
Resources Mentioned in This Episode:
Favorite Quotes from Andrew Newberg:
"The practices that people truly believe in, and buy into, are the ones that really provide the greatest impact."
"There are different ways of using rituals and traditions that can be either good or bad."