Gretchen Rubin on Discovering the Secrets to Happiness, Knowing Yourself, and Hacking Habits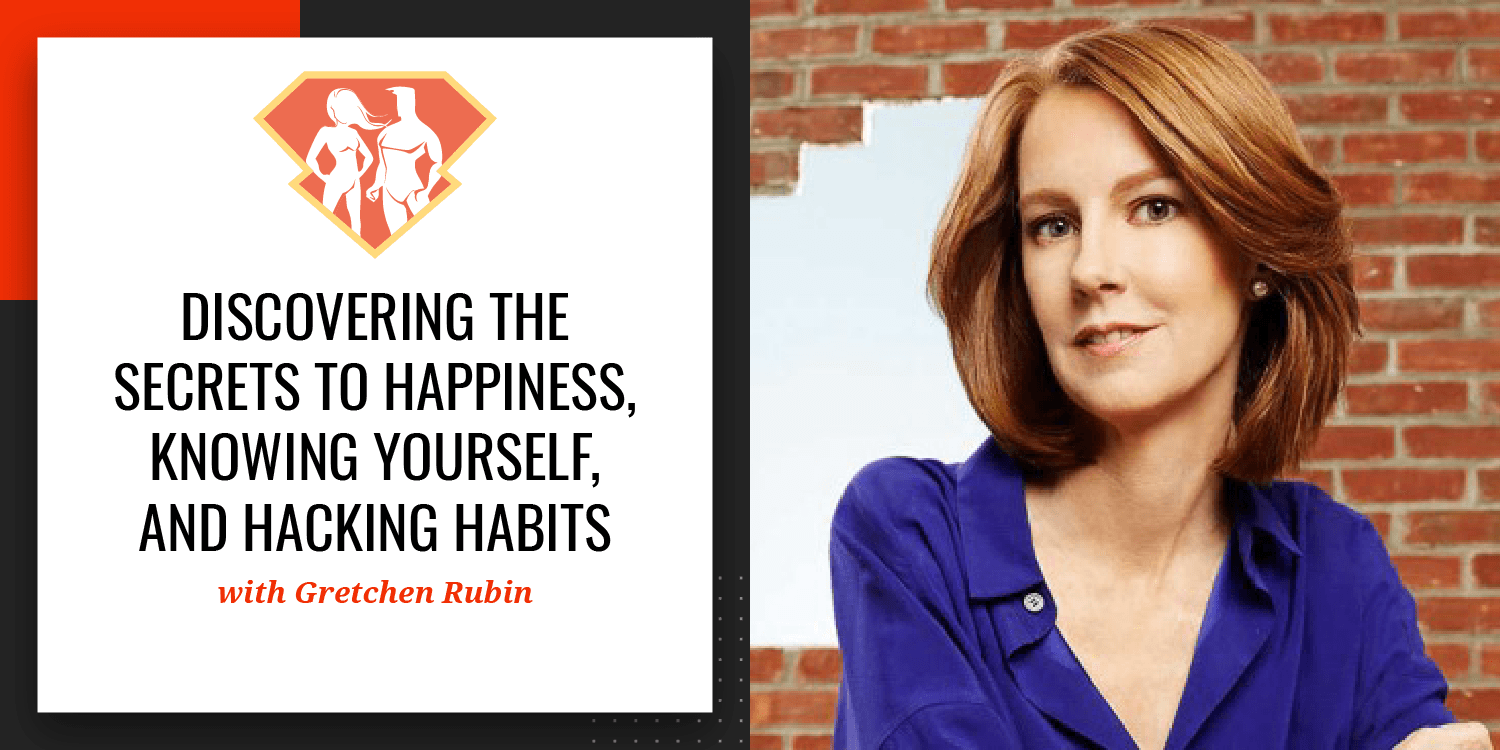 Tags:
Habits
,
Happiness
,
Spirituality
,
Success
,
Values
"If there's anything that I've learned in happiness and good habits, it's that the most important thing is to know yourself."
— Gretchen Rubin
Greetings, SuperFriends, and welcome to this week's show. We have a very special treat for you this week! My guest today is, as the New York Times described her, "The queen of the self-help memoir," and a leading authority on happiness and satisfaction. From topping the New York Times bestseller's list with not one but THREE blockbuster books that've sold millions of copies, to her top-rated weekly podcast.. quite honestly, you can't look on Amazon without seeing her work front and center. So, who is this amazing woman?
Well, though she started out her career working in the legal field with supreme court justice Sandra D'Oconnor, but at some point, embarked on a 1 year adventure called The Happiness Project, and ended up writing a book describing both age-old wisdom and cutting-edge research on the science of happiness. From there, she's become one of the foremost authorities on creating healthy habits for happiness, lecturing everywhere from massive multinational corporations to SXSW, TEDx, and the World Domination Summit. You've probably even seen her on the Today show, CBS Sunday Morning, or NPR's weekend edition. Basically, guys, I managed to get the real-life Superwoman herself on the show.
This episode is a big one, guys. Not only is it with one of our most accomplished guests thus far – it's also jam-packed with a ton of huge take-homes. For example… what are the secrets to being happier? What are the different types of motivation styles people fall into, and how do those affect how they can add or break habits? What are the daily rituals and mindset shifts that most impact your life positively? We cover all this, and so much more.
Please help us cover the (growing) costs of producing the show by checking out our sponsors:

This episode is brought to you by Onnit. From their awesome fitness equipment to their ultra-high-quality health supplements, Onnit offers an entire range of products to help you become superhuman. Use coupon code "GETONNIT" to save 10% Today!

This episode is also made possible entirely by Fiverr, not just because they help us cover our expenses, but also because all of our music, intros and outros, and even our editing is actually done through fiverr. We rely heavily on their endless availability of different services all available from just $5.
In this episode with Gretchen Rubin, we discuss:
Gretchen Rubin's transition from the legal clerking to becoming a blockbuster bestselling author
The story behind Gretchen's tremendously successful book, The Happiness Project
The 12 areas that she focused on during her one-year project
The importance of selecting your own "spiritual master" and emulating their values
How can we balance self-love and self-acceptance while maintaining goals and aspirations in life?
How do guilt and shame influence our likelihood of success in changing our habits?
Which habits are the most important and valuable, according to Gretchen Rubin?
The one habit that ALL successful and creative people seem to have (!!)
The four personality types that explain how people meet expectations
How to successfully adapt habit change to each of the four personality types
A preview of the 21 strategies Gretchen has developed for making or breaking habits
The importance of accountability partners versus accountability groups
What are the secrets to happiness, according to Gretchen Rubin?
Gretchen's thoughts on success, what it means, and how to relate to it
What were some of the surprising outcomes of Gretchen's 1 year happiness project?
The 1-2 pieces of homework Gretchen would recommend everyone do!
Resources Mentioned in This Episode:
Favorite Quotes from Gretchen Rubin:
"I'd rather fail as a writer than succeed as a lawyer."
"I decided that I would spend a year with myself as a guinea pig, test driving the wisdom of the ages, the current scientific studies, the lessons from popular culture…anything I could get my hands on on how to be happier."
"On the one hand, you want to accept yourself… but then also expect more from yourself."
"Accountability is THE crucial, key, essential, absolutely necessary strategy for obligers… and by the way, that is the largest tendency [group]."
"Anything that deepens our relationships or broadens our relationships is something that's likely to make us happier."
"To succeed is to have the life that you want."
"Novelty and challenge are an amazing, rich source of happiness."