How to Create a Life of Purpose, Fulfillment, and Joy with Derek Sivers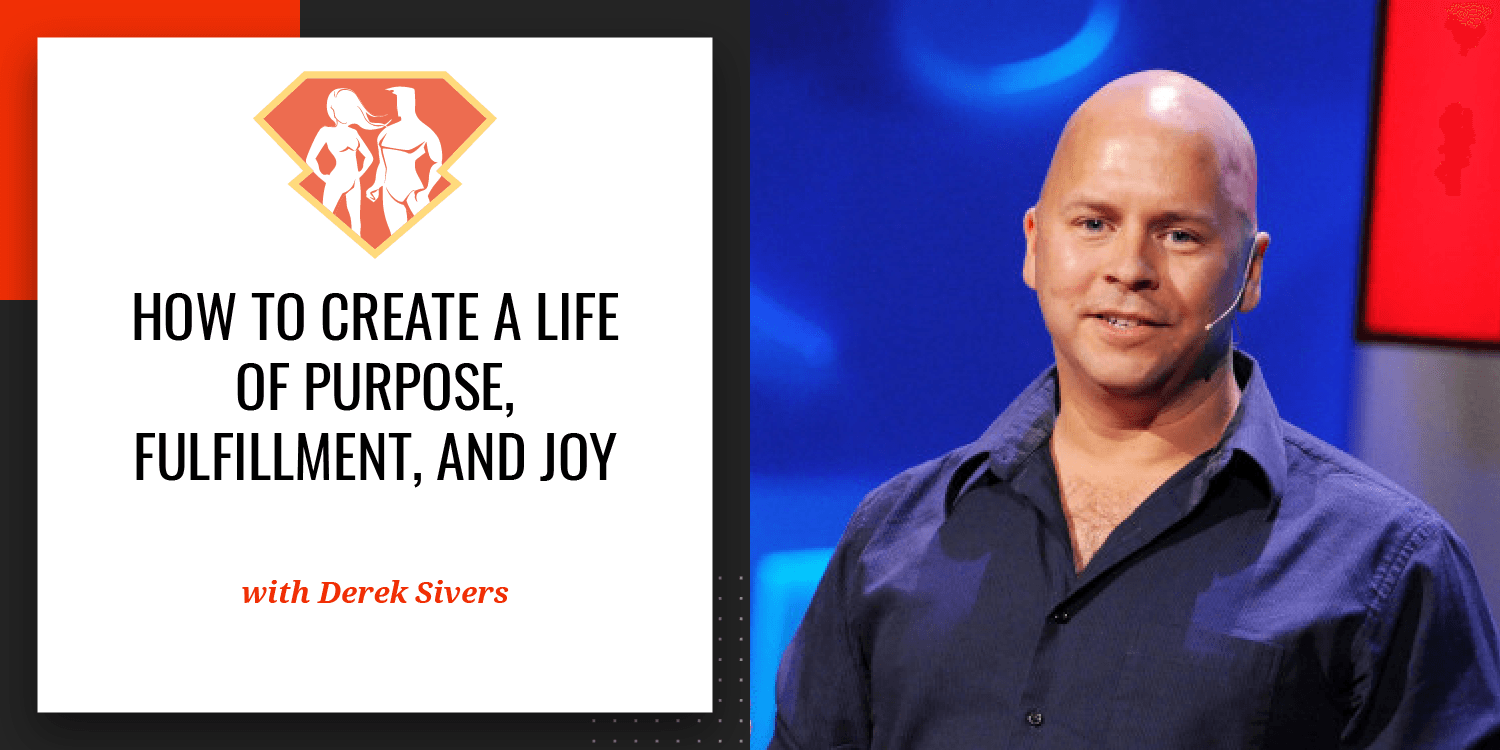 Tags:
Entrepreneurship
,
Goals
,
Motivation
,
Success
,
Travel
"Goals should only be judged by their ability to change your actions in the present. If a goal doesn't improve your present actions, it's not a good goal."
— Derek Sivers
Greetings, Superfriends, and welcome to this week's show.
This week, we have a guest that a lot of you have requested – Mr. Derek Sivers. Like many of our guests, he has an extremely eclectic background – he started his career as a musician and circus clown, and in the process of selling his CD's online, he somewhat accidentally founded CD Baby, the largest seller of independent music on the web, with over $100M in sales and 150,000 artists.
In 2008, he sold CD baby and began to focus on his new ventures – and that's why we have him here on the SuperHuman Academy Podcast. My guest is an expert in lifestyle design. He himself is based in New Zealand, Singapore, and Belgium, of all places. He shares my passion for self-improvement. He's a frequent speaker at the TED conference, with over 10 million views of his talks, and he's published a staggering 34 books since 2011, including the #1 Bestseller Anything You Want.
In this interview, my goal was to uncover the mentality of someone who has been not only successful in the classical sense, but also in the sense that means the most to me – he is a deeply happy, joyous person who has designed the type of life he wants to live.
We discuss a lot in this episode, from lifestyle design and entrepreneurship to the things that my guest most attributes to his success and the values that guide his life and decisions. Throughout the episode, you'll gain a unique and fascinating insight into someone leading a very un-traditional and very extraordinary life, and he offers a ton of practical tips and suggestions for making real change in our own lives.
In this episode with Derek Sivers, we discuss:
Derek Sivers's story of going from musician to entrepreneur, multimillionaire, and then bestselling author
How did Derek deal with the unexpected fame and fortune from CDBaby, and why did he sell it? 
What did it feel like for Derek to feel that his life had peaked at 38 years old, and what did he do about it?
Why was Derek Sivers researching different ways to change his name and disappear off the grid ?
What two epiphanies changed Derek's life forever and caused him to "man up?"
Derek's journey to impact the lives of others, and how he got to speak at the TED conference 3 (!) times
Leadership, and the story behind Derek's most successful TED Talk
What is the "new kind of entrepreneur" discussed in Derek's book, and why has the book been so successful?
What does Derek feel is the secret to his success?
Derek's experiences living abroad, and his thoughts on Singapore and it's history
Lifestyle entrepreneurship, and some of the concerns around it
Thoughts on lifestyle design, bucket lists, and why Derek lives between 3 different countries
The idea of doing things that make us less happy in the short term to be more happy in the long term
Why does Derek Sivers encourage people to email him their questions, and answer them for free?
Derek's talk on goals, and why he feels that we should keep them to ourselves rather than share them
Which goals should we share, and which goals should we keep to ourselves?
What values does Derek hold himself to, and what are some of his current goals?
Derek's favorite fable (which is also mine, coincidentally), and what it means in each of our lives
How does Derek Sivers structure (or not structure) his days and weeks?
What books have most impacted Derek's life, and why does he take notes and share them?
What's the most impactful $100 Derek has spent recently?
An important homework assignment that everyone should do this week!
What one message should you take away from this podcast?
Thoughts on writing very action-oriented, concise books with "seeds" of action
Using spaced repetition to review books you've read
Derek's tips on how to give a successful TED talk
Resources Mentioned in This Episode:
Books Mentioned in This Episode:
Favorite Quotes from Derek Sivers:
"I was just a musician. I never aspired to be anything but a musician. I didn't want to be an entrepreneur."
"I was 38 years old, and I was really just coming to terms with that feeling, like, 'Wow, I will never do anything that successful again,' and I had to wrap my head around that."
"There's no more extrinsic motivation anymore. Everything has to be 100% intrinsic motivation when money just isn't an issue anymore."
"We never have any perspective on ourselves, do we?"
"The way to win friends and influence people is to be sincerely interested in others, and to always connect with them around their own interest, not yours."
"The way to be rewarded in this world and have a wonderful, rewarding life, is to be very useful to others."
"If you're not surprised, you're not learning."
"I'm so thankful that I learn best from books."