Jeffrey Madoff On Perseverance And The Secrets Of Creativity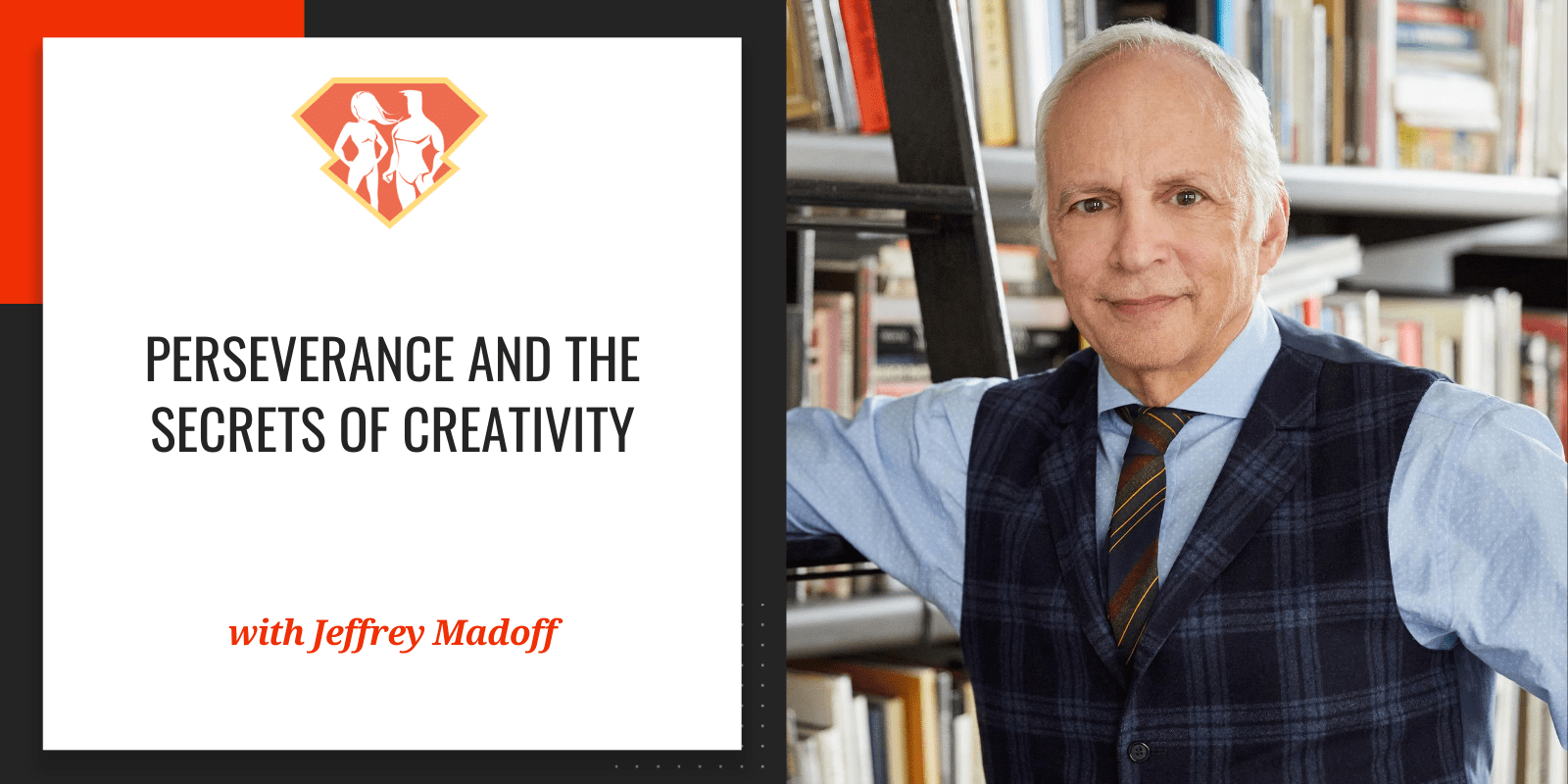 Tags:
Creativity
,
Inspiration
,
Learning
,
Lifestyle Design
,
Mindset
,
Performance
,
Podcast
,
Success
"Be open. Be curious. Expose yourself constantly to ideas."
— Jeff Madoff
Greetings, SuperFriends!
First, let me tell you that I am very protective of my time, so it is very very rare that I stay on talking to a guest for hours, and just chat, learn, and grow. But that's exactly what I did with today's guest, who is probably one of the more interesting human beings you will meet.
You see, I asked a mutual friend of ours, Joe Polish, "who should I have on the show?" – because we as you know are in the last 15 episodes of the show. So, I asked Joe about some of the most interesting people that he knows, who I should have on these last 15 episodes, and he immediately told me that Jeff Madoff, today's guest, was available.
Now, let me tell you a bit about Jeff. He's considered a storyteller and incisive interviewer, and he's used those talents to help position major brands such as Ralph Lauren, Victoria's Secret, Radio City Music Hall, and the Harvard School for Public Health – but, he actually began his career as a fashion designer. He was chosen as one of the top 10 designers in the US, and then he switched careers – we talked about that a lot.
After switching to film and video production, he has since expanded his reach to include teaching, book and play-writing, and theatrical producing. Jeff is also an adjunct professor at Parsons School for Design, where he teaches a course called"Creativity: Making a Living with Your Ideas", and his book is titled almost the same. In addition to all these, Jeff has been featured as a speaker at the Wharton School, NYU Steinhardt, North Carolina State, SXSW Brazil, Google Next, and many others. He's also written a play that'll be coming out in May of 2021.
Now, about this conversation. I promised Jeff that we would go wide and range all over the place, and we certainly did. We talk about creativity, about leadership, about entrepreneurship, about growth and a growth mindset, and we talk about massive career changes, as well as life satisfaction.
Honestly, this was one of the more rewarding podcasts. It was so good that, for a moment, I wished that we weren't coming to a close at 300 episodes but alas, we must all move on and all good things must come to an end.
I'm sure that you will enjoy this episode as much as I did!
-Jonathan Levi
In this episode, we discuss:
Who is Jeff Madoff, what does he do, and how did he get here? [5:10]
The importance of perseverance, and growing through challenges [11:45]
Defining what success means for you is crucial [17:00]
How does Jeff approach learning and curiosity? [19:30]
What does creativity mean to Jeff? [22:30]
Creativity in younger children vs adults [24:30]
Creativity in the workspace, in school, and everywhere else [26:45]
A backstage view on marketing for big brands [37:45]
What is the mission behind Jeff's book? [45:20]
What is included in the book? [51:45]
Redefining failure [55:00]
Jeff Madoff's final takeaway message [58:10]
Resources Mentioned in This Episode:
Favorite Quotes from Jeff Madoff:
"Ask yourself: 'What does success mean to me?'"
"Having unbounded curiosity is essential to being creative."
"Creativity is having a compelling reason to affect change."
"Have a realistic expectation of what you are doing."
"Failure is when you give up. Otherwise, failure is another step towards learning."