Physical Skill Development & Improving Your Reflexes w/ Guinness Record Holder Dan Holzman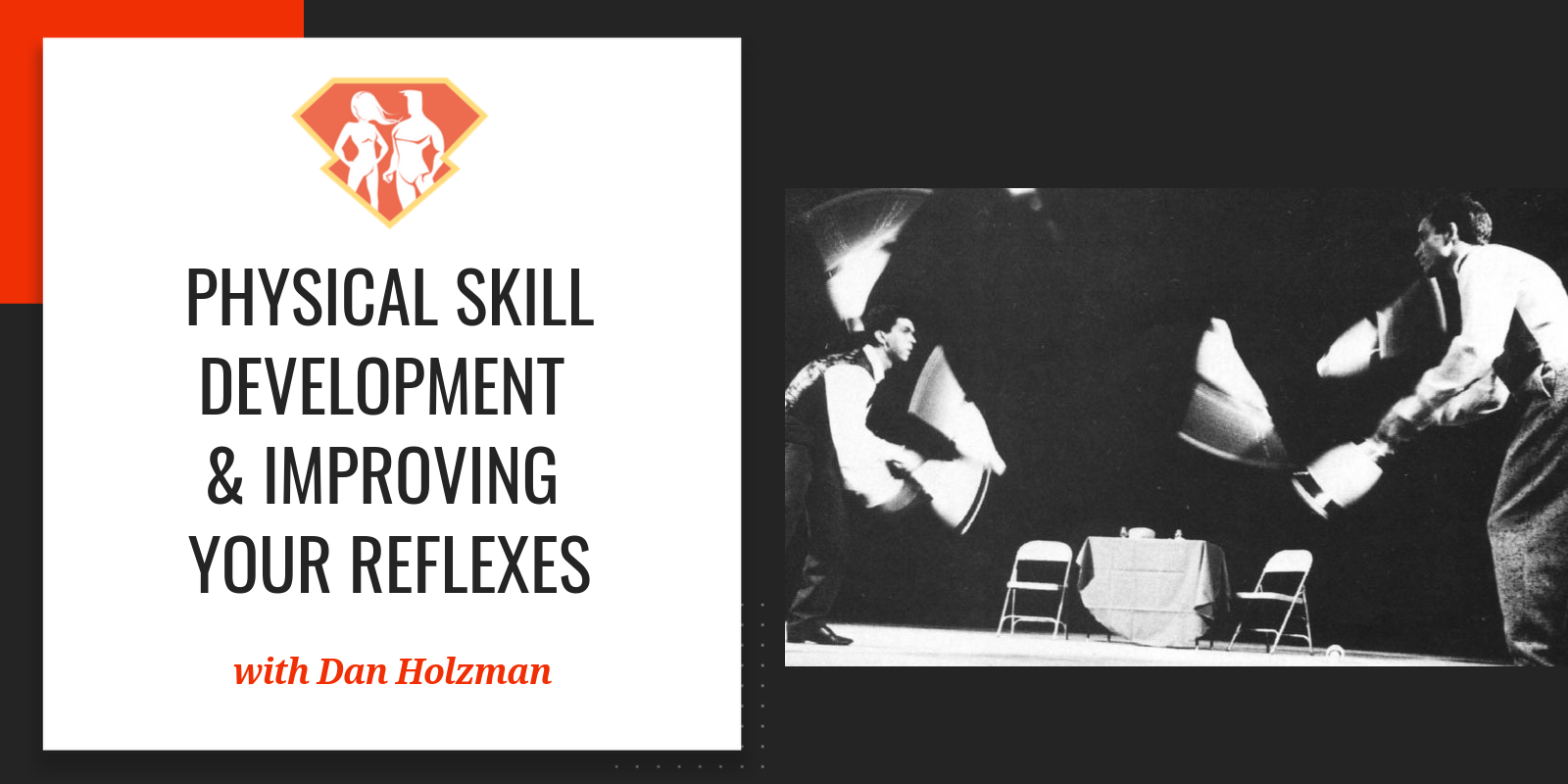 Tags:
Juggling
,
Learning
,
Memory
,
Skill Development
,
Success
"Juggling has been scientifically proven to build grey matter, to build white matter, and to actually increase the size of your brain."
— Dan Holzman
Greetings, SuperFriends!
This week, we have something a bit different for you.
My guest today has a ton of impressive credentials. He's met presidents. He's set multiple Guinness world records. He's spoken on stage at TED 6 times. He's worked with Robin Williams for years. He's an entrepreneur.
So far, he sounds like just another in a long line of high-caliber folks we invite on this show.
So what's different?
My guest today, Dan Holzman, has attained all of this incredible success by building a career around – get this – comedy juggling.
Now I know what you're thinking. What the hell does juggling have to do with being SuperHuman?
Well, as my guest explained to me when we spoke, juggling is actually a pretty amazing activity that has been proven to promote brain fitness, dexterity, concentration, and do a whole lot of other incredible things.
For this reason, I invited today's guest on the show not so much to talk about juggling per se, but rather to talk about the learning process behind mastering such an incredibly complex yet rewarding skill.
In the episode, you're going to learn a LOT. And be inspired. A LOT. Of course, we're going to talk about juggling – and learn why it's such a surprisingly powerful tool for self improvement. But beyond that, we're going to talk about accelerated learning. We're going to talk about what it takes to become a renaissance man or woman. We're going to talk about passion, success, and finding your life's calling. And so, so much more. This episode really runs the gamut, and has something for everyone, so I just know you're going to enjoy it.
By the way, it's worth noting that there is a longer, uncut version of this episode where Dan and I discuss some of the finer points of applying accelerated learning techniques towards learning physical skills. That longer, uncut version of the episode, along with many other interviews with world experts in learning, and a comprehensive 8-hour course on speed reading and memory, are available exclusively in the Become a SuperLearner Masterclass, which you can get a special discount on by visiting the link below.
As always, please share your thoughts with me on Twitter @gosuperhuman, and if you haven't already, please remember to leave us a review on iTunes or Stitcher.
In this episode, we discuss:
Dan Holzman's unusual morning routine – which starts at 3:30am!
What are the many, many benefits that juggling can help you achieve, and why?
How transferrable are the improvements gained in juggling to other things in life?
The idea of becoming a "renaissance" man or woman, and how to achieve it
How did Dan Holzman come to devote his life and his career to juggling at a very young age
How does Dan learn so effectively, and what are some things he's used his methodology to learn?
How The SuperHuman Academy Podcast helped Dan Holzman learn more effectively
How Dan Holzman uses memory techniques, and which ones he uses
What aspects of accelerated learning and skill development do Dan and I completely agree on?
The different ways that passion versus money motivate people differently
What core values has Dan Holzman learned from Bruce Lee and Jeet Koon Do?
What creative lessons did Dan learn from the lead singer of Jefferson Airplane?
What is the role of creativity and creative thought in Dan Holzman's life
What are the secrets to Dan's tremendous success?
Humility, perspective, and self awareness
What are Dan's words of wisdom to anyone who wants to make a living doing what they want?
What are the 3 things Dan believes you need to realize your dreams?
How does Dan use cleverness and ingenuity to make his work more entertaining?
How can you learn to juggle, and accelerate the learning process?
What is the #1 lesson that Dan Holzman would like you to take away from this episode?
What is the power of the subconscious mind in our lives?
Resources Mentioned in This Episode:
Favorite Quotes from Dan Holzman:
"To me, if you want to increase your coordination, your reflexes, your hand speed… go right to juggling."
"I don't think anybody has better coordination or reflexes than a professional juggler."
"I really build a technique of how to get out what I want to learn in the most efficient and effective manner."
"At a certain point, you have to know 'why am I learning these things? How do they benefit me in my journey through life?'"
"I believe that passion is probably the most powerful force in becoming successful."
"I think skill without creativity is sort of meaningless, the same way that creativity without skill is kind of meaningless. "
"When you combine those two together – creative thought with good skill – I think that's where true artistry lies."
"It's not the technique; it's how creatively you can apply the technique."
"To have a create idea and to bring it into reality – to be able to create something from nothing – is true power."
"Be aware of the opportunities that life presents to you. Have your mind open to them. And then follow the path that gives you the most pleasure. Follow the past with the most heart."
Enjoy this video of Dan Holzman at TED!