The Science & Magic Of Lucid Dreaming W/ Charlie Morley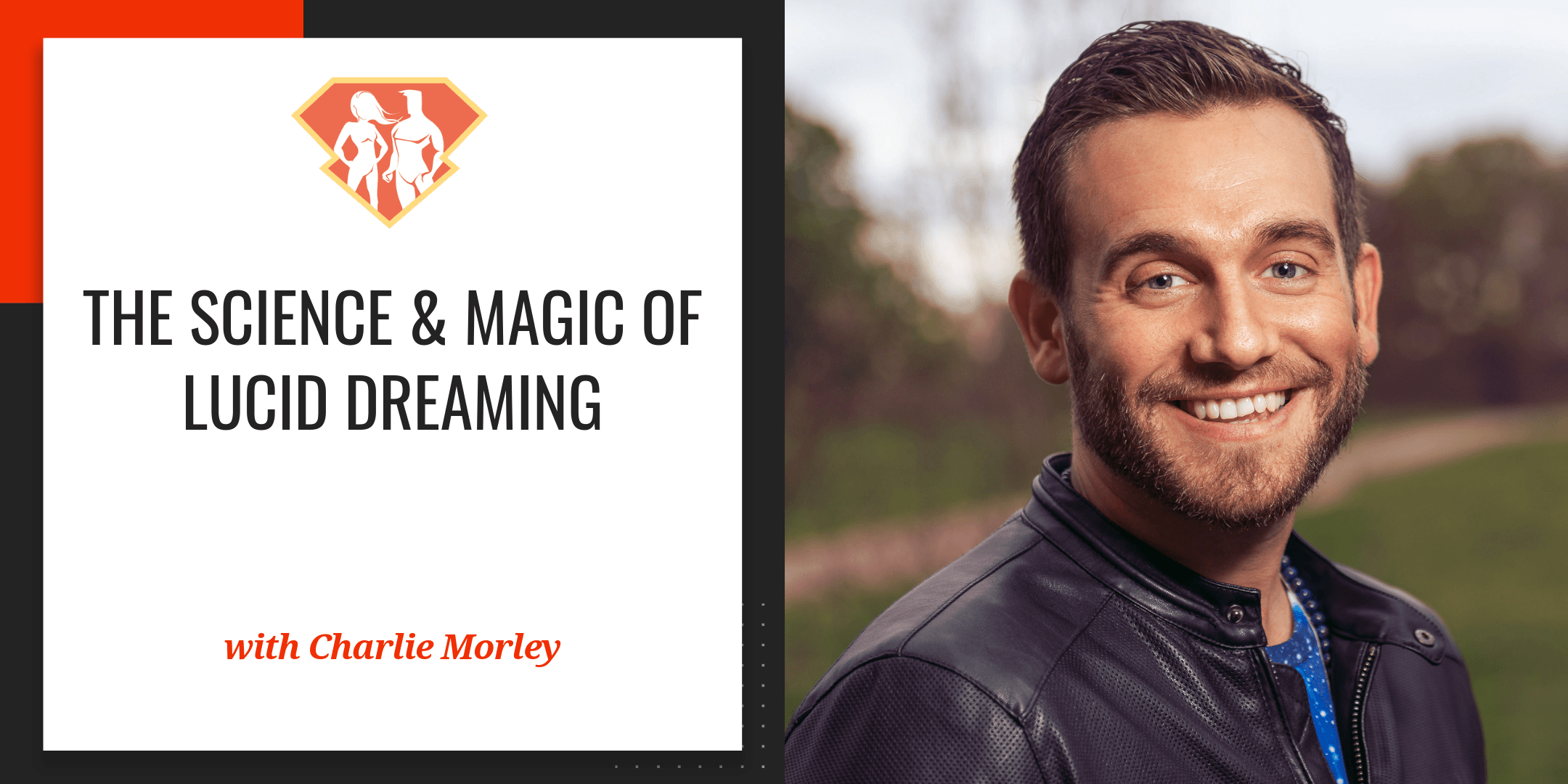 Tags:
Biohacking
,
Happiness
,
Inspiration
,
Life
,
Lucid Dreaming
,
Neuroscience
,
Podcast
,
Sleep
"The ultimate aim of lucid dreaming is ludic living."
— Charlie Morley
Greetings, SuperFriends!
You should know that I'm really excited because I enjoyed this episode so much! You're going to see, or I should say understand, why…
Well, today we are joined by Charlie Morley. Charlie is a best-selling author and teacher of lucid dreaming and shadow integration. Now, if you don't know what lucid dreaming is, it is having dreams where you know you're dreaming, but not just that – in lucid dreaming, you can also control your dreams.
As I learned, lucid dreaming is a lot more than flying, skydiving, and sleeping with supermodels – it's actually a deep spiritual practice that you can use for psychological recovery, accelerated learning and for much more.
In fact, Charlie was actually "authorized to teach" within the Kagyu school of Tibetan Buddhism by Lama Yeshe Rinpoche in 2008, and has since developed a holistic approach to dream work called "Mindfulness of Dream & Sleep". He has also written three books which have been translated into 13 languages!
He's spoken at Cambridge University, The Houses of Parliament, and he is a regular expert panelist for The Guardian. In 2018 he was awarded a Churchill Fellowship grant to research "mindfulness-based PTSD treatment". Charlie also runs workshops, lectures all over the world, and, as you'll see, he's an absolutely awesome guy.
I so enjoyed this interview and I learned so much about lucid dreaming, which I thought I knew a fair bit about. Well, I didn't. I'm also very excited because Charlie and I talked after the show, and we actually decided that we are going to do a 30-day challenge around lucid dreaming, where he will coach a select group of listeners into lucid dreaming and how to actually use it to make an impact to their life. If you want to learn more about that and get involved in the challenge, you can go to https://jle.vi/mastermind.
Now, without any further ado, let me introduce you to my lucid dreaming SuperFriend, Charlie Morley.
-Jonathan Levi
In this episode, we discuss:
Who is Charlie Morley, and how did he get into lucid dreaming? [5:30]
What is lucid dreaming? [9:00]
Can lucid dreaming be used to train a physical skill? [10:50]
Can you train to consistently lucid dream? [11:50]
How to train lucid dreaming [13:30]
Is there a way to increase the chance that you'll become aware that you're dreaming? [16:15]
What are some other dream checks or reality checks you can do throughout the day? [18:30]
Diving deep into dreams and the unconscious instead of going away from them [22:20]
Did Charlie ever think of using lucid dreaming as a healing tool? [25:00]
How often does Charlie Morley do this? [30:00]
Not being a natural at something makes you a better teacher at it [31:45]
Are there things we can do nutritionally or supplementally that can help with lucid dreaming? [34:35]
Charlie's tips on things that you should try in your lucid dreams [38:10]
An amazing story from one of Charlie's lucid dreams [39:40]
What are some limitations of lucid dreams – and what could we do with it? [43:10]
Could lucid dreaming be used for something as crazy as self-healing? [46:55]
Embracing the shadow [48:35]
Where can you reach out to Charlie Morley? [50:30]
Charlie's final takeaway [51:35]
Resources Mentioned in This Episode:
Favorite Quotes from Charlie Morley:
"Lucid dreaming [at 16] seemed cool because you could gain access to this virtual reality simulation of your own psychology, in which the rules of society didn't apply."
"The definition of a lucid dream is reflective awareness within a seemingly unconscious dream state."
"Dreaming is linked to our evolutionary biology."
"Whenever you see something dream-like in the day, ask yourself 'could I be dreaming right now?'."
"If we can link lucid dreaming to the inner child we have a much greater chance of doing it."
"Because I'm not a natural ludic dreamer, I actually only have lucid dreams when I do the training."
"The edge of the lucid dream is based on our preconception of how big we think the lucid dream is."