Using Your Difference to Make a Difference & The Power of Multiculturalism W/ Tayo Rockson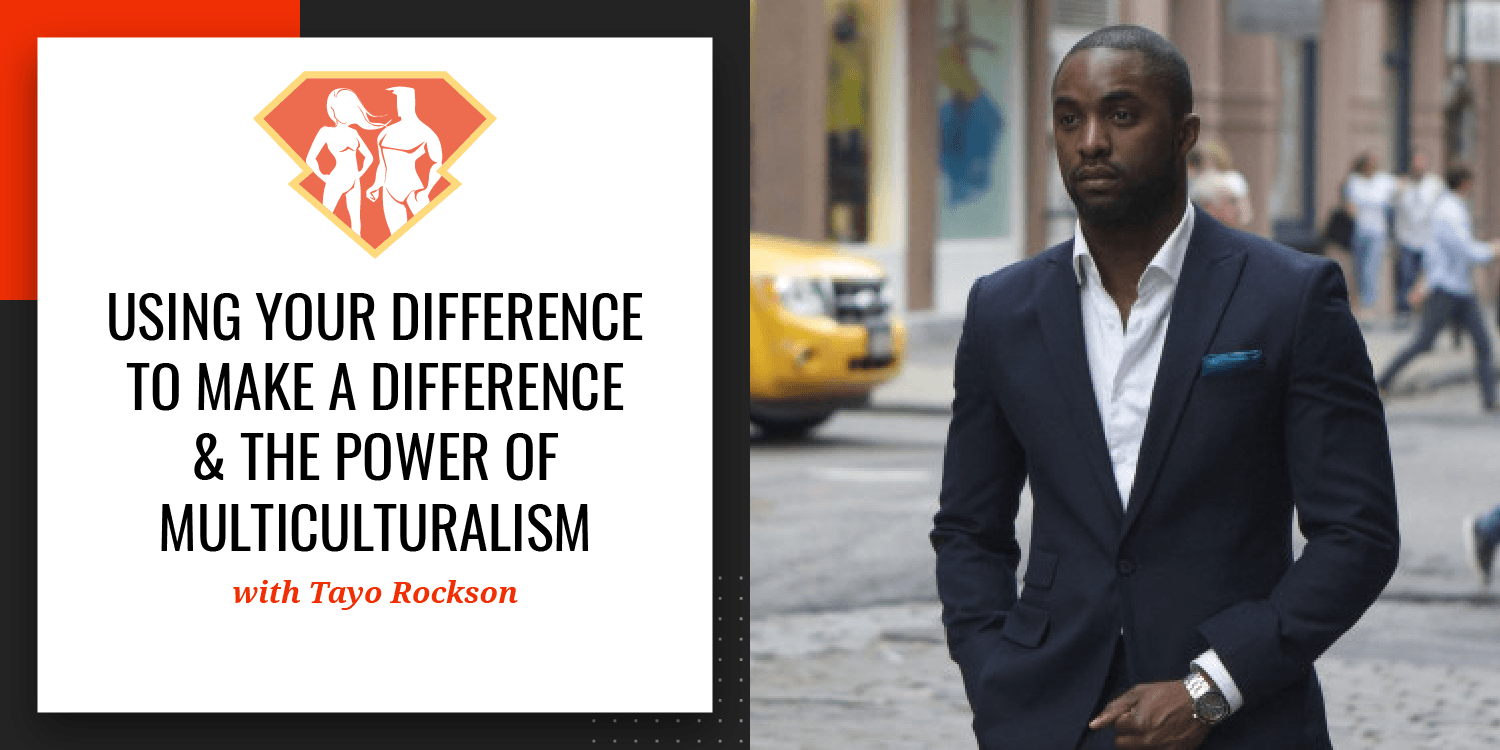 Tags:
Diversity
,
Multiculturalism
,
Podcast
,
Success
"Making a difference starts with you and your community, and from there it can go on to bigger things. It doesn't have to be something that's going to be covered on CNN."
— Tayo Rockson
Greetings, superfriends! Welcome to this week's show. My guest today is Tayo Rockson, a "third culture kid" using his difference to make a difference. Growing up on four different continents, he has been able to bring a unique perspective and inspirational stories that empower people to make a difference in this world. Through his company, UYD media, and his podcast, As Told By Nomads, he inspires people to live alternative lifestyles and use their own special skills and advantages to get the most out of their lives. In short, he's all about cross-culturalism and inspiration, and we love that stuff here at SuperHuman Academy. He's also an avid writer and blogger – in fact, you may have read about him on Huffington Post or Entrepreneur.com, and you might have even heard of his book – the Ultimate Guide to TCK Living.
In this episode, we talk about this crazy beautiful and increasingly multicultural world, and how to stake your claim and shine in it. We also go into some great stuff about life purpose and entrepreneurship. It's a lighter, easier, and more casual listen than some of the more intense and geeky human optimization stuff we've discussed on the show recently, but definitely no less valuable or worthwhile. Hit the comments below to let us know if you want to hear more of these casual "conversation" types of episodes!
This episode is brought to you by the bestselling course Become a SuperLearner.

Use this link to get 80% off

.
In this episode, we discuss:
Tayo Rockson's childhood on 4 continents, and his journey as a global nomad
"Third Culture Kids," the target audience of Tayo's work, and what they're like
Tayo's journey from running a "side hustle" to doing what he's passionate about full-time
What has Tayo Rockson learned from speaking to all the TCK's he's worked with?
What is the "D. B. C." system, and how does Tayo use it to cross cultural boundaries?
Can people who don't have a multicultural upbringing learn to harness these skills?
Why is cross-cultural communication one of the most important skills for professionals today?
The idea of a "culture of no culture" used by global cosmopolitans to collaborate
The incredible story of an Israeli Paralympic athlete using her difference to make a difference
The idea that we all have a difference, and some examples of how we can use them to achieve success
The idea of validating your business idea versus persistence and seeking your dreams
The importance of mentors (and following your gut)
What Tayo Rockson is working on now!
What is the one lesson Tayo Rockson wants you to take away from this episode?
Resources Mentioned in This Episode:
Favorite Quotes from Tayo Rockson:
"Stereotypes, to me, are the laziest way of understanding culture."
"If you don't learn how to do this, it's going to be a big, big problem when it's our turn to take the mantle and deal with leadership."
"Everybody seems to forget that we're all people."
"All of a sudden, you start becoming 'realistic.' And then that limits you from becoming extraordinary."