Benjamin Hardy, #1 Author on Medium, on Writing and on Willpower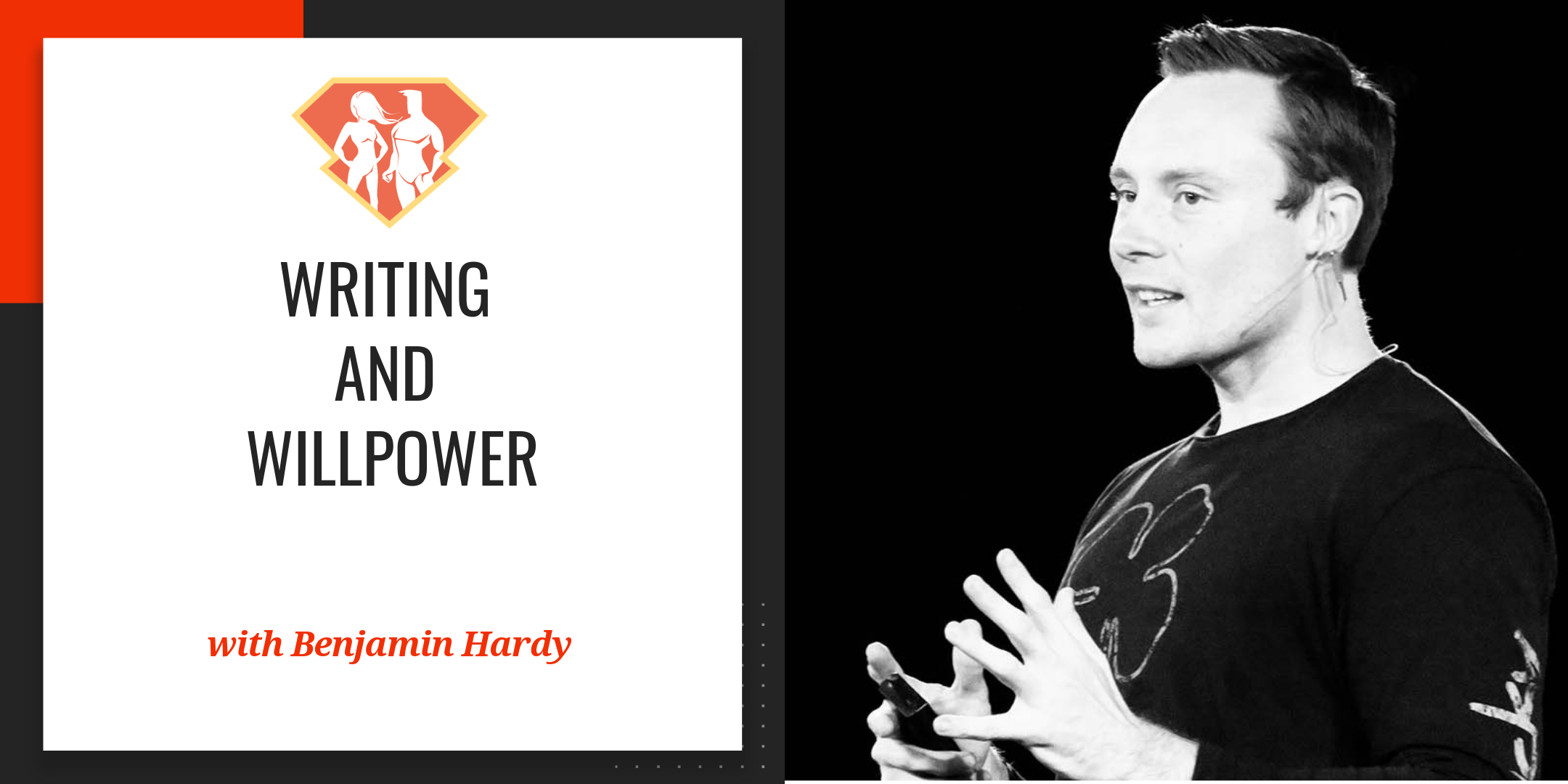 Tags:
Entrepreneurship
,
Inspiration
,
Lifestyle
,
Motivation
,
Podcast
,
Productivity
,
Reading
,
Willpower
,
Writing
"To defeat your fear of risks you need to make investments in yourself, in your education and your relationships."
— Benjamin Hardy
Greetings, SuperFriends!
In a recent episode, I went on a full-on rant about writing, why it is such an important skill and how it can dramatically impact your life and change the way you think. Well, today we are joined by a real-world example.
His name is Benjamin Hardy, and, on the outside, he is an everyday Ph.D. student working his way through a Ph.D. in organizational psychology. But, if you dig a little bit deeper, you will realize that Benjamin is actually the number 1 writer in Medium.com, which, through a crazy series of events, ended up landing him in Fortune, Forbes, Entrepreneur, Fast Company, Business Insider, Psychology Today, and more. It also landed him a quarter-of-a-million-dollars book deal, and that is just the start of what his writing has done for him.
So, in this episode, we talk not only about his psychology research, and some of the things that he has discovered, but we also go into willpower, and why, as his book says, Willpower Doesn't Work. We start to understand why it is that we all fail at our New Year's resolutions and what we can do instead. And then, on top of that, we go through this amazing case study of what happens when you combine an aptitude for learning, like Benjamin's, and what I call an exponential skill, in this case, writing.
So, this is just an amazing case study in SuperLearning applied and what you can achieve if you master one of this core exponential skills. I know you guys are going to enjoy the episode. Personally, I didn't do a whole lot of talking here, I just sat back and listened to Benjamin, and I recommend you do the same!
In this episode, we discuss:
Who is Benjamin Hardy, and what does he do? [4:45]
Insights from Benjamin's research on entrepreneurship and organizational psychology [5:30]
What is, according to Benjamin, the 'point of no return'? [6:00]
How to determine whether you can become an entrepreneur [8:30]
The course on guest blogging that started Benjamin's writing journey [10:00]
The experience of putting your work out there [11:00]
How Benjamin transitioned to using Medium.com [12:20]
How has writing changed Benjamin's thought process and life? [13:50]
The impact of journaling in Benjamin Hardy's life (and everyone else's) [14:40]
How and when you journal is important [17:30]
The way Benjamin Hardy has transformed his income through writing [19:00]
A small insight into Benjamin's writing process [21:00]
Insights on willpower from Benjamin's new book [22:00]
How changing your environment can remove the need for willpower [24:00]
A lesson by Josh Waitzkin: put yourself in difficult positions to speed up your growth [25:20]
The concept of 'forcing functions' [27:30]
Other habits of Benjamin Hardy that foster his success [29:30]
Helping others achieve their goal eventually helps you do the same [31:30]
How creating conditions for unique and novel thinking can dramatically change your results [34:00]
Benjamin Hardy's best ideas come when he listens to audiobooks, with his journal open in front of him [35:00]
Incremental progress is NOT the way to progress [36:30]
There is a thing like being too much of an entrepreneur [39:00]
Where can you find more about Benjamin Hardy
Resources Mentioned in This Episode:
Favorite Quotes from Benjamin Hardy:
"The 'point of no return' is the moment in which a person changes the view of themselves."
"That moment very rarely happens as a product of something outside of you."
"Once you invest in something, you start to wrap your identity around that thing."
"To get started, start investing dollars into your entrepreneurial journey."
"When you invest in yourself, you shatter your belief system and you upgrade your sense of what you can do."
"When you really start to study the craft, not just consuming the craft, the transition happens."
"When you think and write well, it just opens up a ton of crazy doors and opportunities."
"Willpower is like a muscle. The more you use it, the more you exhaust it."
"Most peoples' environment is not letting them work."
"When you put yourself in certain types of environments, success becomes easy."
"Embed external layers of support, or 'forcing functions', to get you to do what you want to do."
"The compounding effect of reading and learning over the years is an unfair advantage."
"Ordinary people seek entertainment. Extraordinary people seek education."
"If you are thinking the same thing as everyone else is thinking, you are going to come to the same conclusions."
"All behavior is one of two things: you are either approaching something or avoiding something."