How Better Communication Will Transform Your Life w/ Amy E. Smith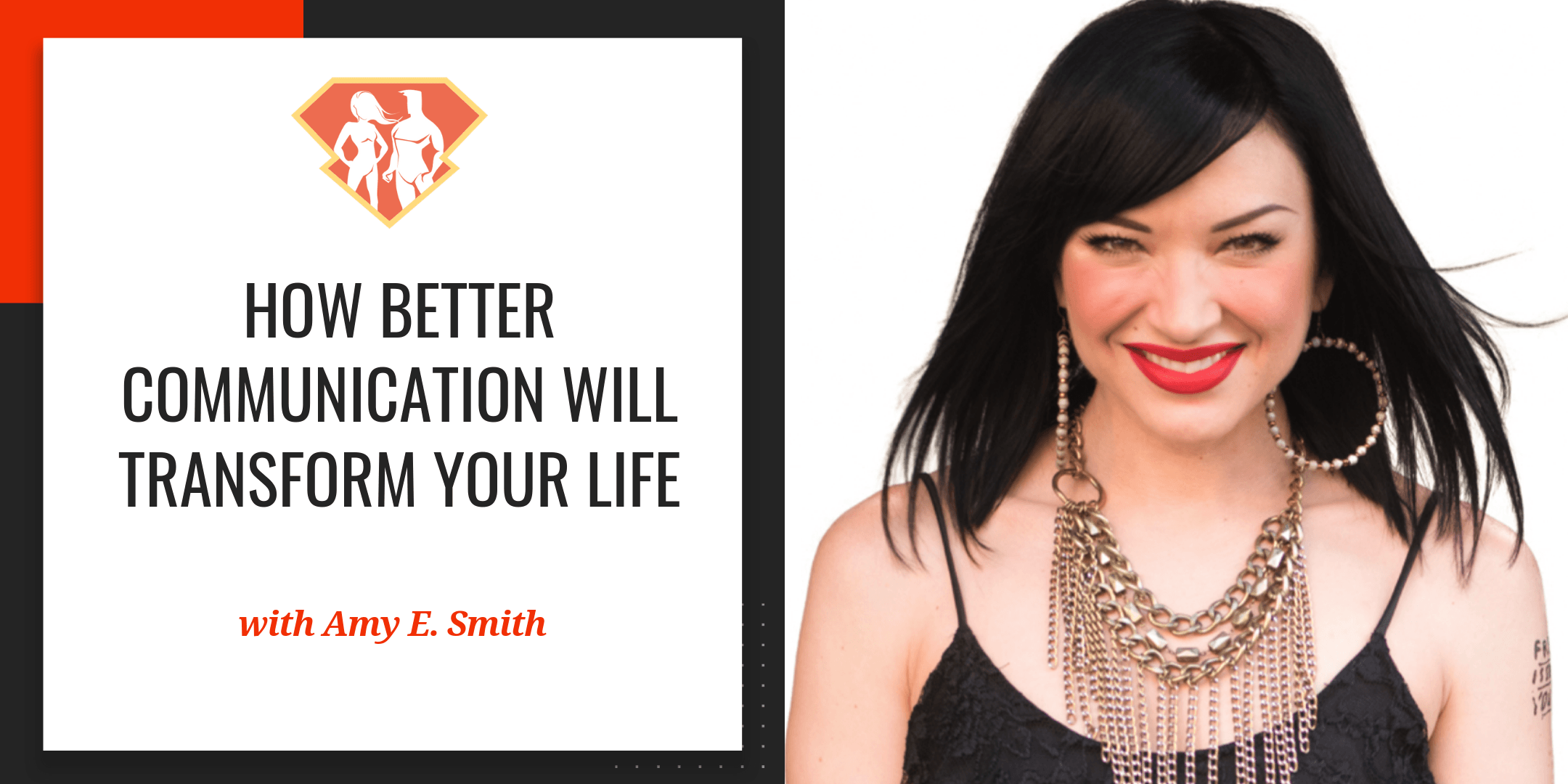 Tags:
Communication
,
Podcast
,
Relationships
,
Self Esteem
"First item of business is to look at: where do you silence yourself?… I'm talking about when your silence makes you a liar."
— Amy E. Smith
Greetings, SuperFriends!
Today, I have a guest for you that I totally hit it off with. Her name is Amy E. Smith, and she is a life coach who specializes in helping you have the hard conversations. She helps you say no without looking like a total jerk. And she coaches people and speaks all over the world all over the country through her brand The Joy Junkie, and she uses her roles as coach, writer, podcaster, and speaker to help individuals really empower themselves get to a point of self-love and confidence, where they can communicate authentically, openly, and honestly.
You might ask: what's superhuman about that? But honestly, I think it is one of the skills that has helped me really grow as an individual. And… just the morning of recording this podcast, I was having this exact debate with someone very close in my life. So we recorded an episode on it, and I was very lucky that Amy happened to be on the docket for this week's episode.
In it, we talk about a lot of very very interesting stuff from emotions, responsibility, emotional maturity, communication styles, and inner dialogue. It sounds all really touchy feely, but actually it was an incredible episode. I think you'll definitely see that we hit it off!
Let me know what you guys think!
In this episode, we discuss:
Who is Amy E. Smith, and what does she do?
Why is it so important to say "no" to people, and communicate well even on the hard stuff?
What happens when we "just stay silent" and don't speak up for ourselves?
An important discussion on taking responsibility for our own emotions – and not those of others
A powerful exercise / piece of homework for identifying where your silence is hurting you
Some great stories & examples from clients Amy has worked with
What are "charity accounts" with regards to friendship, and how many should you have?
What brilliant homework does Amy give you this week?
What is the #1 takeaway message from this episode?
Resources Mentioned in This Episode:
Favorite Quotes from Amy Smith:
"What we don't realize with a lot of our interpersonal behavior is what sort of subconscious message we are telling ourselves and ingraining in our neural pathways."
"What if people were actually addicted to something that created massive joy and fulfillment in their world… it's just a shift of focus, right?"
"We're not taught to feel through things at all – and this very much has an effect when we're trying to stand up for ourselves. Because it's uncomfortable!"
"Be responsible for your intention – not your reception."
"Am I proud of how I've conducted myself?… That's the new barometer of success."
"All things are simply energy."
"Everything that happens in our minds is presented as truth. What you focus on… becomes your own reality. You have to be hyper-vigillant about what is happening in your mind."
"I have very, very few relationships in my world that are ones of obligation. I like to call them your 'charity accounts.'… You don't give everything in your world to charity, right? You give a tiny piece, to doing better. The same is true of your relationships… a majority of them should be reciprocal, and then maybe one or two you give to charity."
"Your want's, desires, opinions, and stances are just as important as anybody else's… You just have to believe that."