Biohacker Jaakko Halmetoja: These Aren't Your Average SuperFoods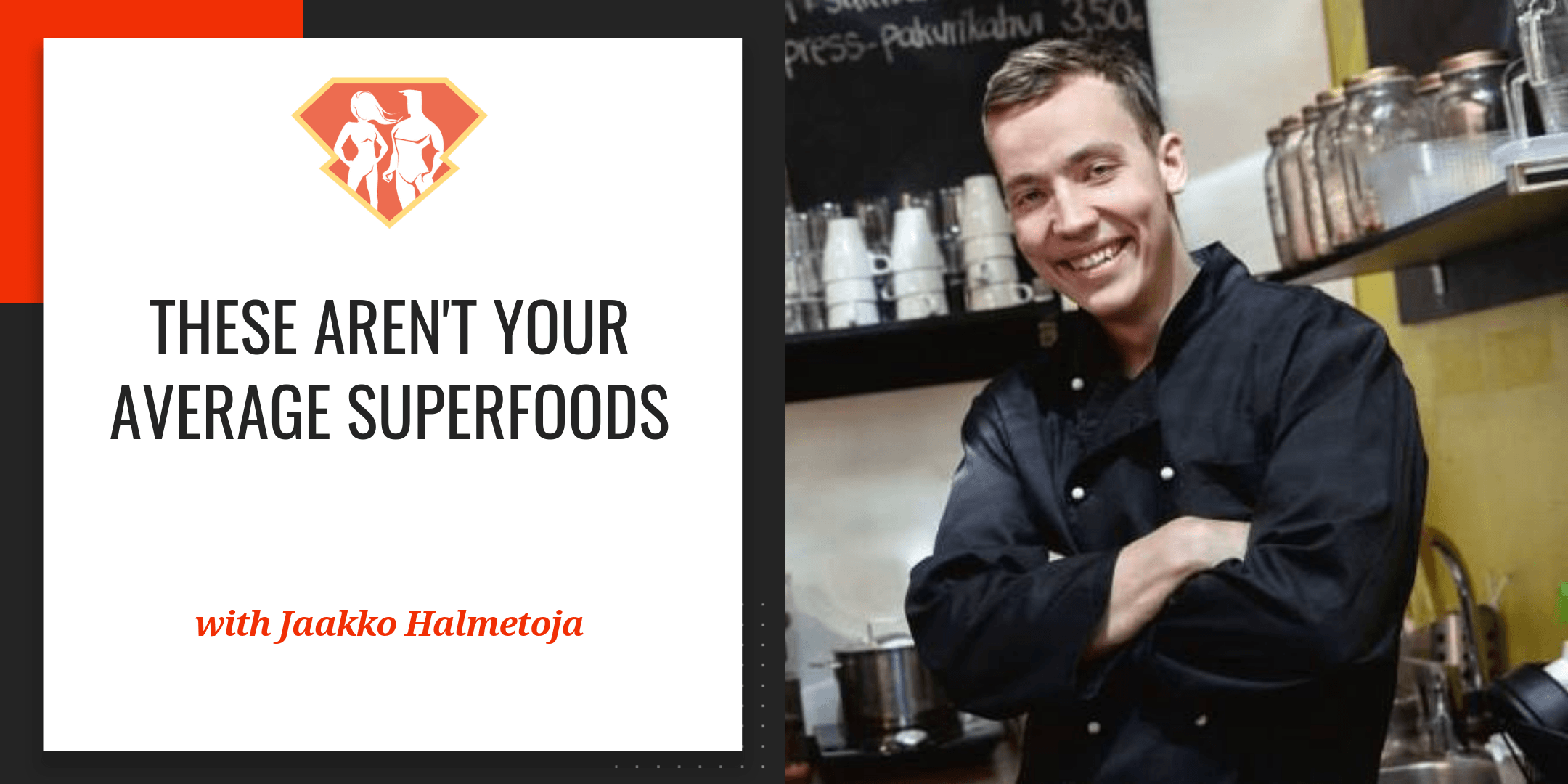 Tags:
Ayurveda
,
Biohacking
,
Chinese Medicine
,
Immunity
,
Mushrooms
,
Plant Medicine
,
Superfoods
"It's so fun to kind of rediscover things that are already around us, but nobody sees the value of them."
— Jaakko Halmetoja
Greetings, SuperFriends!
Today, we welcome nutrition expert and public speaker Jaakko Halmetoja to the show. Jaakko is the host of InspiRadio Podcast and has spent the last few years popularizing unique uses of foods like chaga mushroom, chocolate, wild foods, berries, and medicinal herbs. He's also the author of two books, including The BioHacker's Handbook.
My goal for this episode was to go a bit wider with nutrition – far beyond the topic of paleo that we've covered before. I wanted to discover unique foods, unusual findings, and surprising takeaways.
In this episode, we talk about a wide variety of health and biohacking topics – from superfoods to unusual supplements and different ways to hack your body and mind. I really enjoyed his very holistic approach to nutrition and nutrients, which is so much less rigid and pinpointed than that of so many experts out there. My big takeaway from this episode was that it's more about the big picture – the overall lifestyle and mosaic of what you eat and how you live, than it is about adding one specific compound, nutrient, or behavior into your regimen.
In this episode, we discuss:
Who is Jaakko Halmetoja, and how did he come to be an expert in the field of biohacking?
What is Jaakko's diet and nutrition regimen? What does he eat that's unique?
The Chaga Mushroom – what's the big deal, and how does it work?
A surprising lesson about plant medicines, and why age matters
Why are mushrooms such incredibly effective medicines for immunity, wellness, and more?
How does Jaakko Halmetoja recommend consuming fungal medicines?
What other "superfoods" has Jaakko discovered and researched?
The importance of consuming fermented foods as a part of your diet
How does chocolate rank as a superfood, and what do you need to know about selecting it?
How does Jaakko Halmetoja feel about the word "superfood?" How about "organic?"
Recommendations for improving your day-to-day consumption of nutrient-dense foods
A discussion of domesticated plants, the supermarket culture, and some of it's dangers
The difference between your body and a test tube
What is The BioHacker's Handbook?
Why has Finland become such a hotspot for biohacking?
What are the top 2-3 bio hacks that Jaakko Halmetoja has done to his body?
Who else in the industry does Jaakko look up to?
What habits does Jaakko use to be more effective, and what is his "playbook of life?"
What is the best $100 that he has ever spent on his health (surprising)
 A discussion of listening as perhaps the most important skill
A very valuable takeaway message for the end of the episode!
Resources Mentioned in This Episode:
Favorite Quotes from Jaakko Halmetoja:
"What was the most fascinating thing for me was not just the performance enhancement, but also how profoundly it affected my emotions and mental state, and just the overall clarity. After that, I pretty much just went crazy."
"Man… you know your stuff!"
"I like to say that it's kind of a feeding protein… to your immune system."
"Annual plants produce chemistry… but… they're not as professional as plants that grow for decades, or trees, or mushrooms… in the case of Chaga, it can be 30 years old."
"Every time I go to the Amazon… most of the plant medicines that the shamans use come from the tree barks."
"I'm big on bacteria."
"Chocolate, in general, is a good way to get people's attention – and then teach people all the agriculture around that space."
"Some foods have more nutritional value per gram than others."
"For me, the superfood space is a good insurance policy."
"All of these things work in kinds of chain reactions. So it's very different what's happening in the body than what's happening in the test tube."
"When you get more aware of the kind of mental models – how you approach things – you get a glimpse of how your brain works in very different occasions… and that's been cornerstone of what I do in terms of meditation."